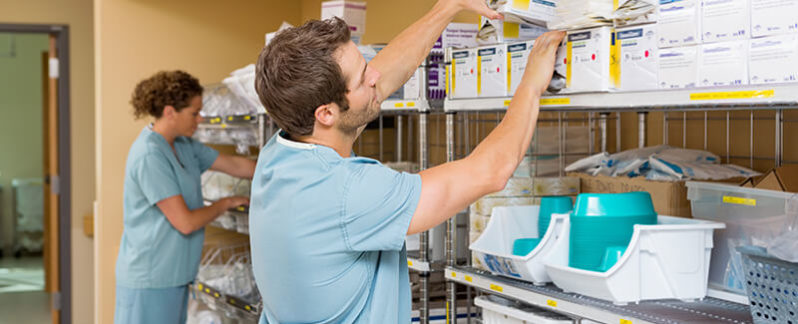 Consider Metro Self Storage for PPE/Hospital Supplies Storage During Prolonged COVID-19 Pandemic
---
April 17, 2020 | Your Local Metro
If you're feeling stressed, you're far from alone. Here at Metro, we hope that you and your loved ones are staying safe and taking all the necessary precautions to help flatten the curve during this unprecedented time. We are especially grateful for our doctors, nurses, and frontline workers for their brave, tireless work to fight COVID-19. Thank you!
In any time of crisis, we're asked to step-up, and in this case, that means staying home, and social distancing; these mandates have given the healthcare industry time as companies rally forces behind the scenes to source and manufacture much-needed PPE (Personal Protection Equipment) and ventilators to hospitals.
MANUFACTURES PIVOT QUICKLY TO DELIVER PPE & VENTILATORS TO FRONTLINE WORKERS
According to a report in the Wall Street Journal, Ford has produced 2.4 million protective face shields for medical personnel. Ford, Tesla, and GM are also playing crucial roles, including sourcing parts to ventilator manufacturers who would otherwise be sidelined in their production efforts.
British vacuum-cleaner giant Dyson Inc. designed the CoVent ventilator in record-breaking 10 days, and another company is bottling a new hand sanitizer that a staff chemist created practically overnight. Stories like this abound, and we'll surely hear more about these heroic efforts in the coming days.
By all accounts, there will be a sustained spread of COVID-19. And, as American companies continue to flex their manufacturing muscle, it's a hopeful sign that millions of PPE—N-95 masks, latex gloves, gowns, and other types of hospital supplies—and ventilators will be delivered and soon to hospitals across the nation.
As a result, will hospitals find themselves scrambling to find additional storage space?
WHY DON'T HOSPITALS ALREADY HAVE STOREHOUSES OF PANDEMIC-RELATED SUPPLIES?
Dr. Mark Jarrett, the chief quality officer for Northwell Health in New York, points out that, "Hospitals don't have huge warehouses full of stockpiles like they used to in the old days, because things can be shipped so quickly and communication is so quick," he said.
Why? Today's hospital models rely on "just-in-time" supply orders, so hospitals may not have the capacity to store large influxes of PPE and ventilators in the coming weeks and months. The country's Department of Health and Human Services estimates that the country would need 3.5 billion masks in the event of a pandemic lasting a year.
HOW CAN METRO SELF STORAGE HELP?
Businesses across all sectors, including healthcare, have been relying on Metro Self Storage to meet their temporary and long-term storage needs for more than 45 years. With many newly constructed state-of-the-art facilities near large cities, Metro is here to meet the unique storage needs facing the healthcare industry.
We pride ourselves on outstanding customer service and creating relationship-driven facilities where our customers come first. Here is an overview of the types of features you can expect to find at a Metro Self Storage facility.
Contact-Free Storage Rentals

24-Hour Video Surveillance

Climate-Controlled Commercial Units

Well-Lit Facilities

Fully Fenced Perimeters

Keypad Gated Access

24-Hour Access at Select Location

Commercial Vehicle Parking at Select Locations

Friendly Customer Service

Online Payment Options
To reserve a commercial unit, please go online at metrostorage.com and find the location nearest your facility. The online prompts will guide you through the contact-free rental process. In addition, our professional storage counselors are on standby to walk you through the process should you need guidance or have questions: call: (888) GO-METRO (888-466-3876).
About Metro Self Storage
Metro Storage LLC, based in the Chicago area, is one of the top 10 largest owners/operators of self-storage facilities in the United States, with 140 stores covering 14 states. Metro Storage has expanded its online and phone-based services to enable a contact-free rental process for our customers during the coronavirus (COVID-19) crisis.