Downtown Naperville Riverwalk | Your Guide to Special Events and More!
---
December 21, 2017 | Travel Destinations
Do you suddenly find yourself with some free time in the West Chicago suburbs? Sure you could run errands, study, or get some extra work done, but how about playing tourist in your hometown? Then be sure to visit Downtown Naperville's Riverwalk.
There are a few things that everyone in Chicagoland should experience, especially near the Downtown Naperville Riverwalk, and there's no time like the present to check a few things off that bucket list.
So which fun activities interest you most?
Walking in nature
Enjoying holiday activities
Shopping
Dining with friends and family
Your only problem will be deciding what to do first!
What to expect when you visit Downtown Naperville and the Riverwalk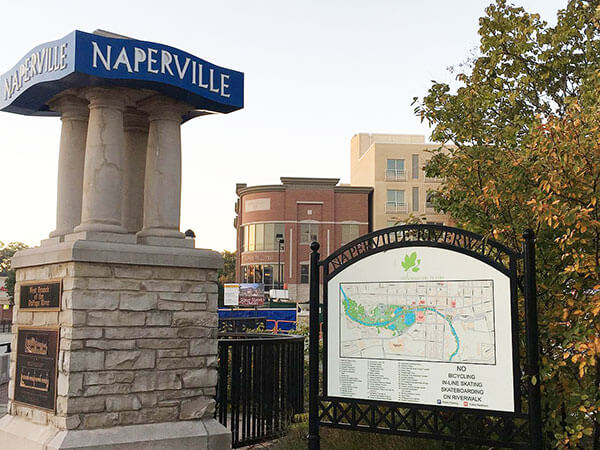 Photo courtesy of Wikimedia Commons
Downtown Naperville is the supreme shopping area in Chicagoland in the summer, spring, winter, and fall. Whether you're looking for popular chain stores or unique locally owned shops, there is something for everyone every day of the year.
Visit one of over 40 restaurants and stroll the gorgeous Downtown Naperville Riverwalk which is known as the "Crown Jewel of Naperville."
How to get there: Take the train to the Naperville stop. Downtown is 4 blocks south of the station. If you drive parking is free.
Website: http://downtownnaperville.com/
Chicago's Christkindlmarket in Naperville

Photo courtesy of Christkindlmarket Naperville Facebook page
Christkindlmarket is a Chicagoland tradition, and now you can visit one in the West Chicago suburb of Naperville. What is it? A German-American holiday market where you'll enjoy traditional German, food, drinks and holiday cheer.
The best part for families is that the Christkindlmarket Naperville in the Naper Settlement is free! Expect to find numerous vendors lining the walkways and be nestled on scenic grounds near the Downtown Naperville Riverwalk.
Walk-in structures will house vendors as well as provide a place for visitors to step out of the cold, eat, shop, eat and enjoy Glühwein (hot spiced wine) in a unique collectible souvenir mug.
A children's favorite, Christkind, a fairy-like being and namesake of the market, will visit every Sunday to welcome guests. Find gifts for your family and friends (or yourself) such as handmade ornaments, toys, and other unique items you won't find elsewhere.
Best of all, admission is free!
Location: Naper Settlement at 523 S Webster Street, Naperville, IL 60540
Dates and Hours:
November 24 – December 24, 2017
Thursday: 12pm – 7 pm
Friday – Saturday: 11 am – 9 pm
Sunday: 11am – 6 pm
Special Extended Holiday Dates:
Monday, Dec. 18 – Saturday, Dec. 23:
11am – 9pm
Dec. 24: 11 am – 4pm
Centennial Beach

Photo courtesy of Wikimedia Commons
Located along the shores of the Du Page River, Centennial Beach is located on the Downtown Naperville Riverwalk. It is the number one place to be during summer and something to dream about all winter long.
The Centennial Beach offers a place to sunbathe and swim for locals and tourists alike. However,  it's not just any swimming hole, it's an abandoned limestone quarry. The quarry, off DuPage River, became a swimming hole during the 1930s. The expansive grass lawns and gigantic shade trees make it a perfect picnic location too.
Location: 500 Jackson Ave. Naperville, IL 60540
Phone: 630.848.5092
Website: http://www.centennialbeach.org/
Crosstown Pub & Grill Naperville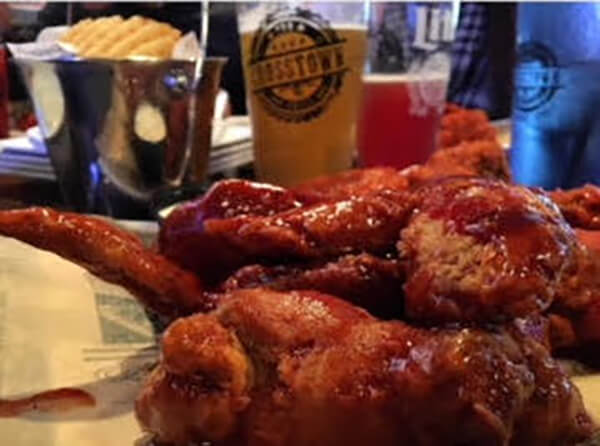 Photo courtesy of Instagram: @piffnainteasy
When a restaurant is recommended by the Travel Channel, ABC and rated number one by local news, then you know it's gonna be good.  There's no question, it's worth the 10-minute drive from the Downtown Naperville Riverwalk to eat there.
From juicy burgers and rattlesnake bites to chicken tenders and wings, you'll want to try some (or maybe all!) of the restaurant's award-winning fare. Customer favorites to try include the PB&J wings, the Devil's Sweat wings, or both. Crosstown is a fun, packed, local pub.
Location: 909 E Ogden Ave, Naperville, IL 60563
Phone: (630) 357-9775
Website: https://xtownpub.com/
The Millennium Carillon in Moser Tower

Photo courtesy of Brian Jelonek via Flixster
The Millennium Carillon in Moser Tower is a unique building in to visit, and a must see when looking for things to do in Naperville. Missing with the 160-foot tower is hard. It'd 253 steps to the top, so be sure to bring your walking shoes. The Carillon has 72 bells. The biggest bell, nicknamed "Big Joe" for Joseph Naper, weighs in at six tons.
Location: 443 Aurora Ave. Naperville, IL 60540
Website: www.naperville-carillon.org
Winter Events in Downtown Naperville
Photo courtesy of Instagram: @leona_szabova
Downtown Naperville offers a variety of fun activities during winter. Come see storefront windows decorated like scenes from your favorite Christmas movies, go to a holiday gift wrap workshop or satisfy your sweet tooth on Naperville's 3rd annual Chocolate Walk.
Holiday Living Windows
December 7 from 5-8 pm
Downtown Naperville
Ringin' in 2018
December 31 6-midnight
Carillon at Rotary Hill
443 Aurora Avenue
Naperville's 1st Ice Menorah
December 12 at 5:45 pm
Amphitheater on the Riverwalk
SE Corner of Jackson and Eagle Streets
Learn more about the city's event guide and calendar
New Naperville Climate-Controlled Storage Facility
Illinois-based Metro Self Storage is pleased to announce we are opening a new ground-level storage facility in the West Chicago Suburb, Naperville, Illinois. This state-of-the-art facility will bring self storage convenience to residents and businesses in DuPage County.  Learn more about storage options in Naperville today.