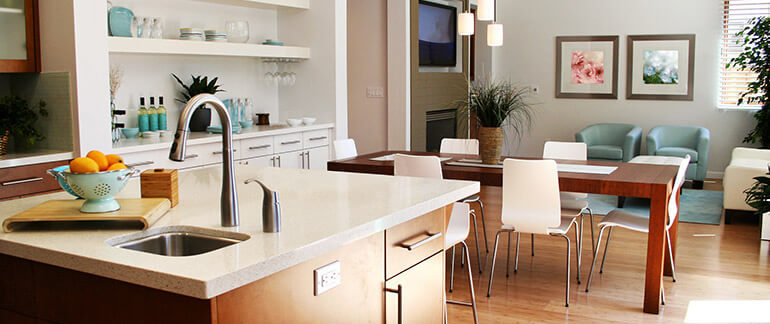 Green Home Remodeling Products to Choose for Value and Beauty
---
April 21, 2018 | Home Organization
When it comes to remodeling, going green is a great choice for homeowners. There are abundant opportunities to be green when choosing products for your home. In our visually-driven society, at any budget, materials and finishes give homes their aesthetic value and emotional rewards.
Enthusiasm for green home building products began during the energy crisis of the 1970s. Scientists, architects, and builders began questioning the wisdom of glass-and-wood structures that required energy-intensive cooling and heating systems. Today, building manufacturers continue to find ways to improve energy efficiency in homes as well as develop products that are sustainable and have less impact on the environment.
Kitchen and Bathroom Countertop Options for Green Living
Countertops come in a wide range of materials. From paper composites and laminates to recycled glass slabs that literally sparkle with beauty. Made with sustainable materials and green manufacturing practices, these types of beautiful countertops are sure to be the topic of dinner conversations for years to come.
Recycled Glass Countertops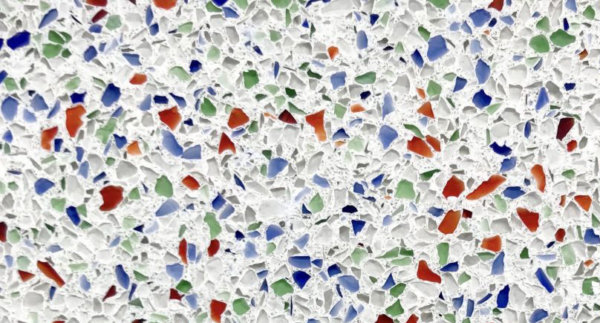 Image: icestoneusa.com
Recycled glass countertops divert glass from ending up in landfills and are made from fragments of post-consumer and post-industrial reclaimed glass. A cement or resin binder is used to create slabs that are customizable for kitchen and bathroom countertops as well as a whole host of other uses.
Countertops made from post-consumer glass and cement are pricey but then again so are marble and granite countertops. Prices vary by region but can run anywhere from $75 to $150 per square foot including installation for recycled glass countertops.
In case you're wondering, granite and quartz countertops typically run between $50 and $100 per square foot including installation. But these last two options aren't as green as recycling materials.
Read more: Kitchen Remodel: How to Pay Less for Appliances
Recycled Paper Countertops
If going green has done one thing, it has been to spark innovative ideas on how to use materials differently and done away with old and perhaps misguided perceptions. Like paper and water don't go together. If you think recycled paper countertops sound suspect and soggy, think again. Manufacturers such as Richlite and Paperstone divert paper from ending up in landfills by compressing it into a stone-like material that can withstand extreme weather conditions.
Initially designed for skateboard park ramps, science labs, and marine environments, Richlight and Paperstone recycled paper slabs have proven they've got muscle. These companies were on the frontier of the going green movement. Today, these materials are also seen frequently on the exterior of buildings adding both beauty and durability.
If you are considering Corian but want an earth-friendly bent, paper composite countertops are environmentally friendly; Uses FSC (Forest Stewardship Council) post-consumer paper and nonpetroleum, formaldehyde-free resins, some made from cashew nut shell liquid. An added benefit? Paperstone can be cut and shaped with standard woodworking tools.
Green Home Remodel Energy-Saving Tips
Before beginning a going green remodel project, check with your local utility provider. Many offer Weatherization Assistance Programs or a Home Energy Audits. Most states offer some type of energy incentive program to help homeowners offset energy costs.
Another tip we can't ignore is getting a Home Energy Audit. You can hire a professional or seek out a non-profit specialist to come to your home who will spend anywhere from 2- to 4-hours assessing your home's energy consumption.
Some common ways homes lose energy are air leaks through gaps in windows and doors, insufficient or deteriorated insulation and the use of incandescent bulbs in light fixtures. Learn more about energy savings programs offered through the Department of Energy by following this link: https://www.energy.gov/eere/femp/energy-incentive-programs.
Going Green is Good for the Planet and Good for Homes
Green building (also known as sustainable design) aims to reduce energy consumption and the overall impact to the environment. Green products help homeowners achieve a wide range of goals including saving money and improving indoor air quality.
For homes not built to standard green building guidelines, you can make a difference. Green home remodeling products can save energy and improve indoor air quality.
An added benefit? Green building products work together to increase the comfort, health, quality, and value of your home. Contact your local green home building professional to help you remodel a kitchen, a bathroom, or, even your backyard deck.