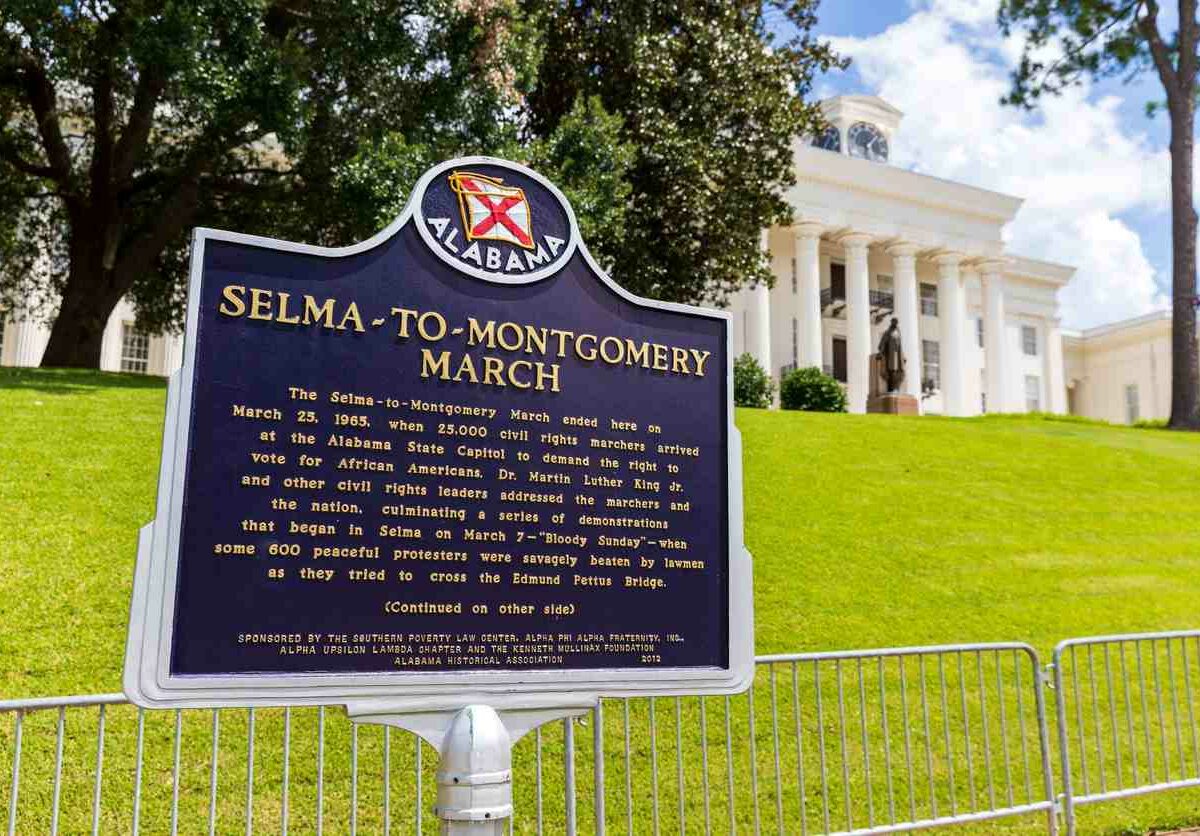 Historic Locations in Montgomery, AL
---
June 13, 2023 | Travel Destinations
Known as the Capital of Dreams, Montgomery is a city rich in history and focused on the future. Standing beside the Alabama River and located on the coastal plain of the Gulf of Mexico, Montgomery is the capital of Alabama and home to some of the most famous landmarks in United States history.
Whether visiting from out of state or a Montgomery native, you'll never get tired of learning the history and sightseeing. Montgomery is rich in history, featuring sites like the Alabama State Capitol, the Civil Rights Museum, the former home of Dr. Martin Luther King Jr., and more. Keep reading to learn more about the great city of Montgomery, AL, with this guide to historic locations for visitors and residents alike.
Alabama State Capitol
The Alabama State Capitol, listed on the National Register of Historic Places as the First Confederate Capitol, is the state capitol building for Alabama. Located on Capitol Hill, originally Goat Hill, in Montgomery, it was declared a National Historic Landmark on December 19, 1960.
For 150 years, the Alabama State Capitol has overlooked downtown Montgomery from its hilltop perch. This National Historic Landmark is a working museum of state history and politics.
In the spring of 1965, the Selma-to-Montgomery March for voting rights culminated at the capitol steps with one of Dr. Martin Luther King Jr.'s most famous speeches.
Explore the captivating Alabama State Capitol in Montgomery, in the heart of the city near The First White House of the Confederacy. Admission to the museum is free, but you can enhance your experience with event packages that include guest speakers or special tours for a small $10 fee. And if you're up for an exclusive behind-the-scenes capitol tour, it's available for $50. Get ready for an exciting adventure into history and culture!
National Memorial for Peace and Justice
The National Memorial for Peace and Justice, informally known as the National Lynching Memorial, is a national memorial to commemorate the Black victims of lynching in the United States. It is intended to focus on and acknowledge past racial terrorism and advocate for social justice in America. The site includes a memorial square with 800 six-foot monuments to symbolize the thousands of victims in the United States and the countries and states where this took place.
Work on the memorial began in 2010 and then opened to the public in April 2018. ​​The Memorial for Peace and Justice was conceived with the hopes of creating a meaningful site where people can gather and reflect on America's history of racial inequality.
If you're interested in visiting the memorial, it's open from Wednesday to Sunday, and tickets are just $5, giving you access to the memorial as well as the Legacy Museum. The memorial is located on Caroline Street, sitting on top of a large grass area.
Dexter Parsonage Museum — Dr. Martin Luther King Home
The Dexter Parsonage Museum is the restored parsonage of Dexter Avenue King Memorial Baptist Church that appears as it did when Dr. Martin Luther King Jr. and his family resided here during Dr. King's pastorate from 1954-1960.
On January 31, 1956, the parsonage was bombed, ripping a hole through the home and front steps and leaving a scar in the concrete that is still visible today. The bombing helped focus national attention on the movement in Montgomery and Dr. King's firm stand on non-violence.
The former home, now a museum, is open Tuesday through Saturday from 10:00 a.m. to 3:00 p.m. If you'd like to schedule a visit, it's $5 for adults and $3 for children ages 4-12. If you'd like to see the home and church, combined admission for Parsonage and Dexter Avenue Baptist Church is $7 for adults and $5 for kids.
Civil Rights Memorial Center
The Civil Rights Memorial Center is an American memorial in Montgomery, AL, created by Maya Lin. The names of 41 people are inscribed on the granite fountain as martyrs who were killed in the Civil Rights Movement. The memorial is sponsored by the Southern Poverty Law Center. Known as the birthplace of the Civil Rights Movement, Montgomery is rich in civil rights history, and no tour of Alabama's capital would be complete without a visit to the Civil Rights Memorial Center (CRMC).
The Civil Rights Memorial Center is located at 400 Washington Avenue in downtown Montgomery, AL, across the street from the Southern Poverty Law Center office building and a block from Dexter Avenue King Memorial Baptist Church.
Advance online ticketing is required to visit the Memorial Center, and their hours of operation are Monday through Saturday from 9:00 a.m. to 5:00 p.m., with the last admission at 4:15 p.m.
Rosa Parks Museum
To wrap up our guide to historic locations in Montgomery, AL, we have the Rosa Parks Museum. Also in downtown Montgomery, the Rosa Parks Museum is located at and owned by Troy University. This is the nation's only museum dedicated to Rosa Parks, and it's filled with information, exhibits, and some artifacts from the 1955 Montgomery bus boycott. Their mission is to honor her legacy and that of the boycott by providing a platform for scholarly dialogue, civic engagement, and positive social change.
Their hours of operation include Monday through Friday from 9:00 a.m. to 5:00 p.m. and Saturday from 9:00 a.m. to 3:00 p.m. If you want to visit the museum, children ages 4-12 are $5.50; over age 12, it's $7.00. The combo ticket for both Museum & Children's Wing includes ages 13 and up is $14.00, and ages 5-12 is $10.00.
Visit Metro Self Storage in Historic Montgomery, AL
If you're in the Montgomery area looking for someplace to store your belongings,Metro Self Storage can find the spot for you. Offering two locations in Montgomery, you can swing by and store your items with us for safekeeping. We're proud to provide a friendly neighborhood feel with modern, state-of-the-art amenities. Rent a storage unit in Montgomery, AL, on Ray Thorington Road or on Vaughn Road at Metro Self Storage today!