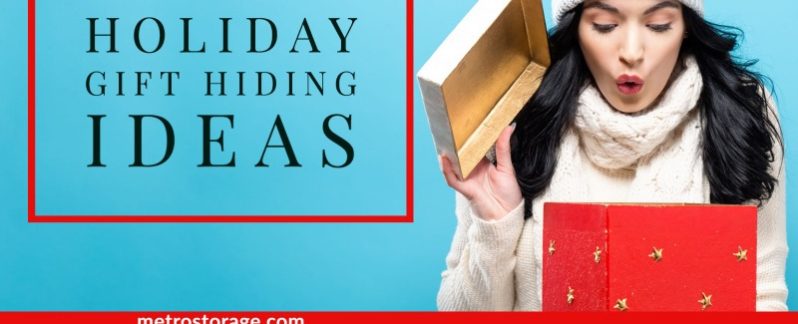 Holiday Gift Hiding Ideas: How Self Storage Can Help
---
November 11, 2015 | Family Life
Is it really that time of year again? Yes! The time for holiday gift-giving is just around the corner and as the bags and boxes start piling up, you might start wondering how and where to hide them from prying eyes and fingers.
The answer? A storage unit! You can rent one for cheaper than you might imagine.
Thanks to Black Friday, shoppers can get a head start on the Christmas holiday rush—if they are willing to give up Thanksgiving. But thanks to online shopping you can buy all your gifts from the comfort of your couch.
Store Valuable Holiday Gifts in a Secure Storage Facility
For the tech-lovers in your life, thankfully, there is also Cyber Monday. And, with Amazon Prime, many gifts qualify for free shipping! You can have your purchases shipped directly to a self storage facility, The storage managers at Metro are happy to accept packages on behalf of customers and will call you when a shipment arrives.
Still up ahead is the smell of pine needles, cinnamon, gingerbread, and peppermint eggnog. If you plan to get your Christmas shopping done early but your home is already tight on space, and you want to maintain the mystery and surprise of Christmas, a self storage unit is an ideal place to hide Christmas gifts from your loved ones.
How to Organize Your Holiday Storage Unit
Another way to lighten the load this holiday season is to share a storage space with a group of friends. If you get a large enough unit, you can set up a wrapping paper station for everyone to share.
Here is what you will need:
A folding table
Several tape dispensers
Scissors
Wrapping paper
Bows
Gift bags, and an
Ice chest for peppermint eggnog
Okay, the last two items are definitely optional.
Ask each friend to print out his or her name on several sheets of paper and leave a pile next to the stapler on the table. As people drop off gifts to the storage unit, they can staple or tape their names to their bags and boxes or take the time to wrap and label their Christmas presents.
You can also plan a Christmas gift wrapping paper party inside a 5X10 or 10X10 storage unit. For once, those of us who shop 'til we drop won't come home to wrap alone.
Storage lockers are the ideal storage solution for holiday gift hidig too, and are less expensive than larger storage units. Moreover, after the holidays you can stash your partner's bowling ball and fly fishing gear that hasn't been used since you moved in together.
What type of storage unit should I rent?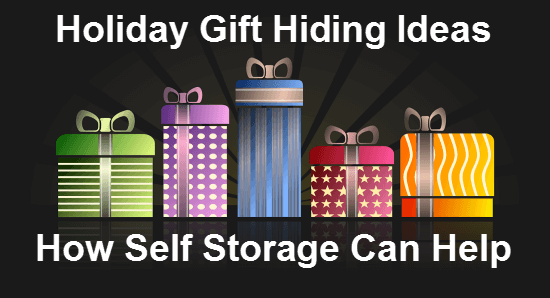 Rent a Secure Unit
Make sure the storage facility you choose features electronic gate access and security cameras. Keeping your valuables safe is first and foremost any time of the year.
Look for Convenient Access
Choose a storage facility that is in between your favorite places to shop or run errands and home so you won't have to drive out of your way to drop off and pick up gifts. Some storage facilities offer 24-hour access, which is ideal for Secret Santas to get things assembled and under the tree at any time.
You Might Prefer a Climate Controlled Space
If you live in a region of the country where it is snowy and icy during Christmas, opting for a climate-controlled storage unit will be a more pleasurable experience, especially, if you plan to share self storage with a group of friends and set up a wrapping paper station inside your storage unit.
Unless you plan to surprise your family with a new puppy or kitten this holiday season, using self storage to hide Christmas gifts is a great option.
Think of all the carefree evenings and weekend afternoons you'll have not worrying about who might be looking for hidden gifts.