Houston Strong! Stories of Courage, Compassion, and Strength
---
September 3, 2017 | Your Local Metro
Houston Strong quickly became the motto of Texans everywhere during Hurricane Harvey. Reported as one of the worst natural disasters in its history, the record-breaking tropical storm landed the same week as the city's 181st anniversary; Houston's forefathers could never have imagined a storm like this. As people process and begin to rebuild, we look at last week's stories that touched so many watching from afar.
From hundreds of brave rescuers who traveled from near and far trailering their boats to Houston to the resourceful bakers who baked 2 tons of bread while trapped in their store, it would seem heroes are ready to do whatever it takes—#HoustonStrong.
The U.S Coast Guard rescues thousands
Image source: Twitter @USCG
Hurricane Harvey dumped trillions of gallons of water on Houston and surrounding cities. And some Texas and Louisiana regions are still experiencing heavy rainfall. As of August 31, 2017, the U.S. Coast Guard has rescued more than 6,000 people and 1,000 pets. It is estimated that the Coast Guard will remain busy for several days to come.
Trapped El Bolillo bakers bake tons of bread
The East End District of Houston is home to two of Houston's oldest Hispanic Communities and a variety of family-owned businesses. Among them is El Bolillo Bakery that serves traditional Mexican cakes and sweets. When Hurricane Harvey hit, three of the shop's bakers were trapped inside for two days with 4,000 pounds of flour.
One of the baker's family was trapped at a mobile home park and he was terrified their home would float away with his wife and three young children. They quickly decided to keep their minds and hands busy and be Houston Strong by baking hundreds of sheets of pan dulce to be handed out to people in need.
Animal rescue heroes in the aftermath of Hurricane Harvey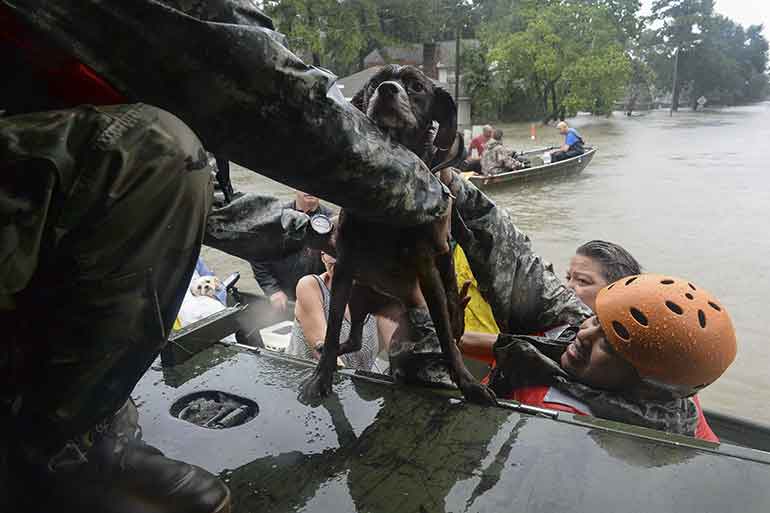 Image source:  Army National Guard photo by Capt. Martha Nigrelle.
Texas National Guardsmen from the 386th Engineer Battalion embody Houston Strong as they work with local emergency workers to rescue residents and animals from severe flooding during Hurricane Harvey. Soldiers, fire fighters, paramedics, and neighbors aided more than 1,000 people and hundreds of dogs and cats, evacuating them to dry ground and local shelters.
There are dozens of animal rescue stories going viral in the aftermath of Tropical Storm Harvey. We love animals for many reasons, and there is little doubt that a storm of this magnitude also affects wild animals as well as beloved pets.
While some Texas ranchers struggle to get cattle out of flooded areas and to higher ground, Animal advocates from around the country are helping to rescue people's pets in the wake of Tropical Storm Harvey.
Harvey the Hawk
A Houston-area taxicab driver filmed a hawk, appropriately named Harvey, who climbed into his taxicab to seek shelter from the storm. The video went viral. Thankfully, Harvey is now being cared for by the staff of the Texas Wildlife Rehabilitation Center.
Firefighter Rescue a Stranded Horse
The fire department of College Station, Texas, posted a video of how it went about rescuing a horse stranded by Harvey floodwaters. It is amazing how calm and cooperative this magnificent beast was during the rescue. Even animals can be Houston Strong.
The Lucky Rescue of 20 Dogs and Their Caretaker
After spending 14-hours in her attic, Betty Walker, a dedicated animal rescuer and the 20 dogs in her care were rescued by three men and their boat who just happened to be canvassing the neighborhood looking for people (and pets) who needed help.
Resourceful Dog Otis Goes Viral on National Media
Then there is Otis, a golden retriever mix who was spotted carrying a bag of dog food down a flooded street. His photo was posted on Facebook with the hashtag refugee and immediately went viral. As reported by Scott Stump from the news outlet, Today, "Adjusting to life in the aftermath of a cataclysmic storm like Hurricane Harvey often requires resourcefulness, and that doesn't just go for humans." We couldn't have said it better.
It's stories like these give us something to smile about in times of duress. We look at the bright side; it's human nature to be Houston Strong in the face of a disaster.
How to help animal rescuers in Houston
To donate to the Humane Society of the United States, click here.
To donate to Wings of Rescue, click here.
To donate to Best Friends Animal Society, click here.
Next steps in the aftermath of Hurricane Harvey
The next step after rescue efforts is to begin rebuilding the homes and lives affected by the record-setting flood waters. We offer some tips and resources from FEMA  on how to salvage your belongings after flood water damage.
Additionally, in an effort to help our fellow Houstonians through this trying time, Metro Self Storage is giving away 2-free months of storage at Houston-area stores while supplies last. For more details please click here.