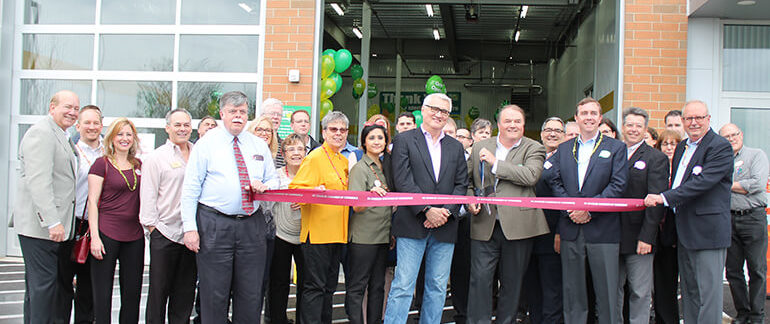 Metro Self Storage Celebrates New St. Charles Self Storage Facility
---
June 14, 2018 | Business Storage
Chicago-based Metro Self Storage celebrated the grand opening of its 22nd store in Illinois on May 23rd.  We'd like to extend a big thank you to everyone who helped us celebrate the grand opening of our new St. Charles Self Storage facility! It's one of the few modern self storage facilities in St. Charles and the surrounding areas.
St. Charles Chamber of Commerce Welcomes Metro Self Storage – A Fiesta Party Held at the New Climate Controlled Facility
On hand to enjoy the festivities were our valued new customers, local businesses, and the St. Charles Chamber of Commerce. A delicious Mexican buffet featured a variety of selections so guests could make their own tacos, tortilla bowls, nachos or custom fiesta-themed creation.
The St. Charles Chamber of Commerce hosted a delicious salsa tasting, which was enjoyed by all.
New to Metro Self Storage? Our locations are built to industry-leading standards and designed with all of the great features you'd expect to find in modern self storage, including superior customer service.
Visit Our Brand New Self Storage in St. Charles!
Located at 2623 Lincoln Highway, Metro is easy to find—Kane County Fairgrounds is located directly north of the new St. Charles storage facility. With extended access and office hours, we make it easy for you to visit whenever it's convenient for you.  Metro Self Storage is in proximity to several major retailers and popular destinations:
One-half mile north of Geneva Commons Shopping Center, which includes Barnes & Noble, Crate & Barrel, Pottery Barn, and more less than ¼ mile from Costco, Lowes, Harley Davidson, and Mercedes-Benz Dealer of St. Charles
One mile north of Cadence Health, an award-winning hospital in the Chicagoland area
Kane County Fairgrounds is located directly north of Metro Self Storage in St. Charles on the other side of Lincoln Highway
Founded in Illinois in 1973, Metro Self Storage is a premier locally owned and operated full-service storage provider. In fact, the 45-year-old company is Chicagoland's first choice for locally owned urban and suburban storage solutions.
We understand self storage is not always about moving. Sometimes you simply need to declutter and organize. That's one more reason to choose the experts at Metro Self Storage.
We invite you to call or stop by today—our friendly, knowledgeable Property Manager will help you find the right storage solution at our brand new St. Charles Storage facility in Illinois.
Metro Self Storage | Saint Charles, IL
2623 Lincoln Highway
St. Charles, IL 60175
630-225-7055
Email Us