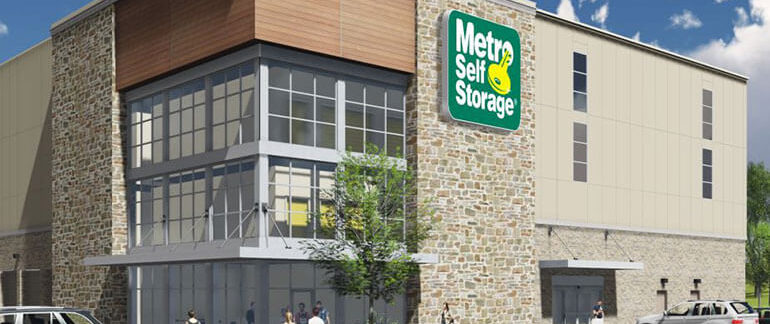 Metro Self Storage Opens Brand New Chadds Ford Storage Facility
---
November 17, 2018 | Business Storage
Metro Self Storage is pleased to announce the opening of our Chadds Ford storage facility conveniently located on Wilmington West Chester Pike (U.S. Route 202). The beautiful climate-controlled storage building is the newest member of the Metro family of friendly storage facilities located throughout Pennsylvania.
Highlighted features for your ease and convenience include interior loading bays and large, freight-style elevators. These sought-after storage amenities protect our customers when moving their valuable belongings any time of year. Especially during inclement weather.
If you or someone you know is seeking a storage solution that offers premium features and excellent customer service, stop by to learn about all our facility features.
NEW CLIMATE-CONTROLLED STORAGE UNITS IN CHADDS FORD
Did you know that Climate-controlled storage units are frequently recommended to protect stored items from heat and humidity as well as freezing temperatures? Our fully enclosed storage building ensures our customers' peace of mind.
This modern storage center offers an additional layer of protection from harsh weather conditions as well as pests and dust. Whether you need storage during your next move in the middle of winter, the height of summer, or sometime in between, our climate-controlled storage units are sure to please.
Ideal for household and business storage, our Chadds Ford storage facility offers the ideal storage solution for temperature-sensitive belongings.
Metro Self Storage climate-controlled storage units come in a wide variety of sizes ranging from small 5X5 units all the way up to large 10X20 units that do double duty as commercial units for business storage customers.
When you combine flexible month-to-month storage rentals, free online reservations, and secure bill payment options, our storage features are hard-to-beat:
Climate-Controlled Storage Units
State-of-the-Art Security Systems
Free Online Storage Reservations
Secure Online Bill Pay Options
Motion-Sensor Lighting
Electronic Keypad-Controlled Access
Exterior Energy-Efficient LED Security Lighting
Storage-to-Office Communications Speakers
Professionally Trained, Friendly Property Manager
Contact our Property Manager today to discuss the items you plan to store and learn more about the benefits of climate-controlled storage for your belongings. Or feel free to give us a call at 484-200-5136.
TAX-FREE MOVING BOXES AND PACKING SUPPLIES
We welcome customers from Deleware too! The new Chadds Ford storage facility is located a mere 100 feet from the Delaware state line. This makes it easy for Pennsylvanians to take advantage of purchasing tax-free moving boxes and packing supplies.
Our large retail storage office is open Monday through Saturday and offers a wide selection of standard moving box sizes as well as specialty boxes for things like TVs and lamps. We also carry sturdy wardrobe boxes that make packing up your closets faster and more efficient.
We provide plenty of free moving carts to simplify loading and unloading your storage unit too. And, our large welcoming storage offices always feature a great selection of moving boxes and packing supplies.
SELF STORAGE SOLUTIONS YOU CAN COUNT ON
Founded more than 45-years ago, Metro Self Storage is one of the nation's largest family-owned and operated self storage providers. Our professional and friendly team of storage experts work hard to build relationship-driven facilities in the communities we serve.
Beaver Valley and Brandywine residents and businesses can think of our family-owned and operated storage company as their reliable partner in moving and storage.
Metro Self Storage in Chadds Ford proudly serves the business districts and neighborhoods of Chadds Ford, Williamhurst, Concordville, Chester Heights, Afton, Talleyville, Birmingham, Glen Mills, Wilmington, Carrcroft, Woodbine, Boothwyn, Fairfax, and more!
Ready to find storage near you? You can find more of our conveniently located storage facilities in several surrounding Philadelphia Suburbs.
Contact us today to learn more about your options for climate-controlled storage units in Chadds Ford, PA.