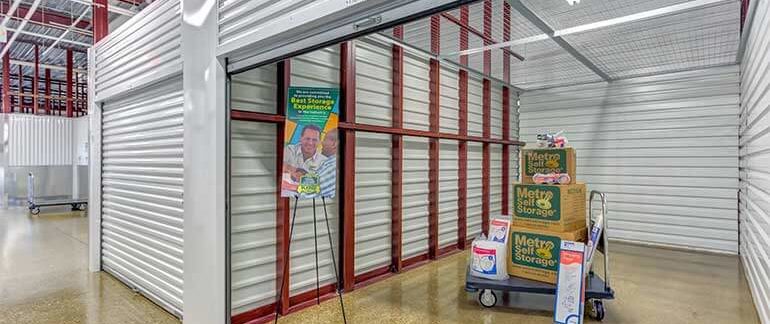 Metro Self Storage Opens New Lincolnshire Buffalo Grove Storage Facility
---
November 30, 2018 | Business Storage
Illinois-based Metro Self Storage announces the grand opening of our newly built storage facility in the northwest Chicago suburb of Buffalo Grove. Local residents and businesses will find new storage options located at 847 Deerfield Parkway, near Busch Parkway.
Choose from 850 brand new climate-controlled storage units in our state-of-the-art and climate-controlled storage facility. Customers can conveniently load and unload their storage units protected from the elements thanks to large, interior bays or loading doors on the north and south sides of the building.
As an early pioneer of self storage, Metro Self Storage is a name you can trust when it comes to finding clean, reliable storage units for your belongings. Today, Metro continues to set the bar high to define outstanding customer service in the industry.
Our Buffalo Grove storage facility will contain video security cameras that are monitored from the office. In addition, a modern retail storage office offers a wide selection of moving boxes, furniture covers, locks, and packing supplies.
Buffalo Grove's newest self storage facility
Our Buffalo Grove storage facility boasts a variety of outstanding features to make any move or life transition more manageable. Local residents and businesses will find a wide selection of interior climate-controlled units as well as drive-up access for their ease and convenience.
Large, double bay interior loading areas

100% climate-controlled storage units

Exterior LED security lighting

State-of-the-art security systems

Free online storage reservations

Secure online bill pay options

Electronic keypad-controlled access

Elevator access to all multi-level floors

Storage-to-office communications speakers

Professional and friendly Property Manager
Value, convenience, and secure storage solutions
Founded in Lake Forest, Illinois, more than 45-years ago, Buffalo Grove and Lincolnshire residents and businesses can think of our family-owned and operated storage company as their reliable storage partner. We pride ourselves on creating relationship-driven facilities in the communities we serve.
Whether you are moving to Buffalo Grove or just need some extra space in your home when you need a simple storage solution to consider the courteous and professional team at Metro Self Storage to help you find the perfect solution.
Wherever your day takes you, Metro is on your way!
One of the biggest perks we offer our local neighborhoods is an unbeatable location offering proximity to Lincolnshire, Wheeling, and Riverwoods. As part of the community, Metro Self Storage customers enjoy ample green space, with 800 acres of forest and parkland, 50 miles of trails, and two municipal golf courses.
Conveniently located right off the Deerfield Parkway makes our Buffalo Grove easy-to-access for Lincolnshire residents and businesses alike. Keep in mind, at Metro you'll have quick and easy access to your stored items 365 days a year.
Shopping:
Walmart, Sam's Club, Staples, Mariano's Grocery, Target, Jewel Osco, Starbucks, Dunkin Donuts, Walgreens, and many other retail strip malls.
Recreation:
Willow Stream Park, Spray 'n Play, Mike Rylko Community Park, Ryerson Conservation Area, Green Lake Park, Par-King Skill Golf, Twin Creek, Buffalo Creek Forest Preserve, and Deer Grove East,
Public Transportation:
The Buffalo Grove is a station on Metra's North Central Service in Buffalo Grove, Illinois.
With a stop at the O'Hare Transfer Station, you can get to the airport in 20 minutes from Buffalo Grove and in less than 35 minutes from downtown Chicago. Metra's Buffalo Grove commuter service consists of 19 North Central inbound and outbound trains on a daily basis. Train stops include O'Hare International Airport.
Learn more or reserve your brand new climate-controlled Buffalo Grove storage facility today:
Metro Self Storage
846 Deerfield Parkway
Buffalo Grove, IL 60089