Moving to Illinois? The Best Chicago Suburbs for Families
---
July 29, 2019 | Your Local Metro
Are you dreaming about moving to one of the best Chicago Suburbs in Illinois? Beginning in May, people from all over the country start making plans to move to a new home or apartment. Some people move across town and others across the country. Here in Chicago, moving over the summer months is a million times easier than moving in Chicago during winter.
In fact, Chicagoans get through frigid winters by dreaming about summertime recreational opportunities. While Lake County has over 200 lakes and rivers, Lake Michigan boasts 40-miles of shoreline and 100 different beaches. As a result, so many vacationers flock to Chicago's 'burbs that tourism brings in over one billion dollars annually. However, it's the locals who know all of the best places to eat, play, and swim.
Boating Lake County is for anyone who loves fishing, water skiing, canoeing, or all of the above. We combed through data from Neighborhood Scout, PlayScore.org, and GreatSchools.org to find our list of a few of Chicago's best suburbs for families, young professionals, and retirees.
1. The Village of Mundelein in Lake County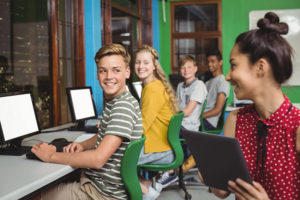 MUNDELEIN STATS
PlayScore: 79 out of 100
Average Commute Time: 28 minutes
Median Home Price: $225,00
The Village of Mundelein is a picturesque town and vibrant community located in the heart of Lake County Illinois. With a population of around 32,000 residents, Mundelein makes our list as one of the best Chicago Suburbs for its ideal location, excellent business opportunities, and top-rated schools.
Known for having a thriving manufacturing industry, Mundelein is home to Medline Industries, a global manufacturer, and distributor of medical products. Commuters enjoy being only 41-miles from Downtown Chicago and can hop on the Metra NCS to the Ogilvie Train Station.
Housing values are downright affordable when you compare Mundelein real estate prices with other Chicago North suburbs, and it's a great place to raise a family, retire, or start a business. Residents enjoy sunbathing at Diamond Lake Beach while tourists visit Fort Hill Heritage Center.
Mundelein Private and Public Schools
There are two primary public school districts in Mundelein. The Diamond Lake School District enrolls 1,078 students and features a preschool, an elementary school, and a middle school. The Village's other school district, Mundelein ESD School District enrolls 1,679 students and includes a preschool, two elementary schools, and a middle school.
There are four high schools in Mundelein: Carmel Catholic High School, Mundelein High School District #120, Community High School District #128, Libertyville High School, and Vernon Hill High School. The Mundelein High School Business INcubator gives students the opportunity to develop their own product or service with the help from local business owners and entrepreneurs. Highly regarded neighborhoods for education in Mundelein include Ivanhoe, Sylvan Lake, Diamond Lake, and Village Center.
Are you planning a move in Mundelein, IL? You can easily find short- and long-term storage solutions at Metro's brand new state-of-art Mundelein self storage facility located across the street from Oak Creek Shopping Center off I-94.
2. The Village of Lake Bluff, Illinois
The race returns to #LakeBluff! #LakeBluffCriterium #criterium #lakebluffstyle
A post shared by Village of Lake Bluff (@lake_bluff) on Jul 19, 2014 at 2:18pm PDT
Image Source: Village of Lake Bluff via Instagram
LAKE BLUFF STATS
Average Commute time: 45 minutes
GreatSchools.org Score: 9 out of 10
Median Home Price: $483,841
Rated as one of Chicago's best neighborhoods by Chicago Magazine, Lake Bluff enjoys accolades for hosting the best farmer's market and for being a hip and happy lakeside town. One of the smallest 'burbs on our list, Lake Bluff boasts seven parks amongst its two primary neighborhoods.
The Village Center Neighborhood is located on the shores of Lake Michigan and consists primarily of three- to five-bedroom homes. Some residences were built before 1940, which means storage space is at a premium. Even so, buying a home in Lake Bluff is an expensive; the median list price of $275 per square foot is higher than the Chicago Metro.
Lake Bluff is an ideal Chicago Suburb for those employed in executive, management, and other types of professional occupations. Located 33-miles north of Downtown Chicago, commuters can easily hop on the Metra UP-N to get to work. However, around 10% of Lake Bluff residents work from their home offices. Anyone faced with a commute from Lake Bluff will spend between 45-minutes to over an hour commuting one-way to work every day.
Employment Opportunities Near Lake Bluff
Lake Bluff is nearby to some of Lake County's largest employers including the area's best hospitals: Northwestern Lake Forest Hospital and Northshore Highland Park Hospital. Other Lake County Leading employers near Lake Bluff, IL:
PCA (Packaging Corporation of America): Package, transport, and display products manufacturing
Tenneco Incorporated: Motor vehicle parts and accessories
Trustmark Insurance Company: Insurance products and programs
W.W. Grainger: Electrical apparatus & equipment manufacturer since 1927
Brunswick Corporation: Designing and manufacturing a wide variety of products since 1845.
Queen Anne and Midwestern Prairie-style homes can leave Lake Bluff residents scrambling for seasonal self storage solutions. Thankfully, residents and businesses can easily find a locally owned and operated self storage facilities located throughout Chicago's Suburbs.
3. The Village of Deerfield in Lake County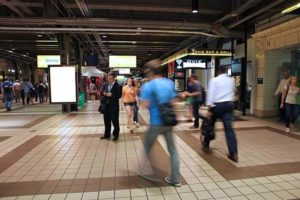 DEERFIELD STATS
PlayScore: 79 out of 100
GreatSchools.org Score: 10
Average Commute Time: 33 minutes
Median Home Price: $413,568
The Village of Deerfield is approximately 25-miles north of Chicago making it an attractive Chicago Suburb for anyone seeking respite from the hectic big-city lifestyle. The Township of Deerfield is located adjacent to Bannockburn and Highland Park, and Glencoe which is home to the Chicago Botanical Gardens.
While around 12% of Deerfield's residents work from their home office, almost 15% of the neighborhood's commuters ride the train to work in Chicago; it takes about an hour to get to the Ogilvie Station on the Metra UP-N line from Deerfield.
Located on Chicago's North Shore, Deerfield is a desirable place to live for urban sophisticates who are people looking to trade in fast-paced city life for a small, tight-knit community. With a population of 19,019, Deerfield is a great place to raise kids too. The combination of good schools, low crime, and a high rate of homeownership provides a solid community for parents to raise their children.
Deerfield Public Schools
Deerfield Public School District 109 includes two high schools, two middle schools, four elementary schools, and one preschool. The best Deerfield neighborhoods for education are Village Center, Waukegan Road/Deerfield Road, Saunders Road/Deerfield Road, and County Line Road/Pine Street. As a result, these neighborhoods are also the most expensive areas to buy or rent a home.
When you combine senior-living and family-friendly neighborhoods with tolerable commute times for those working in Downtown Chicago, Deerfield offers a lot to individuals and families. The Village's brand new self storage facility offers affordable Deerfield residential and business storage solutions.
Deerfield gets our vote for one of the best Chicago Suburbs for all of these reasons. Plus it boasts a fairly decent WalkScore of 69, which is pretty impressive for a suburb.
4. The Village of Palatine Celebrates its 150th Anniversary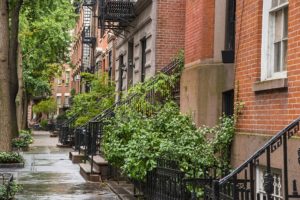 PALATINE STATS
PlayScore: 68 out of 100
GreatSchools.org Score: 10
Median Home Price: $309,286
"A real hometown" motto and a population of almost 70,000 people make Palatine one of Chicago's medium-sized suburbs. Moreover, it has a reputation as an amazing town with friendly, helpful people. The Village recently celebrated its 150th anniversary. Most notable community-based events were a family-friendly bike tour of historical sites and burying a time capsule. Palatine's two high schools, the community college, and the town's library have all received special national honors.
Located approximately 30-miles from the Ogilvie Transportation Hub in Chicago, many Palatine residents get to work on the Metra UP-NW Line. Other residents work in Palatine or nearby towns in manufacturing, retail, and healthcare, scientific, and technical services.
Palatine Neighborhoods
There are ten primary neighborhoods in Palatine. Because of its proximity to Deer Grove and Paul Douglas Forest Preserves, the Colfax/Northwest neighborhood is ideal for outdoor enthusiasts.
Palatine offers plenty of housing options including small studio and two bedroom apartments to larger three- and four-bedroom apartments and townhomes. Consequently, Palatine apartment dwellers looking to create a little more space in their homes can turn to Metro Self Storage conveniently located on Colfax Road. This new, climate-controlled self storage facility features state-of-the-art security as well as fully illuminated buildings and parking lots.
Like many of the best Chicago Suburbs, Palatine has a rich historical past. The George Clayson House located on Northwest Highway cost about $2,300 to build in 1873. Today, the home is on the National Register of Historic Places. As a result, it serves as a grand reminder of the Palatine's rich historic culture and Victorian Italianate past.
5. The Village of Lake Zurich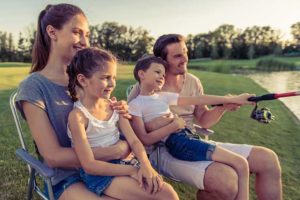 LAKE ZURICH STATS
PlayScore: 79 out of 100
GreatSchools.org Score: 9 out of 10
Average Commute Time: 33 minutes
Median Home Price: $413,568
The Village of Lake Zurich is a family-friendly community located 38-miles north of Downtown Chicago. This Chicago Suburb is famous for its festivals, Fourth of July celebrations, and marathons. Another fun fact is the Village shares its namesake with a 228-acre lake bordered by Paulus Park. So it's no surprise that Lake Zurich is a popular summer destination for locals and visitors who love fishing here.
Commuters can hop on the Metra to get to other cities for work, and the majority of the town's residents work in computer-related fields. Employment opportunities in Lake County are plentiful and Lake Zurich's workforce primarily comprises of managers, sales and office workers, and healthcare professionals.
Lake Zurich's School District
The Lake Zurich CUSD 95 School District enrolls 5,738 students and features eight schools. The best schools in Lake Zurich are Sarah Adams Elementary School, May Whitney Elementary School, and Lake Zurich High School.
Most noteworthy neighborhoods in Lake Zurich are homes surrounding the Cuba Marsh Preserve and the Village Center. Many Lake Zurich residents are within biking or walking distance to the center of town.
The Best Chicago Suburbs Offer Something for Everyone
Chicago ranks as one of the most exciting cities to be single, start a career, or for entrepreneurial development. However, when it comes time to raise a family or retire, a big city can present challenges. The best Chicago Suburbs offer a range of lifestyle options for families. Whether you're looking for an urban enclave or to spend a little less on your house payments, moving to the 'burbs can increase your quality of life.
Metro Self Storage helps people just like you find reliable, affordable storage solutions. Headquartered in Lake Forest, IL, it is the 5th largest privately-held self storage company in the United States.
The professionally trained Property Managers at Metro have years of experience and can offer tips designed to help you with every step of your storage experience.
Here at Metro Self Storage, we understand that self storage is a reliable partner for many people's life stories.