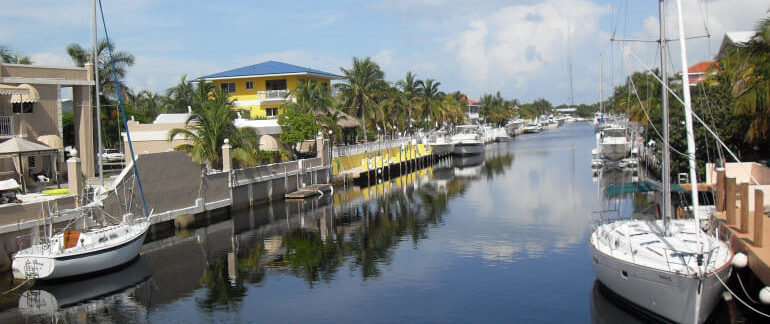 Moving to Largo, Florida? Choose the Best Storage Facility for Your Belongings
---
September 9, 2014 | Moving
There are many reasons to relocate. If your reason to move is a case of location-based chronic boredom, then moving to Largo, Florida will surely cure what ails you.
Largo is centrally located near the best of what Pinellas County offers, so there is never a shortage of interesting things to do. No matter what your passion, Largo, and nearby cities and beaches offer something for everyone—visit the Clearwater Marine Aquarium, attend a sporting event at the newly renovated Sid Lickton Complex or enjoy the nearby arts and culture at the Largo Botanical Gardens.
When you need self storage units in Largo, FL choosing one of the best storage facilities doesn't necessarily mean you'll have to pay more. In fact, public storage in Largo, FL is currently amongst the most economical storage in the United States.
Besides a friendly and expert storage team, when moving to Largo, Florida, you'll want to choose Pinellas county storage units that have a state of the art website. This ensures you'll have the convenience of managing your storage experience online whenever it's convenient.
You'll also want a company that offers extended telephone customer service hours (You never know when you might have an emergency situation!). Additionally, the ability to access your storage unit seven days a week is a big plus for some folks. At Metro Self Storage, you will find a professionally staffed storage office that is open at least one day over the weekend. Having someone onsite to assist you during a weekend move is always a big plus.
The best time for moving to Largo, Florida, is practically any time of year because on average the city gets 246 sunny days per year. Even better, is the fact that it doesn't snow in Florida!
Here is a list of helpful questions to ask your local storage facility manager
1. What are the best storage options for my belongings?
2. What type of security features does your storage facility offer?
3. What is the difference between climate controlled vs. non-climate controlled units?
4. Is proof of insurance required before I rent a storage unit?
5. What do you suggest if I have to move in during hurricane season?
6. What are your tips for preventing mold and mildew in my storage unit?
7. Does your facility offer drive-up, 1st Floor, and/or multi-level elevator access?
8. Do you offer 24-hour access to my storage unit?
9. Will I have access to my stored items 7 days a week?
10. Is your storage office open Saturday or Sunday?
Follow these tips for finding a storage facility that is ideally suited to your needs, find storage units near Clearwater and Largo, FL, and make your next move your easiest move!
Whether you are moving to Largo or another beautiful Florida city, Metro is here to help you find the best storage solution
Metro Self Storage
10501 Belcher Rd S
Largo, FL 33777
(727) 547-3679

Metro Self Storage
619 Cattlemen Rd
Sarasota, FL 34232
(941) 315-7567

Metro Self Storage
4216 Gunn Hwy
Tampa, FL 33618
(813) 302-1371
Metro Self Storage
21731 State Road 54
Lutz, FL 33549
(813) 693-5452

Metro Self Storage
1821 E Fletcher Ave
Tampa, FL 33612
(813) 906-7919

Metro Self Storage
3021 Lee Blvd
Lehigh Acres, FL 33971
(239) 491-8111

Metro Self Storage
1675 Starkey Rd
Largo, FL 33771
(727) 228-9272
Metro Self Storage
624 Robin Rd
Lakeland, FL 33803
(863) 333-9919

Metro Self Storage
13100 66th St N
Largo, FL 33773
(727) 315-1175

Metro Self Storage
7627 Narcoossee Rd
Orlando, FL 32822
(321) 270-8294
Metro Self Storage
17231 Dona Michelle Dr
Tampa, FL 33647
(813) 906-8038

Metro Self Storage
1231 Kings Hwy
Port Charlotte, FL 33980
(941) 787-3744

Metro Self Storage
3501 Gandy Blvd N
Pinellas Park, FL 33781
(727) 280-5520

Metro Self Storage
10813 Boyette Rd
Riverview, FL 33569
(813) 586-2544

Metro Self Storage
311 W Dr Martin Luther King Jr Blvd
Seffner, FL 33584
(813) 540-0027

Metro Self Storage
3300 Barclay Ave
Spring Hill, FL 34609
(352) 835-5022

Metro Self Storage
17701 Summerlin Rd
Fort Myers, FL 33908
(239) 215-1456

Metro Self Storage
8323 W Hillsborough Ave
Tampa, FL 33615
(813) 666-8703

Metro Self Storage
1210 W Fletcher Ave
Tampa, FL 33612
(813) 666-8935

Metro Self Storage
19390 Bruce B Downs Blvd
Tampa, FL 33647
(813) 501-2616

Metro Self Storage
17625 S Tamiami Trl
Fort Myers, FL 33908
(239) 243-0325

Metro Self Storage
28925 State Road 54
Wesley Chapel, FL 33543
(813) 501-2718
Even if you are not moving to Largo, Florida, Metro offers clean, reliable, and well-maintained storage facilities throughout the state. All of our storage facilities are operated by friendly, professionally trained Property Managers who look forward to helping you find the perfect storage solution.