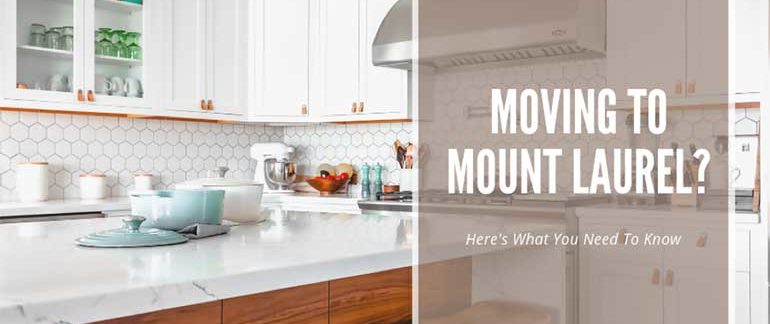 Moving to Mount Laurel? Here's What You Need to Know
---
June 23, 2019 | Moving
Are you planning on or considering moving to Mount Laurel? If so, then you might be wondering what life would look like there, and how it would differ from where you currently call home!
Whether you are from a different state or are looking to ditch the city life for the suburbs, we know you probably have some questions – what job opportunities does Mount Laurel have? How long is the average commute? What are the school rankings? What is the weather like? What is there to do? What's the cost of living?
We understand the dilemma of moving to somewhere new and unfamiliar and all of the unknowns! So here is a guide with key things to know about moving to Mount Laurel, in hopes that you'll get a better picture of what life would look like for you there.
A Little About Mount Laurel
Mount Laurel Township is a New Jersey suburb conveniently located near the New Jersey Turnpike and just East of Philadelphia. This 22 square mile Township has a population of 41,662, with most of its residents being young families and professionals.
Living life in a suburban town gives its residents a suburban vibe, offers affordable homes, and has plenty of coffee shops, restaurants, and parks to enjoy. On top of that, the Township has a thriving business community, an average commute time of 29 minutes, and highly ranked public schools, and outdoor spaces.
If you're wondering how Mount Laurel is ranked overall in the state of New Jersey, it's top-notch! The Township received an 'A' rating in this article. The report card took several different factors into consideration, including the quality of local schools, employment statistics, access to amenities, and crime rates.
Weather in Mount Laurel
If you are planning on moving to Mount Laurel, you can also plan on experiencing all 4 seasons! The Township is overall warm and temperate.
The average high during the winter is 42°F with an average snowfall of 13 inches. The average high during the summer is 87°F. It's also important to note that even during the driest months, this Jersey 'Burb receives a significant amount of rainfall, averaging 47 inches
Cost of Living in Mount Laurel
Mount Laurel is mostly made up of single-family homes, townhomes, and condominiums. The median home cost is $235,400, lower than the New Jersey average of $319,300.
If you're looking to rent, the average rent for a 2 bedroom apartment is $1,200, which is also lower than the New Jersey average of $1488.
Business and Employment Opportunities in Mount Laurel
Mount Laurel has a thriving business community! First off, the medical field dominates in Mount Laurel thanks to many of the regional hospital systems, medical practices, diagnostic and surgical centers, all calling the Township home. Mount Laurel also has a nursing home, three retirement communities, and an assisted living center.
Due to the convenience of being located near the New Jersey Turnpike and Route 295, as well as minutes from downtown Philadelphia, Mount Laurel's "Hotel Row" is part of the Philadelphia Convention Centers hotel system. Mount Laurel has 30 hotels in the area, ranking the Township number two for most Hotels in the entire state of New Jersey.
Education in Mount Laurel
The overall grade for Mount Laurel schools is a B+ according to this source. The Township has above average schools and a student-teacher ratio of 12 to 1!
The school district in total has eight elementary schools, and approximately 7,000 children commute into Mount Laurel schools and the regional high school. There is also a County College Campus.
What to See and Do
Go Shopping at Centerton Square Shopping Center
Mount Laurel has plenty of shopping for those who love retail therapy. Many surrounding areas commute to Mount Laurel to visit the Centerton Square Shopping Center. The shopping center has 17+ stores with over a million square feet of retail space!
Laurel Acres Park
Mount Laurel doesn't fall short when it comes to things to do outside! The Township has an extensive Parks and Recreation system, including award-winning Laurel Acres Park.
Laurel Acres Park is the perfect place for a picnic or a walk along a wooded trail. The park has playgrounds, sports fields, a nature trail, a fishing lake, a sledding hill, and the Township's War Memorial.
Laurel Acres Park annually hosts the Mount Laurel Fall Festival, a township community day that see more than 15,000 friends and neighbors come together for a day of family fun. You can also catch a summer concert or an outdoor movie in the park!
Step Into History at Jacob's Chapel
If you're a history buff, Mount Laurel has something for you too! Make a visit to Jacob's Chapel. The chapel was built in 1859, and behind it is an African American cemetery with soldiers from the Civil War.
The story behind the chapel is that during the war, Quakers living here helped slaves to escape to the north through the Underground Railroad, using Jacob's Chapel as a hiding location for the slaves!
If you enjoy tending to a garden and don't have space, join the community garden! Mount Laurel has a community garden where neighbors can enjoy growing fruits, vegetables, and plants together.
Swing into your weekends at Top Golf
Top Golf is the perfect go-to for a fun afternoon activity or date night. Swing the club and enjoy food and drinks while you play in the climate-controlled bays.
Take the kids to The Funplex
With more than 25 acres of indoor and outdoor fun, this award-winning family entertainment center has become the go-to venue for corporate events, parties or a day of family fun. The Funplex has Go Karts, Bowling, Laser Tag, Mini-Golf, an Arcade, Bumper Cars, a FunCoaster, an outdoor water park, and more!
See the Animals at Paws Farm Nature Center
If you're an animal lover, Paws Discovery Farm would be a great weekend activity! Take the family on a Saturday afternoon to enjoy over 80 different kinds of animals with feathers and scales!
The Bottom Line
If you're looking for a new place to call home, moving to Mount Laurel is a good idea! The town is welcoming and family oriented in nature. The Township is close to the city, but also has plenty of space to get outside and enjoy the outdoors.
Overall, Mount Laurel has a lot to offer while still being affordable, making the Township an attractive place to be, and a great place for businesses and families to call home!