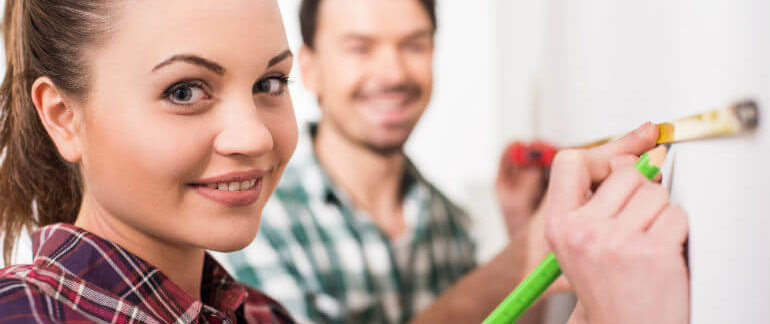 New Jersey Home Renovation Trends for 2018
---
May 19, 2018 | Home Organization
Times are changing in the housing market. With the speed of modern looks and personality, homes are starting to be remodeled left and right. The thought slips in your head once, and then you look around your house and notice all of these sections that can be updated dramatically. Now, it's time to gain inspiration and take action! By breaking down the New Jersey home renovation trends for 2018, we help you gather some great ideas that are personal and in style.
These trends will be grabbed all over New Jersey. Places like Andover, North Plainfield, Pennsauken, Springfield, and Stanhope are either already ahead of the curve, or soon to jump on. Here are our New Jersey home renovation trends of 2018!
Expansions
The market is starting to shift and expand. Homeowners are starting to take a look at their house and are wondering how they can maximize their investment. This leads us to the expansion of homes.
Many homeowners are seeking to add another level of sophistication to their existing homes. This adds a fresh new sense to the home that can be your interior design playground. This will also increase property value.
When choosing which room to expand, think about the gathering spaces and which will give you the biggest return on investment at a later date. Expanding a living room will yield much better returns than expanding a guest bedroom.
Expansions can be extremely difficult and messy. Be absolutely sure that you have the right professionals handling the work before you start. If you don't have experience remodeling, a DIY remodel might not be the best option.
Additionally, it's smart to have a service come in and dispose of the leftover materials for you, as picking up construction debris can be dangerous. Also, not all materials from the renovation can be sent to the landfill. Planning for such services ahead of time will save you time and a headache!
Blurring Kitchen Lines
Many homeowners are looking for open floor plans. This means tearing down the walls in your kitchen and allowing the house to breathe. Being able to see the house layout from the kitchen makes an open homey feel while also providing easier access to entertain guests.
People are also looking at making their homes home feel more expansive with easier access to the outdoors. This can be accomplished by adding double doors or sliding glass doors to the outside from the kitchen. Overall, the openness of a home is really starting to dominate the industry.
Also a hot New Jersey home renovation trend—quartz countertops. Stone sinks come in second place, followed by the backsplash and faucet. The reason why is because 2018 is bringing a lot of modern design to the home. This is the time when homes that haven't changed since the 1990's are really feeling outdated. If you're home is outdated in many areas of the home, the kitchen is always a great place to start.
Hardwood Floors
At this point, you should be noticing that many of your friends and family in the New Jersey area are starting to change to hardwood floors. This is helping to make the home feel grounded and natural as your homes start to fill with technology.
You can also expect to see more brick, exposed beams, and metals to accent the floors. Not to mention, hardwood floors tend to last longer than carpet while looking much more elegant than tile.
Man Caves & She Dens
Nothing is more inviting and trendy than adding a private space to get away. Enjoying a cold beverage after a long day of work feels so right in a room that is solely designed for you and your friends. This is also a great addition for those consistently hosting gatherings.
Another growing trend that aligns with Man Caves and She Dens are homebrewing stations. As you know, the craft beer industry is exploding throughout the United States. It may not add much value to your home, but it will give your home a unique property spec that other homes may not offer.
Smart Home Technology
The smart home concept is coming more and more to life each day. Technology is springing into that "Jetsons" reality. You can start updating by adding a smart assistant to your home. Once you choose your favorite assistant, you can start to expand.
Smart home technology can help you save on energy bills too. Take a look at smart lighting next. This will accent your house anytime with just your voice or phone. Most smart lights even have the ability to turn on and off when you are away from home.
You can also deck out the outside and inside of your home with security cameras that will notify you whenever there's something alarming happening. The list goes on and on after that. Smart refrigerators, trash cans, floor cleaners, etc. If you can think of it, they probably have something out for it that is "smart".
New Jersey is at the forefront of the 2018 renovation trends. Make sure to look into this area on your own and let your curiosity take you to your own expression. You never know what you might discover when you dive into home renovations.
Just be sure to have professional help on your entire renovating adventure. This will save you from massive stress down the line.
If you decide to tackle larger projects such as home expansions, knocking down kitchen walls, consider a storage facility to house your personal belongings throughout the renovations to prevent any mishaps along the way!