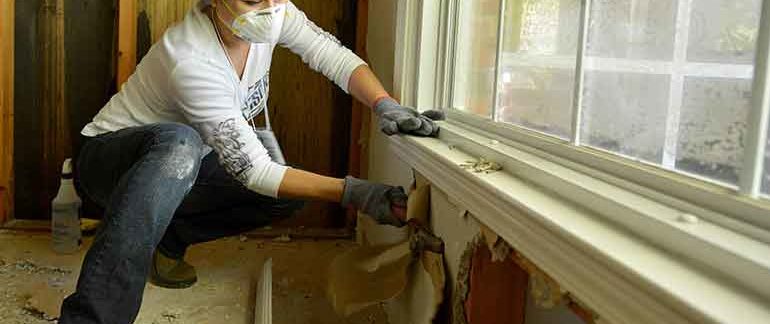 Salvaging Household Items After a Hurricane
---
September 2, 2017 | Storage Tips
Before salvaging household items after a hurricane, the most important thing to remember is to make your safety a priority when returning after a hurricane to clean and empty out your home. While many things will disappear as a result of flood damage, others can be saved.
Preparing for a hurricane is no easy feat. Especially if you have multiple family members, beloved pets, or both in your care. In the rush of an evacuation, ensuring everyone can make it to safety is a priority. It's entirely understandable when valued objects and things get left behind.
Rescue the most valuable items first
Returning to your home for the first time after evacuating from a natural disaster is often heartbreaking. However, when treasured belongings sustain water damage from a hurricane, you may be able to salvage them. FEMA recommends finding and rescuing "irreplaceable" valuables such as money, jewelry, family heirlooms, artwork, photographs, and important documents first.
If you need to rent a temporary storage unit in Houston during recovering and rebuilding
After salvaging household items, you may need to store them while you figure out what to do next. Apartment dwellers and homeowners affected by hurricane floods can temporarily store their undamaged belongings at one of our self storage locations.
Here at Metro Self Storage, we want to do our part by helping to mitigate some of your storage costs. However, it is important to note that insurance is required while your belongings are stored.
Metro Self Storage offers these clean, reliable storage solutions in 14 states including Texas:
Metro Storage-Houston 43rd | 6300 West 43rd Street | Houston, TX |713-688-8700
Metro Storage-Houston Bissonnet | 9840 Bissonnet Street | Houston, TX | 713-981-7222
Metro Storage-Houston Champions | 13800 Veterans Memorial Dr. | Houston, TX | 281-880-7444
Metro Storage-Houston Gessner | 1918 Gessner Drive | Houston, TX | 832-358-3888
Metro Storage-Kingwood | 560 Kingwood Dr | Kingwood, TX | 281-348-9800
Metro Storage-La Marque | 2919 FM 1765 | La Marque, TX | 409-933-9930
How to save wood furnishings after water damage
Solid wood furniture including family heirloom and antique furniture can usually be cleaned and repaired after receiving water damage. Wood alcohol or turpentine applied with a cotton ball can help remove white mildew spots on wood. After the furniture is dried out, cream wood restorers with lanolin will help restore good wooden furniture parts. However, upholstered furniture soaked by contaminated flood waters are usually discarded due to the health concerns.
How to clean clothes and linens damaged by hurricane flood waters
Salvaging household items like clothes and linens is easier if you have working appliances. Even if your washing machine and dryer did not get wet during Hurricane Harvey, do not use either until you know that it is safe to use electricity in your house, the water is safe enough to drink, and your sewer line is working properly.
Before washing clothes, run your machine through one full cycle set on hot water and add bleach. If clothes or linens are muddy, wash them off with a hose first to avoid clogging your drain. Additionally, iIt is important to wash, thoroughly dry, and to properly prepare clothes and linens before placing them in your storage unit.
What to do with kitchen items and food after flood damage
Like the washing machine and other appliances, you will want to make sure your dishwasher is only used after you know your water is safe to drink and that the sewer line works. Go ahead and throw out plastic items exposed to flood waters because they are porous and probably absorbed the contaminants the flood waters carried into your home. Run all dishes, pots and pans, and utensils through the dishwasher and do not use the energy saving setting to ensure the hot setting is optimal.
An important note about food touched by flood waters
According to FEMA, food (even in cans and sealed jars) is highly susceptible to contamination during a flood. Call the U.S. Department of Agriculture's Food Safety Hotline at 1-800-535-4555 between 10:00 am and 4 pm, Eastern Time, Monday through Friday to have a food flood expert answer your questions about whether to keep or discard food.
FEMA publishes these helpful guides on the National Flood Insurance Program in Spanish and English
Su Seguro de Vivienda de Residencia no cubre Inundaciones | If Your Homeowners Insurance Doesn't Cover Floods
Póliza de Riesgo Preferencial para Propietarios e Inquilinos | The Preferred Risk Policy for Homeowners and Renters
Poliza de riesgo preferida para negocios | The Preferred Risk Policy for Businesses
Programa Nacional de Seguro Contra Inundación Resumen de Cobertura | NFIP Summary of Coverage
Manual de Reclamaciones para Seguros Contra Inundaciones | Flood Insurance Claims Handbook
Reconstruya de Manera Mas Segura y Resistente. Lo Que Necesita Saber | Build Back Safer and Stronger—What You Need to Know
Seguridad alimentaria y del agua en caso de apagones eléctricos e inundaciones | Food and Water Safety During Power Outages and Floods
After a hurricane, government officials switch from response and rescue mode to recovery efforts. This is when the Hurclean task of restoration and rebuilding if storm-hit areas begin.
Both government and private organizations recommend taking photos of every room from every angle so that you can accurately show documentation of the hurricane flood damage for insurance adjusters.
Even if you don't have flood insurance on your homeowner's policy, disaster recovery assistance from FEMA, and other organizations will most likely require photos documenting the damage sustained during Hurricane Harvey.
If you have additional questions about how to store your recovered items after a hurricane, please call one of our friendly, Property Managers at Metro Self Storage.