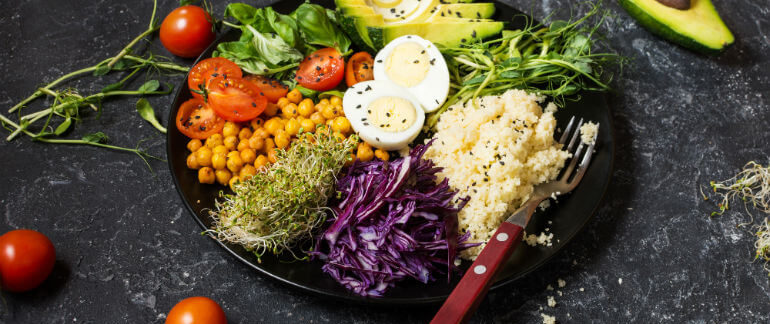 The 4 Essential Moving Day Meals for Omnivores
---
May 12, 2018 | Moving
You've packed the boxes. You've hired the truck. You've reserved your storage unit. But what are you going to eat? This extremely important question is often overlooked on moving day. With the powers of these 4 essential moving day meals for omnivores, you will set yourself up for success on the big day.
What are the 4 Essentials?
Fueling yourself with the essentials on a big moving house day is just as important as fueling your moving truck with gas.
We tend to reach for junk food when we're stressed. However, the right foods – dark chocolate, avocados, pistachios, and cashews – may actually offer some stress relief. Making the right choices early in the day will set you up for success.
Your most important moving day meal? Start with eating a healthy breakfast. Be sure it includes all four essential ingredients for moving day: fiber, greens, protein, and fat.
Why the 4 Essentials?
Hitting a mid-afternoon slump is not something you want to run into on moving day. Make sure to eat a meal that contains the right ingredients to keep you going through activities like lifting boxes, coordinating storage units, and extreme multitasking.
1. High Fiber
Complex carbohydrates will provide longer-lasting energy than a simple sugar. Fiber takes longer to digest meaning it will leave you feeling full longer. An ideal way to postpone your candy bar cravings.
2. Organic Greens
Leafy greens provide micronutrients to power your cells. They also provide some of the above – fiber. With very little carbohydrates or cholesterol, they are a good source of vitamins to nurture your brain and body. Your moving day meal challenge – sneak some greens into every single meal you eat.
3. Good Protein
We all know the benefits of protein. Your body builds and repairs tissue with this essential. And strong muscles are key to moving into your Metro Self Storage unit. Protein also digests the slowest – after carbohydrates and fiber – another way to keep yourself fuller longer.
4. Healthy Fats 
You might be scared of this one. And, if you ate a lot of french fries, you'd be right. It's important to eat good fats, and continue to avoid the bad ones. Foods high in good fats include coconut milk, avocados, cashews, and salmon.
There are many reasons to eat fat, among which are boosting your metabolism and increase brain function. Avoid sunflower, corn, canola, and safflower oils.
The food you put in has a direct correlation to your energy levels, mood, stress, and more! Quality food will result in a can-do-anything attitude. Try out one of these examples below, or invent your own!
Sample Moving Day Meals
Here are 4 meal ideas for moving day that contain all 4 essential ingredients to include in your moving day meals. Follow the recipes below or these as inspiration to create healthy food options with whatever's left in your kitchen.
Make Your Move Smoothie
Ingredients
1 scoop of protein powder
1 tbsp. nut butter
1 tbsp. coconut oil
1 tbsp. of chia seeds
1/2 cup of bleuberries or other berries of your choice (fresh or frozen)
A handful of spinach (not pictured here)
1 cup unsweetened nut milk
Directions
Blend all ingredients to desired consistency, add ice cubes if necessary
Get Going Green Eggs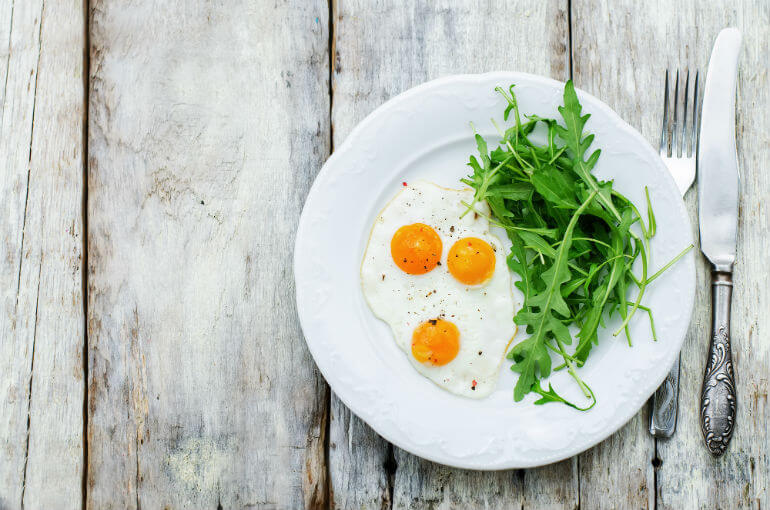 Ingredients
2 eggs
2 cups of spinach or greens (arugula pictured) of your choice
1 can of diced tomatoes
2 tbsp of Olive Oil
Directions
Cook eggs, sauté greens and combine all ingredients in a shallow bowl or plate.
Let's Toast with Mashed Beans and Avo
Ingredients
1 cup white beans
2 avocados, peeled, pitted, and cubed
2 tablespoons mayonnaise
1/4 cup finely chopped fresh herbs (parsley, dill, and chives)
2 celery stalks, finely chopped
1 small red onion, finely chopped
Salt and pepper to taste
2 slices of high fiber bread
Garnish with thinly sliced radish and sesame seeds
Directions
Combine all ingredients to create the avocado salad mash. Place on top of warm toast and salt and pepper to taste.
Soul-Saving Savory Bowl
Ingredients
Protein of your choice (i.e., pork loin, tofu, egg, etc)
Avocado
Sautéed kale
Microgreens or alphalpha sprouts
Julienned carrots
Chickpeas
Quinoa
Drizzle with melted Ghee or EVOO
Directions
Sauté kale in ghee or olive oil for 3-5 minutes. Place kale in a bowl, then add pork and remaining ingredients.
Rember to Hydrate, Hydrate, Hydrate on Moving Day
Remember to provide lots of ice cool water for yourself and your moving crew. Water is good for staying hydrated and helping to prevent muscle strain. But water alone does not provide enough fuel to keep everyone hauling boxes and furniture throughout the day.
With a little planning, moving day meals can be a healthy distraction, enjoyed by everyone during a much-deserved break. It will also show just how much you appreciate your friends and family on your big day.