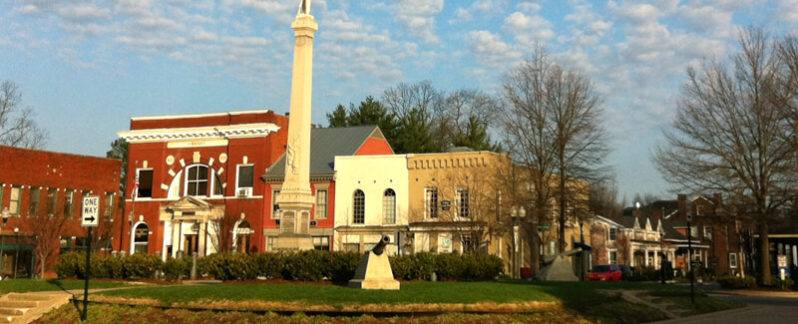 Why Franklin, TN is One of America's Top Places to Live
---
September 28, 2019 | Travel Destinations
Known as America's favorite Main Street, downtown Franklin is a vibrant blend of historic brick buildings and modern amenities.

Located only 21-miles from Nashville, it's no wonder people love moving to Franklin, Tennessee. The city draws newcomers and tourists alike because of National media attention for its charm and celebrated history.
Whether you are looking to ditch big-city life for the suburbs or moving to Franklin for employment, you're probably asking a lot of questions.
What is the cost of living in Franklin? Does Franklin have good schools? What is the weather like? We understand the questions and challenges that come with moving. So here is a guide with some helpful information to get you on your way.
A City with a Rich History
Franklin is a city in Tennessee just south of Nashville. An important historical place of the Civil War, it is also home to two important properties that explore the 1864 Battle of Franklin: Carnton Plantation and Carter House, which includes the Confederate McGavock Cemetery.
Further, the 1858 Lotz House contains a significant collection of important 19th-century furniture. Downtown's Main Street is lined with antique shops, galleries, and restored Victorian buildings.
The best way to enjoy Franklin is to travel by foot; You will encounter many historical buildings, with unique architectural details, that have provided services to Williamson County residents for centuries.
You will also find important civil-war sites and museums, and plenty of placards and signs as you navigate yourself around the city. This is certainly a place where old meets new.
Cost of living in Franklin, TN
The cost of living in Franklin is going to be approximately 33% less than Downtown Seattle, 63% less to buy a house than San Francisco, and less than the national average when it comes to standard things like groceries, utilities, transportation, and healthcare.
Median housing costs in Williamson County range from $757,000 in Brentwood, $499,000 in Franklin to $304,000 in Fairview.
Located only 21 miles away from Nashville, Historic Franklin, TN is a local oasis. Consistently showing up in the 'Top 5 Best Places to Live in America' lists, the area is awash with Southern charm, hospitality, and fantastic amenities like Whole Foods.
The preserved downtown bustles with wonderful boutique shopping and annual family festivals. With its plantations, rolling hills, and Victorian homes, Historic Franklin is sure to please.
Home Prices in Franklin, TN
Williamson County has a slightly lower cost of living than the National Average, and a 13% lower cost of housing than the Average. So if you are moving from an area with a higher average income you will have the additional free cash flow for living, and will even be able to purchase a larger home for your family.
The Weather in Franklin
Summertime is a great time to stroll the city streets of downtown Franklin, with flowering trees on almost every corner and April temperature highs in the '70s and summer months reaching the high 80's.
Fall is beautiful as the trees create a canvas of colorful orange, yellow, and red leaves, with warm days and cooler nights. Winter is moderate and may dip below freezing only a few times per year to produce the average of 7 inches of snow received each year, most of which melts the same afternoon.
Education in Franklin
If you are considering moving to Franklin, TN you will hear about the amazing schools. With over $145 million awarded in scholarships (in 2016) and 100% of Williamson County students taking the ACT's, residents are very proud of their 44 schools in the area, 21 of which were named Reward Schools by the Tennessee Department of Education, and in 2015 WCS earned all A's in 3-8 achievement.
Higher education opportunities in Franklin are plentiful and include O'More College of Design, Williamson College, and Empire Beauty School.
Employment Opportunities
Williamson County has a robust job market that has been named one of the fastest-growing job markets in the US. The area also has a highly educated population which contributes to strong job growth and above-average pay.
If you are looking for fantastic business opportunities, this is a market you should consider, with a very low unemployment rate of just 2%, and a robust job growth rate of almost 30%.
Business and Economic Opportunities in Williamson County
Franklin is the county seat of Williamson and if you are looking for a strong and reliable economy, you'll find it here. With 56% of the population having a Bachelor's degree (or higher), the average salary being $106,054 dollars, and the population being just over 73,811, and an expected growth forecast of 153% by 2040, this is an ideal place for anyone to call home.
Enjoy a cost of living that is 4% lower than the national average in one of the wealthiest cities, in one of the wealthiest counties in America.
Whether you are relocating from across the country or from nearby Nashville, moving is one of the most typical reasons for renting self storage.
With more than 45- years of experience in the storage industry, you can count on the friendly storage team at Metro Self Storage in Franklin, Tennessee to help you find the perfect storage solution.
When you choose to store with us you get value, convenience, and security—it's what we call the Metro Advantage! We offer flexible monthly storage rentals, easy online reservations, payment options, and more.