Storage Unit Costs & Sizes
A growing family, a successful small business, an exciting new job miles away, there are countless reasons you might need storage. Whether you are moving to Fort Worth or packing up a three-bedroom house, our month-to-month storage rentals give our customers an alternative to renting bigger apartments or getting rid of valued possessions.
From closet sized to cavernous, Metro Self Storage offers a wide selection of Fort Worth storage units in Western Hills. Our smallest unit, the affordable 5X7, is perfect for college students heading home or apartment dwelling outdoors enthusiasts. Those needing a bit more room than the on-base housing at Carswell NAS JRB provides will find our 10X10 and 12X25 units handy.
Don't let determining the right storage unit size become a daunting task. Our friendly team of storage experts will gladly help you pick the perfect space. Already have a size picked out? Take advantage of our no-risk storage hold and online promotional storage rates and reserve your unit today.
SECURE AND FLEXIBLE BUSINESS STORAGE SOLUTIONS
If your company is growing, but signing a long-term commercial contract sounds unappealing, then consider Metro Self Storage for your business storage solution. We offer a flexible month-to-month storage leases and drive-up commercial storage units with oversized or dual access doors. Commercial storage units range in sizes from 200 sq. ft. to 900 sq. ft., and are ideally suited for several types of Fort Worth businesses including:
Production companies
Building industry contractors
Law and medical offices
Landscape companies
Reserve your commercial storage unit with our no-risk seven-day storage hold and take advantage of our great online specials. Keep in mind, you can always select a different size later.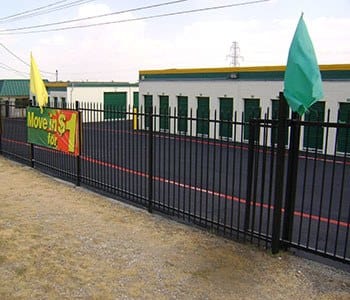 SIMPLIFY. ORGANIZE. EXPAND. DOWNSIZE.
Moving? Military deployment? Remodeling? Upsizing your family? Juggling life responsibilities takes organization, and Metro Self Storage is here to help. When you need a storage solution, visit our friendly, qualified storage team at Metro's top-notch Western Hills Fort Worth storage facility. We can help you make life more manageable.
We have a professionally trained storage team that strives to exceed your expectations.
You can relax knowing our 24-hour industry leading security monitoring is on the job every minute of every day.
Our convenient location is less than two miles from Ridgmar Mall on Green Oaks Road.
We make it easy to move in with Metro, and invite you to drop by anytime to preview a selection of storage units for your next moving or reorganization project.