Business Storage
When your business needs room to grow, but relocating or locking in an expensive commercial lease sounds unappealing, Metro Self Storage can help. We offer flexible, affordable business storage solutions designed to meet your company's needs.
Whether you need to meet the demands of an influx of seasonal inventory or store temperature-sensitive business inventory, tools, and equipment, we understand storage is not a one-size-fits-all solution. Our competitive pricing, outstanding service, 24-hour access at select locations, and online account management are just a few of the reasons to choose Metro for your business storage solution.
Plus, thanks to our month-to-month leases, you can upsize or downsize your storage unit or vehicle parking space at any time without penalty. We believe in giving businesses a bottom-line-friendly approach to their shifting space requirements.
Convenient Business Storage Features
Choosing the right storage facility is important as a business owner because the preservation of your items also protects your bottom line. At Metro Self Storage, we understand the demands of busy entrepreneurs and business owners and proudly offer well-maintained facilities equipped with the features you need to be successful.
Facility features include:
24-Hour Security Monitoring
Package Acceptance
Flexible Lease Terms
Climate-Controlled Commercial Units
Extended Access Hours 365 Days a Year
24-Hour Access at select locations
Online Account Management
Commercial Vehicle Parking at Select Locations
Backed by our Customer Satisfaction Pledge and more than 40 years of experience in the storage industry, you can count on Metro Self Storage to offer your business a solid storage solution.
Types of Business Storage
Do you need to free up expensive office or warehouse space? Renting a business storage unit gives business owners a cost-effective way to store excess inventory, furniture, files, or electronics. Whether your company is remodeling, relocating, or downsizing, using secure off-site storage on a short-term basis is an affordable solution. The flexibility of renting as much space as your business needs without signing long-term, and often complicated, commercial lease agreements is why Metro Self Storage is a great solution for your storage needs.
Business Storage for Medical Professionals
Your patients and clients count on you for privacy and security, and protecting their confidentiality is of utmost importance. Renting a secure business storage unit gives you the ability to store important records, patient files, business archives, and other private business items with confidence.
Business Storage for General Contractors
Building and landscape contractors frequently rent drive-up storage units at Metro Self Storage. Outdoor garage-type spaces are perfect for storing tools, trailers, and equipment.
Whether you start the day at the crack of dawn, or work late into the evening, all Metro Self Storage locations offer extended access hours and many offer 24-hour access.
Business Storage for Real Estate
When selling a house, it's important to help buyers see themselves in their potential home. For realtors who work tirelessly to stage their listings, renting a storage unit for all of your staging equipment and decor can be invaluable.
Commercial Storage for Business Inventory
Renting a short-term storage unit is ideal for the extra inventory that retail businesses acquire for holidays and high-volume shopping seasons such as Thanksgiving and Christmas. Extra storage space can also be a long-term solution if you're a growing business looking to expand your inventory.
Commercial Storage for Office Equipment
If you have more office equipment than office space or need a place to store overflow equipment so you can scale your office, a self storage unit can help. From additional office equipment to updated computers and technology, Metro Self Storage offers climate-controlled and non-climate-controlled storage units for whatever office equipment you need to store.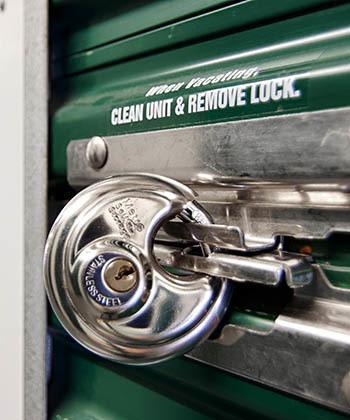 Top-Notch Security Features
Security is an important feature when it comes to self storage, which is why we spared no expense to implement the most up-to-date security features as an additional layer of comfort. Our facilities are outfitted with 24-hour video recording strategically placed throughout, electronic keypad gate access, and fully fenced perimeters. If you plan to make a late-night trip to your storage unit, you'll have no problem navigating through our well-lit property.
Comprehensive Business Storage Solutions at Metro
Are you looking for a modern approach to self storage for your business? Count on Metro Self Storage to provide you with clean, secure, and well-lit storage solutions 365 days a year. Our well-maintained and modern storage facilities offer value, security, and convenience—that's the Metro Advantage.
Make the choice to store a simple one. Find a Metro Self Storage facility near you or give us a call to rent your business storage solution today!