Total Customer Satisfaction Pledge
Metro Self Storage is a family owned and operated self storage company that opened its first mini storage in 1973. We pride ourselves on creating relationship-driven facilities where people come first. 
Our well-maintained facilities
 offer excellent security features and outstanding customer service. We created the Customer Satisfaction Pledge to ensure every customer receives the best storage experience possible. As an early pioneer of self storage, Metro stands out from the crowd of storage providers, and while others may follow in our footsteps, we set the bar high to define outstanding customer service in our industry. At Metro Self Storage, we honor our Total Customer Satisfaction Pledge by continuously finding innovative ways to bring you the best storage experience possible.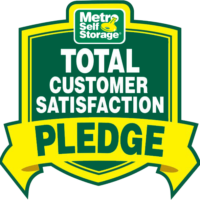 Commitment to Satisfaction
We are committed to providing you the best storage experience in the industry. If you are not completely satisfied, please inform the Property Manager or contact us at metrostorage.com/contact-us.