Storage & Packing Tips
Packing your belongings away and planning the layout of a storage space can be overwhelming, especially if you're a first-time renter. From protecting glassware and plates to organizing your unit for easy access, there are a lot of things to keep in mind. These storage and packing tips from Metro Self Storage will help you get packed up for your new home and adventure.
Your Helpful Guide to Self Storage
Before you start packing and moving your items, it's important to consider where your items will go. Are they going to your new home or are they going into storage. Is everything going to storage or just a few things? You'll want to consider all of these questions before and as you're packing. You'll also want to think about how you'll pack your storage unit as well:
Determine if you need climate control storage: Choosing the type of storage unit you'll rent typically depends on what you'll be storing. If you plan to store items such as wooden furniture, instruments, documents, vinyl records, or other delicate belongings, you should opt for climate controlled storage. This premium product is specially designed to protect items that can crack, warp, or melt when exposed to extreme temperatures or humidity.
Assemble the packing accessories you need: Different items call for different packing materials, however, you should plan on using common supplies such as paper, bubble wrap, tape, and boxes. You may also need rope, drop cloths, sheets, furniture covers, pallets, skids, dehumidifiers, file boxes or storage cartons. Most of these items are also available for sale in our stores should you run out or forget something at home.
Properly pack and label boxes: Protect your items by filling containers and boxes to capacity when packing. Partially full or bulging boxes are at risk of tipping over or collapsing. Create stacks with the heaviest boxes on the bottom and light boxes with fragile items such as glasses, plates, and keepsakes on the top to lessen the risk of getting crushed.
Pack the storage space carefully: When moving boxes and furniture into your unit, place large, heavy items you won't need to access often toward the back of your unit and keep what you'll use frequently toward the front. Make sure there is a walkway to the back of your unit so you can safely reach all of your items without needing to crawl over boxes. It is also recommended to create a map of your unit so you can easily locate items without needing to sort through a stack of boxes.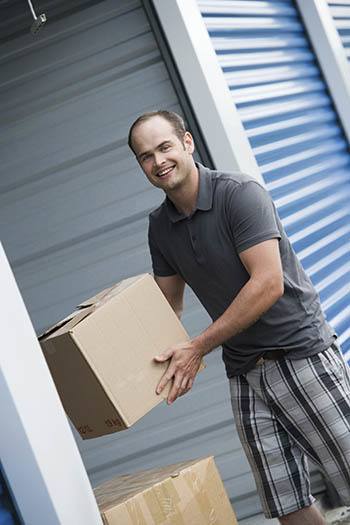 Tips on How to Pack a Moving Box
Quality moving boxes will make packing your items faster and lessen the chance that items will get broken or damaged during a move. When choosing a box to place your belongings in, keep in mind that somebody will have to pick up the box once it is fully packed. How easy will the box be to transport? Will items get damaged? A good rule of thumb is that a filled box should not weigh more than about 30 pounds.
Follow these helpful tips for packing your moving boxes and keep in mind, you can find a full range of moving supplies including boxes, bubble wrap, tape, and locks at all Metro Self Storage facilities.
Prepare Your Box
Before placing anything in your box, spread a layer of packing peanuts or crumpled newspaper or packing paper on the bottom of the box to add extra shock absorption for fragile or breakable items.
Keep Items Together
Group items of similar size and weight together in the same box. For example, books are heavy and should be packed in sturdy small boxes that are taped together with strong tape.
Use High-Quality Tape
Moving and storage tape is a thin, sturdy tape that is water-resistant and very sticky, which makes it ideal for cardboard boxes. Remember that you will need to secure the tops and the bottoms of all your boxes. A member of our storage team can help you determine how much tape you will need to purchase for your moving or decluttering project.
Purchase Specialty Boxes
Dish pack and glass pack kits are specialty boxes designed for moving fragile items. They come with cardboard dividers or foam pockets for easy packing. Wardrobe boxes are oversized boxes that come with a hanging bar so you can load items from your closet directly into the box. These boxes are suitable for curtains and draperies in addition to linens including comforters, pillows, and large stuffed animals.
Heavier Items on the Bottom
Place heavier items at the bottom of your box and lighter items at the top. Wrap the heaviest items with bubble wrap or packing paper and separate the lighter items with another layer of packing peanuts, foam, or crumpled paper. Before taping your box closed, fill in the empty spaces with crumpled paper or linens to prevent items from shifting while in transit.
The Role of Shrink Wrap
Professional movers use shrink wrap to keep furniture doors and drawers closed during transit. For added protection from scuffs and dings or if you are placing items into a storage unit, drape furniture with a moving blanket and then wrap with shrink wrap. Be sure to prepare your furniture before placing it in a storage unit and to remove shrink wrap if the plastic is in direct contact with furniture.
Furniture Covers
Mattress covers and sofa covers are designed for short-term protection of your furnishings. Do not leave sealed plastic covers in place for long-term storage to avoid moisture that can promote the growth of mold and mildew.
Packing Tips for Commonly Stored Items
When it comes to packing, some items may need more special care than others. Failure to properly wrap and pack your items for storage could lead to a lot of broken and damaged items when you start moving everything into storage. Here are the best packing tips we've come up with for the common items we've seen our customers pack:
Appliances: A refrigerator or freezer should be thoroughly dry and stored with its door slightly ajar. Some goods can be stored inside large appliances. Boxes can be stacked on top of stoves, refrigerators, and freezers. Make sure that stoves and cooking equipment are cleaned before they are stored.
Bicycles and other metal items: To protect against rust, wipe all metal surfaces with a rag containing a few drops of machine oil.
Books and documents: Pack books flat to protect their spines. Do not place boxes directly on concrete floors, instead use pallets or skids to prevent moisture absorption. Use packing such as newspapers to fill any empty pockets in the boxes. Keep these boxes exclusive to books, do not pack fragile items in the same container.
Bedding, clothing, curtains, drapes, and linens: Store curtains and drapes on hangers as well as certain clothing items such as bulky coats and easily wrinkled shirts and dresses. If hanging cartons are not available, fold and store these items in dresser drawers or cedar chests. Be sure to launder your items before storing to prevent any stains from setting or attracting pests while in storage.
Dishes and glassware: Place a layer of protection inside the bottom and top of boxes containing glassware. All glass items should be individually wrapped to prevent chipping or cracking should they collide in the box. Fill any open pockets with newspaper and stack these boxes at the top of your stack to prevent damage.
Furniture: Place a pallet, cardboard mat, or plastic sheet on the floor and stand sofas and mattresses on end. Disassemble beds and tables and wrap table legs in paper, linens, or towels. If you can't take apart a table, place padding on the floor and the table on top with the legs pointing up. Use dresser tops for stacking cartons, and dresser drawers to hold linens or small, delicate items. If you're storing chairs, stack them "seat to seat" or upside down on tables to save space. Avoid using plastic sheets to cover items as they can trap moisture and lead to mold and mildew. Instead, opt for a light, cotton dust cover such as a bedsheet to cover your furniture.
Holiday Decorations: Save the original cartons that contained delicate ornaments for easy, protective storage options. For ornaments without a carton, pad the box with packing paper or newsprint and individually wrap each decoration. Wrap strings of lights around a piece of cardboard before placing it in a carton lined with packing paper to avoid tangles.
Lamps: Wrap large lamps in padding and place small lamps in padded boxes. Pack delicate lampshades separately from the base. Use paper without print to avoid the risk of transferring ink to the fabric of the shades.
Mirrors, windows, and screens: Store these items on edges rather than flat.
Records and photographs: Records should be stored on edges to prevent warping that may occur when laid flat. When moving a record player, be sure to secure the tone arm and turntable to avoid damage.
Tools: Metal tools should be cleaned and wiped with a rag containing a few drops of machine oil to prevent rust. Long-handled tools such as rakes, shovels, and hoes should be cleaned, oiled, and tied in bundles.
Prepare for Your Move with Metro Self Storage
From helping you pack to helping you store your belongings, Metro can help you do it all. Since 1973, we've been committed to making space for our friends and neighbors and relish the opportunity to help you preserve your items for years to come. Whether you need a few boxes, need a moving truck, need a storage unit, or need all three, a local Metro Self Storage is never too far away. Visit a location near you and get packing today!