Truck Rentals
Are you ready to move into your Metro self storage unit, but not sure of how to get all of your belongings there? Whether you are rolling up your sleeves as you renovate your home or need a storage unit as you navigate through a life transition, our professionally trained Property Managers look forward to helping you with all of your moving and storage needs.
One of the many ways Metro can help you move is through our moving truck rentals at select storage locations. Our moving truck partners, Penske and U-Haul, provide reliable, easy-to-drive vehicles at budget-friendly rates, and provide features such as:
24/7 roadside assistance
Power steering and anti-lock brakes
Automatic transmission
Rear roll-up doors
Variety of moving truck sizes
With local moving truck rentals, you can rent your storage unit, pick up moving boxes and supplies, and grab your truck conveniently from your nearest Metro Self Storage location. Whether you need a truck for a local move or self-delivery, a cross country moving truck rental, or the cheapest moving truck rental available, our friendly storage team is here to help.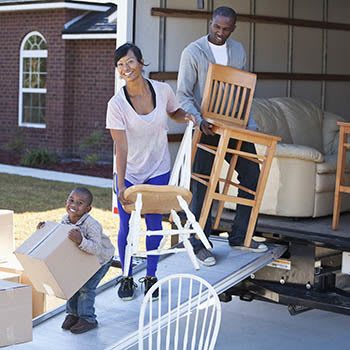 Moving Truck Rental Information
Moving is stressful, and we all know there is no way around it. However, there is a way to reduce the demands on your time when you rent a moving truck with Metro. Whether you're planning a DIY move for your new home or local business, you can count on us to be here for you every step of the way.
When you need to rent a moving truck, remember that specifications vary between manufacturers. Penske and U-Haul may add new vehicles to their fleets at any time. Moving truck specifications will also vary between make, model, and year of truck. Nevertheless, below are some basic truck specifications to help you get an idea of how much moving truck rentals cost and the size truck you need.
10' and 12' Moving Truck Specifications
A 10' truck comfortably moves a studio apartment or the contents from one or two rooms in a house, making it the ideal choice for young adults transitioning to a new home or students moving out of their dorms before summer break. While U-Haul offers 10' moving trucks, the smallest Penske moving truck is 12' and is also the perfect choice for one to two-room moving projects.
Interior dimensions: 9'11"L x 6'4″W x 6'2″H
2,810 lb. load capacity
31-gallon gasoline fuel tank
---
16' Moving Truck Specifications
While Penske offers a 16′ moving truck and then jumps up to a 22' truck size, U-Haul offers 15' and 17' trucks that may give you more financial options when choosing the right size truck for your move. Trucks within this size range can easily move two or three rooms.
Interior dimensions 16'6″L x 8′W x 6′ 6″H
4,300 lb. to 6,385 lb. load capacity
35-gallon gasoline fuel tank
The load capacity varies between U-Haul and Penske moving trucks of the same or similar size, so be sure you understand the specifications on the truck you rent beforehand.
---
17' Moving Truck Specifications
Determining how much your moving truck rental is going to cost will depend on the size truck you rent and when you plan to move. A 17' moving truck is suitable for large apartment moves, two- and three-bedroom homes, and office relocations.
U-Haul gives you more sizes to choose from, and you may be able to save money by renting a smaller 15' or by choosing a Penske 16' truck.
Interior dimensions: 16'9"L x 7'8″W x 7'2"H
5,930 lb. load capacity
Up to 40-gallon gasoline fuel tank
Most 17' trucks also include a loading ramp to make loading and unloading easier. All moving trucks come with added safety features such as high-visibility mirrors and seat belts.
---
22' Moving Truck Specifications
Penske's 22′ truck offers enough storage space inside the truck to move most two to three-bedroom homes as well as inventory and equipment from small businesses. This size is also suitable for a cross-country move. While moving truck features vary between U-Haul moving truck rentals and Penske moving trucks, you can count on 24/7 roadside assistance with any truck you rent.
Interior dimensions: 21'3″L x 7'8″W x 8'H
9,000 lb. load capacity
Up to 50-gallon diesel fuel tank
---
26' Moving Truck Specifications
A 26' moving truck is the largest truck a DIY mover can drive in the United States without a commercial driver's license. If you are looking for a cross-country moving truck, the 26' truck is a good option. Especially, if you are moving a three- or four-bedroom home with a two- or three-car garage. The 26' U-Haul truck boasts gentle-ride suspension, and the largest Penske moving truck promotes their anti-lock brakes.
Interior dimensions: 25'4″L x 7'8″W x 7'H
10,000 lb. load capacity
Up to 70-gallon diesel fuel tank
How much reserving and driving a moving truck across the country will cost you depends on the time of year you plan to travel. Remember, May through September is the height of moving season! We recommend reserving your moving truck well in advance during these months. We also recommend using a dolly or hand truck and lift heavier items with your legs when loading and unloading your truck rental.
Reserve Your Moving Truck with Metro Self Storage
Whether you are planning a DIY move or are relocating your business, when you need a vehicle to transport the items that matter most in life, think of Metro as your one-stop shop. Find your nearest Metro Self Storage location or give us a call to reserve your moving truck today!