Packing & Moving Supplies
At the foundation of every successful move are sturdy moving boxes, packing materials, and the useful moving tips offered by the experienced storage professionals at Metro Self Storage. We understand—moving is hard work. However, you can make it less stressful by planning ahead. Once you decide on a moving date, the next step is to choose the best moving boxes and packing supplies because not all are created equal!
Boxes made for other purposes than moving are not made to be as sturdy, and finding used boxes that are not damaged or contaminated with bugs or food residue is time-consuming. At Metro Self Storage, we give you the time-saving convenience of one-stop shopping for a wide selection of well-priced moving boxes and packing supplies to protect your items at all of our locations.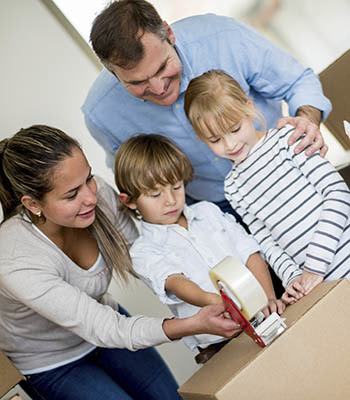 Why should I buy moving boxes?
Whether you are moving across town or across the country, we make it easy to pack the items that matter most with our selection of moving boxes available for purchase at our Metro Self Storage locations. While you may think of boxes as a luxury expense, they are worth the investment because they allow you to safely transport and preserve your belongings.
Other reasons to purchase quality moving boxes include:
Their standardized size allows them to stack well together
You can choose from small, medium, large, and extra-large boxes for the perfect fit, rather than working with whatever sizes you have available to you. This helps with condensing space in your storage unit and ensuring all your belongings remain safe in storage.
Specialty moving boxes are specifically designed for a purpose, such as wardrobe boxes with built-in hanging rods.
Quality boxes provide the right type of protection for fragile items and are sturdy enough so that they won't collapse as easily under the weight of other boxes.
Boxes used for shipping food, alcohol, or other merchandise are intended for temporary use, whereas purchased moving boxes can be used and reused in many imaginative ways.
When you are finished with your boxes, you can donate, recycle, or sell them.
We make it easy to purchase your moving boxes and packing materials at all Metro Self Storage locations. Our friendly storage team can help you select everything you need in one trip, so you'll never have to go from store to store hunting down necessary supplies.
Packing Tips
Quality moving boxes will make packing faster and lessen the chance that items will get broken or damaged during a move. When choosing a box for your belongings, keep in mind that somebody will have to pick up the box once it is fully packed. How easy will the box be to transport? Will items get damaged? A good rule of thumb is that a filled box should not weigh more than about 30 pounds.
Follow our other packing and moving tips for a swift moving process and don't forget to pick up your packing essentials—boxes, bubble wrap, tape, and locks—at a Metro Self Storage facility near you!
---
Use High-Quality Tape
Moving and storage tape is a thin, sturdy tape that is water-resistant and very sticky, which makes it ideal for cardboard boxes. Remember that you will need to secure the tops and the bottoms of all your boxes. A member of our storage team can help you determine how much tape you will need to purchase for your moving or decluttering project.
---
Purchase Specialty Boxes
Dish pack and glass pack kits are specialty boxes designed for moving fragile items. They come with cardboard dividers or foam pockets for easy packing. Wardrobe boxes are oversized boxes that come with a hanging bar so you can load items from your closet directly into the box. These boxes are suitable for curtains and draperies in addition to linens including comforters, pillows, and large stuffed animals.
---
The Role of Shrink Wrap
Professional movers use shrink wrap to keep furniture doors and drawers closed during transit. For added protection from scuffs and dings or if you are placing items into a storage unit, drape furniture with a moving blanket and then wrap with shrink wrap. Be sure to prepare your furniture before placing it in a storage unit and to remove shrink wrap if the plastic is in direct contact with the furniture.
---
Furniture Covers
Mattress covers and sofa covers are typically designed for short-term protection of your furnishings. Fortunately, our mattress covers provide ventilation to prevent moisture build up while it's in storage. Pick up a ventilated mattress cover at your local Metro Self Storage facility today! 
Ask Your Storage Facility Manager
Our storage facilities offer a variety of packing supplies, boxes, locks, covers, and other handy items. If you need a little help getting everything packed, any member of our friendly storage team will have plenty of creative ways to get the most out of your moving supplies.
After all the hard work of moving and unpacking, get in touch with your inner child or give the kids hours of entertainment by repurposing your moving boxes into cardboard toys or games. Used boxes can also be sold at a discount or donated to a charitable organization or an elementary school.
Your Local Moving Supplies Headquarters
Before your next move, you may decide to hire professional movers. Even so, experience tells us that most people will pack all or some of their belongings. We offer a wide selection of packing supplies and moving boxes for your added convenience at all Metro Self Storage locations.
Small, medium, large, and extra large boxes
Dish/glass protection kits
Packing tape
Bubble wrap
Mattress covers
Furniture pads
Steel disc locks
With more than 40 years of experience in the storage industry, we're proud to provide conveniently located, full-service storage facilities with outstanding customer service. We invite you to pick up the boxes and supplies you need for your moving or organizing project when selecting your storage unit at Metro Self Storage.