Free 7-Day Storage Hold. Reserve Now!
Storage Unit Costs & Sizes
Here at Metro Self Storage we offer Stone Mountain storage units in an extensive array of sizes, so there is sure to be one to suit your needs. Extra closet space can be yours with an affordable climate-controlled 5X5 unit, and your garage can once again be a place to park your car with our traditional 10X10 spaces. Storing your entire home while you move? A 10X20 or 10X30 will easily accommodate all your household goods, furniture, and appliances.
If you need business storage, we have large commercial units with drive-up access and dual access doors ideal for business inventory, tools, and equipment. We also offer parking spaces so you can leave your work trucks and trailers with us at the end of the day.
Our Stone Mountain Storage facility offers a wide variety of storage features including climate-controlled units. You will find our office open Sunday with a friendly Property Manager here to greet you. Here at Metro Self Storage, our goal is to build positive, friendly relationships with each and every one of our customers.
FLEXIBLE AND SECURE BUSINESS STORAGE SOLUTIONS
Our Stone Mountain self storage facility gives businesses budget-friendly storage solutions that include flexible month-to-month leasing, commercial vehicle storage, and climate-controlled business storage. Metro can help companies based in the Atlanta metropolitan area meet their short- or long-term storage requirements by freeing up their more expensive office and warehouse space. Store seasonal equipment and vehicles or create a mini warehouse—all without the worry of breaking expensive commercial leases.
Inventory storage for all types of businesses
Tools and equipment storage
Business records storage
Interior and exterior commercial vehicle parking
If extra space is what you need to get your business on the path to higher productivity, simply store with Metro in Stone Mountain. Take advantage of our online promotional storage rates and reserve your commercial storage space today.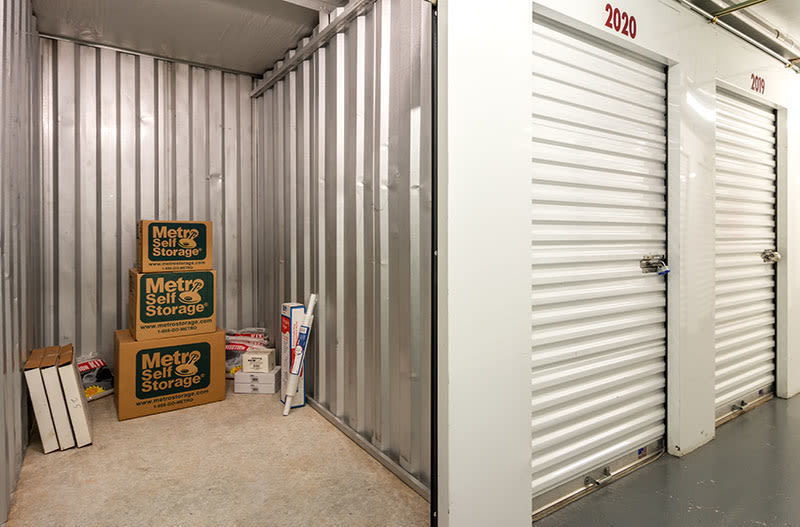 THE PERKS OF CLIMATE CONTROLLED STORAGE UNITS
Are you looking for the best storage solution to keep your items safe, secure, and in their original condition?
Wood: Furniture can crack and warp from expanding and contracting caused by extreme temperature swings and high humidity.
Electronics: Heat, humidity, and freezing temperatures can damage electrical components in televisions, appliances, stereos, cameras, and more.
Special Collections: Treasured items such as stamps, wine, and comic books are susceptible to high temperatures and high humidity.
Our Stone Mountain storage team is happy to answer your questions about how to choose and properly pack your climate-controlled storage unit.