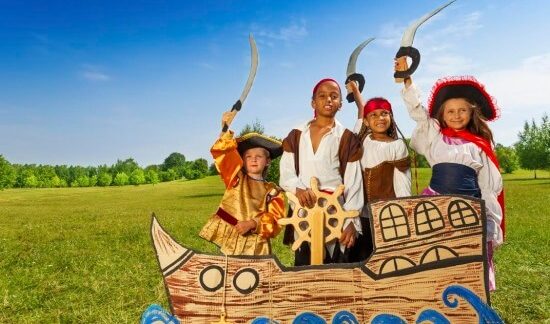 Create Moving Box Masterpieces | Fun, Affordable Entertainment For All
---
February 24, 2015 | Home Organization
Just build it, and they will come! Which is exactly what happens if you end up building with a large moving box.
Youth and science organizations have caught on to the universal appeal of playing with cardboard moving boxes, and are engaging kids of all ages to create cardboard masterpieces that include everything from boats and rocket ships to life-size chess pieces and palaces.
Watching this short documentary video about Caine's Arcade. The an 11-minute short documentary film by Nirvan Mullick released on April 9, 2012, that featured a cardboard arcade created by then 9-year-old Caine Monroy out of boxes and everyday objects.
To date, the Imagination Foundation has 750+ global participants in 77 countries and partners with Google and Disney. The organization's annual Cardboard Challenge began in 2013, after discovering this video posted on YouTube.
Get involved with your local arts and science scene
CodeCreate in Chicago inspires young and old alike to craft cardboard box creations throughout the year. As a way to foster a day of global happiness, the Imagination Foundation Global Cardboard Challenge engages kids every year from Rwanda to Florida to use cardboard as a source of inspiration.
Both organizations offer year-round opportunities to get involved with moving box building and activities on the local level.
Upcycle old moving boxes
If you've recently moved, or are planning to move in the near future, give your used cardboard moving boxes a new life by upcycling them into something useful and creative.
Engage the kids to build a boat, fort, or castle for their next birthday party to keep them occupied while you're busy unpacking and organizing.
After all the hard work, invite your friends and family to spend a weekend afternoon building a cardboard maze or outdoor Scrabble game.
Not moving? No problem!
Wondering where to get moving boxes for your next cardboard creation if you aren't planning a move?
You'll find a wide variety of small, medium, and large moving boxes for sale at all of our conveniently located Metro Self Storage locations. Whether you're simply looking for a cheap way to entertain the kids or entering a contest, we've got you covered.
Mr. McGroovy's Box Rivets™ will make constructing, and when the time comes, deconstructing, cardboard structures (think lemonade stands, forts, and castles) a breeze. The box rivets are designed to work with both single- and double-wall cardboard boxes including dish-pack boxes, washer/dryer boxes, wardrobe boxes and more.