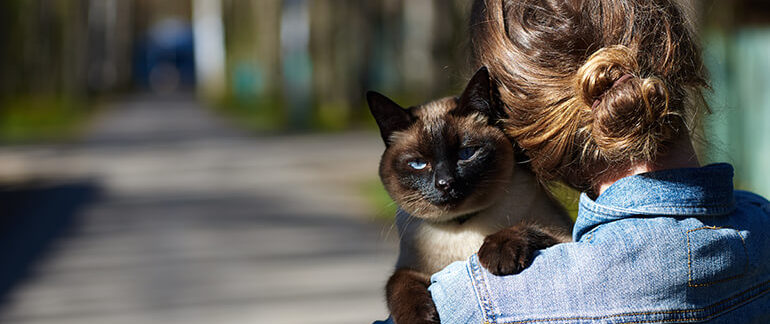 Adventures of Two Girls and a Cat Driving a Moving Truck to Chicago
---
June 20, 2018 | Moving
When I agreed to help my best friend Samantha with a DIY move from San Francisco to Chicago, I didn't really know what I was getting myself into. When I moved to Chicago from California two months earlier, it was via airplane, so I was excited about my first cross-country road trip. It's important to mention that Samantha has a cat (named Sam!), a bed, and a lot of other belongings that made her decide to rent a moving truck to Chicago—it was the most economical way to get across the country.
Who Said Moving is Easy? Nobody
Anyone who has ever moved across town, let alone across the country, knows that moving is stressful, hard work, and expensive. Samantha rented a 15-foot moving truck to Chicago, assuming that it would be more than large enough for all of her belongings. However, when we were done loading our moving truck, it was full.
The night before the move we hosted a goodbye party for Samantha. In hindsight, it wasn't the best idea to load the moving truck sleep deprived and after a night of tears and libations. Our friend drove us to pick up the moving truck rental, where we were given quick instructions on how to load and pack the truck efficiently.
Back at Samantha's apartment on California Street in San Francisco, five friends quickly loaded everything from her apartment to the truck. A once large and echoing space became crammed with furniture, clothes, and a litter box. But not the cat of course. She got a prime seat between the two of us in the cab of the moving truck.
Of course, it was only after I agreed to make the journey with Samantha that she informed me that her cat was "not good in the car." When I asked for clarification on this interesting piece of NEW information, Samantha was hesitant. It turns out, the cat tended to get sick out of both ends, simultaneously, anytime she was in a moving vehicle.
After hearing this enlightening piece of information I made sure to offer to drive the first shift, hoping that Samantha and her cat could have some one-on-one time in the passenger seat. Thankfully, she had gotten some medication and natural herbs to help make the move less stressful for our furry companion.
Day 1: Driving Our Moving Truck from San Francisco to Elko, NV
After loading the truck, we set off for the first leg of our trip on Saturday around noon. After getting thoroughly sick, the cat meowed herself to sleep. As if that wasn't stressful enough, we were then given some bad news about the apartment in Chicago; it was not going to be ready for her in time.  I told her she could stay with me, but that didn't solve where to put her belongings because the U-Haul moving truck rental was due back the day we were due to arrive in Chicago.
We searched for self storage in Chicago from our phones and found a Metro Self Storage unit in River North, with available units at affordable prices. Easy short-term leasing worked for my friend and the added bonus of a climate-controlled storage unit with first-floor level access sealed the deal.
After all of that creative problem solving, we decided it was time to eat, so we stopped at a Taco Bell. After almost pulling into the drive-thru we were quickly made aware that our truck was too tall to fit!
Pro Moving Truck Rental Tip: Always keep in mind your moving truck rental height before attempting a fast food drive-thru.
Following our greasy, unhealthy food fest, we continued driving our moving truck into the night. Pushing through as far as we could on our first day, around 10 pm we decided Nevada would be a good stopping point. The casino vibes in Elko were a warm welcome, full of flashing lights and friendly people. Also, compared to San Francisco the nightly rate at the hotels were a steal!
Day 2: Driving Our Moving Truck from Elko, NV to Rawlins, WY
We got on the road after a greasy hotel breakfast (We learned to eat healthy while driving a moving truck to Chicago is a challenge!). The hotel café doubled as a casino as most places do in Nevada. We were heading towards Salt Lake City, and the prospect of reaching a civilization that believed in salads was truly exciting.  Interstate 80 had a lot less healthy eating options than we expected.
The landscape was flat. It was quite the juxtaposition to the steep and rolling hills of San Francisco. We stopped along the way in Utah's Salt Flats, amazed by the lack of mountains and hills for as far as the eye could see. We listened to podcasts and ate to-go salads we picked up in downtown Salt Lake City.
Pro Moving Truck Rental Tip: Make sure your moving truck has aux cord capabilities!
Once we arrived in Rawlins, Wyoming, we settled into a motel room to the sound of howling wind. We decided we wanted to get some beer. We are over 21-years old after all. Upon arriving at the nearest gas station, we were informed by the cashier that women like us should be drinking Smirnoff Ice. Hmmm…
Although we were headed to the Windy City,  the next morning we had not a clue what awaited us once we got back on the freeway.
Day 3: Driving Our Moving Truck to Chicago from Rawlins, WY to Omaha, NE
The motel manager informed us that we were lucky we hadn't come through two days prior when Interstate 80 was closed. Why we wondered would the freeway be closed. The second we stepped outside we immediately knew the answer. We decided to soldier onward and I think he would have called my parents if he had their number.
When we stepped outside, I swear my eyelashes almost blew off!  The 45 mph winds would have probably blown the cat away if we let her out of her carrier. We wouldn't have dared but did I offer to drive first, in order to let Samantha deal with the pleasantries of her cat's motion sickness.
Pro Moving Truck Rental Tip: Check the weather on freeway routes to your destination 24- to 48-hours before you depart.
Only 10 minutes on the road and we saw flashing amber alerts warning: "Trucks are not advised" and "Wind speeds could exceed 65mph." "Pull over to safety." Toto, we're definitely near Kansas. Sam and I, both California natives, had never experienced this type of wind. Holding the wheel at a 45-degree angle to the left kept us moving straight on the freeway.
As we narrowed in on Omaha, Nebraska, we realized we were making a great time and had only one day left driving our moving truck to Chicago from California. Admittedly, I was getting into the truck-driver groove.
Day 4: Driving Our Moving Truck from Omaha, NE to Chicago
We woke up to snow the next morning, a welcome sight compared to the brutal winds from the day before. We had a leisurely breakfast, telling ourselves the later we left the hotter it would be outside, allowing for the snow to melt.
The cat meowed herself to sleep again in the cab of the U-Haul truck. We stopped at a Subway and got sandwiches halfway to Chicago. It was a long-overdue meal considering there were subway tunnels that felt like every 100 miles along all of Interstate 80. The closer we got to Chicago, the more Sam started to freak out – how did she know her life would be indoors-only from now on?!). It was real, she was officially moving out of the Bay Area for the first time in her life.
Good-Bye California and Hello Metro Self Storage in Chicago!
The 2,132 miles went by faster than I ever imagined it would. We traveled roughly 530 miles per day driving our moving truck to Chicago. After 4 days of a slightly stressed out kitty in the cab of our truck and miles and miles of freeway, a clean and secure storage unit at Metro Self Storage in Chicago was a welcome sight.
We had convenient ground-floor access and our unit was clean and felt secure. We even had enough time to unload the truck before heading to our first Chicago dinner together!
What a journey! Samantha, Sam, and I had an unforgettable road trip, two girls and a cat can do anything, including driving a moving truck to Chicago.