5 Fun Things to do with Moving Boxes After the Move
---
April 20, 2021 | Home Organization
After planning and organizing a move, the entire family will be ready for a little fun. Moving boxes will give the kids something inexpensive to play with and offer hours of entertainment.
There are more than 101 things to do with cardboard boxes, and besides building an actual skyscraper or luxury ocean liner, you can create practically anything out of a moving box. Imagination is the only limitation here.
So before getting rid of that pile of moving boxes in the corner of your family room, read on for ways to engage and entertain the entire family with moving boxes.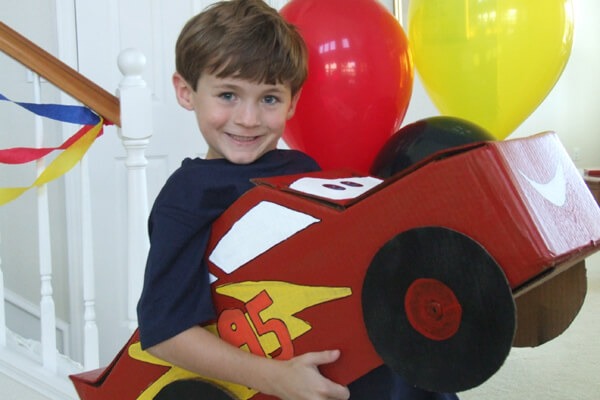 Photo Credit: MrMcgroovys
Castles in The Sky
Whether you want to build a kid's fort or a cardboard castle, all you'll need is some imagination and a few supplies to get things started. Grab a roll of duct tape or some rivets to hold the boxes together.
No matter what time of year you're moving, building a cardboard castle will keep the kids busy for hours while you organize the house.
Created by Kids offers an easy tutorial, which, believe it or not, is not easy to find when building a castle out of cardboard: How to Build a Chic Cardboard Castle.
Build a Moving Box Maze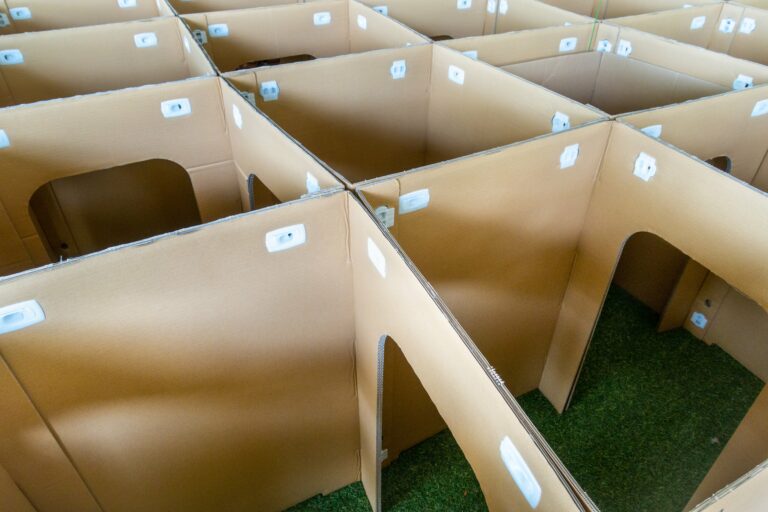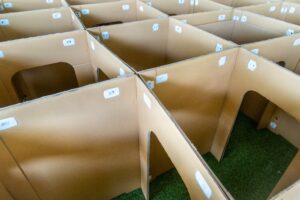 Before listing your packing boxes for sale, utilize them to build a single-story maze. Unfold the tops and bottoms of medium or large moving boxes and link them to create a long winding tube.
Simply unfold the tops and bottoms of medium or large moving boxes and link them together to create a long winding tube. String LED rope lights through the roof of the maze to help guide your tyke through the tunnel.
String LED rope lights through the roof of the maze to help guide your tyke through the tunnel.
Create Cute Cardboard Crafts
Cardboard boxes hold a special magic for children making it easy to encourage them to build a boat, fort, or castle for their next birthday party. You just might find getting in touch with your inner child will give you a much-needed break from the stress of moving.
Moreover, it will give the kids something inexpensive to play with and offer hours of entertainment to keep them occupied once you're ready to dive back into organizing your new home.
Don't forget to save your cardboard paper towel and toilet tissue tubes too. Small cardboard items are ideal for accessorizing buildings, ships, and castles.
Cardboard Moving Box Rocket Ship
If the cost of rocket fuel is prohibiting your space adventure plans, build a cardboard rocket. Not only is this a zero-emissions project, the materials you need to make your rocket are reusable and recyclable.
Depending on the desired size of your spaceship, you'll need either a large refrigerator or wardrobe box. A simple Google search "how to build a cardboard rocket" will yield loads of helpful hints.
Cut out geometric shapes on the sides of a medium or large moving box and outline the cut outs in bright colors so toddlers can push through balls or other objects.
Dream Home For Kitty
Anyone who has ever owned a cat knows cats love boxes, dark spaces, and getting into general mischief. Here is where you can let your inner architect shine by using your moving boxes to build a multistory mansion for kitty to roam.
If you are not ready to buy a bulky 40-pound cat tree, think of a cardboard box as a starter home for your kitty. The biggest benefit of a cardboard cat house? It's so lightweight you can move in anywhere around the house.
Fun Toddler Toys
After the stress of moving, spend an afternoon getting artsy and crafty with the kids is a great way to unwind. Grab some moving boxes, paper, tape, heavy-duty scissors, glue, and other decorative accessories.
Old magazines, wrapping paper, nontoxic paint, shredded paper from your home office shredder, and glitter will create one-of-a-kind masterpieces or costumes.
Child's Play
There are numerous benefits of art. It brings beauty to our lives, and its creation stimulates both sides of the brain. Art helps children develop hand-eye coordination in children, and since 33% of children are visual learners, art is a good way to teach.
Because cardboard isn't easy to cut for kids, parents can help cut out shapes that children can then draw, paint, and decorate to their heart's desire.
Remember to Reduce, Reuse, and Recycle
After all the fun be sure to recycle boxes that cannot be re-used or list your moving boxes for sale in your local classified ads to earn back some money. The mantra of Green living is to reduce, reuse, and recycle. Thankfully, cardboard has many uses and can be reused time and again for different purposes.
You can upcycle cardboard and then recycle it once it has reached the end of its useful lifecycle. Alternatively, list your extra moving boxes on:
BoxCycle – marketplace for used cardboard boxes

Craigslist – you can buy, sell or exchange packing supplies, including boxes.
Find Moving Boxes at Metro Self Storage
If you're wondering where to get boxes for your next move or to create a cardboard masterpiece, your local Metro Self Storage location always offers a wide variety of boxes as well as moving supplies for sale. Whether you need shipping boxes for a cross country move, storage boxes to keep your storage unit organized, or simply want a wide range of large cardboard boxes, we have everything you'll need. Visit a location near you for all your storage packing needs!