How Storage Lockers Help Brooklyn Contractors and Tradespeople
---
February 17, 2019 | Business Storage
If you are one of the many Brooklyn contractors helping to keep our city beautiful and livable, we want to begin by saying thank you! You most likely have many valuable tools and other types of equipment that you need regularly. Building and remodeling in a big city like Brooklyn are both rewarding and challenging. Not everyone is suited for traipsing up 30-story buildings!
Whether you renovate Brooklyn brownstones or are the repair professional people rely upon to keep their plumbing working correctly, you want your tools to be in working order and handy whenever you need them.
But what about the times you don't need all of your tools, or you want to go on an extended vacation. Where do you store them for safekeeping? Storage lockers can help Brooklyn contractors and tradespeople by providing secure alternatives to more costly storage options.
For instance, building and remodeling contractors need to maintain stock items such as electrical parts or fittings, and all tradespeople have high-dollar specialty power tools. With the high demand for work to be done with efficiency so that you can remain profitable, it's essential to stock all of the supplies you'll need for each job.
We know, it can be challenging to find affordable business and contractor storage space in a large, metropolitan area like New York. Storing items in a van on city streets is high risk and not an option in most cases, as many tradespeople have had their tools and equipment stolen.
Brooklyn storage lockers for tradespeople
Ideally located on Knapp Street in Brooklyn, you'll find a wide range of storage unit sizes with 7-day access, 24-hour video surveillance, and an on-site Property Manager to keep things running smoothly every day of the week. We proudly serve these, and other types of tradespeople, small businesses, and contractors in Brooklyn.
Electricians: If you're an electrician, then it can be difficult to get hold of specific parts at short notice. Instead of trying to find a local home improvement store in Brooklyn, which can be a challenge, keep stock of the components in a Brooklyn storage locker.
Plumbers: There are certain parts that you are likely to use often. Having an inventory of plumbing supplies that you use most often—faucets, garbage disposals, eye protection, and shower repair parts—can make your job much more efficient and manageable.
Marble and tile layers: Tile and marble setters install materials on a variety of surfaces, such as floors, walls, ceilings, countertops, patios, and roof decks. Installers use a wide range of tools and supplies and often have leftover tile and marble that can benefit from being stored at an offsite storage facility.
While these are just a few examples of the different trades that can benefit from using self storage, many others could also benefit. If you manage several Brooklyn contractors for large construction projects, giving them access to your company's storage unit, so they can access tools and equipment whenever needed will make your job easier.
No matter what your trade, Brooklyn self storage facility features secure, gated access, 7-days-a-week access, and climate-controlled units. Moreover, our on-site Property Manager is here every day of the week to answer your questions and help select the right-sized business storage unit.
Commercial storage unit features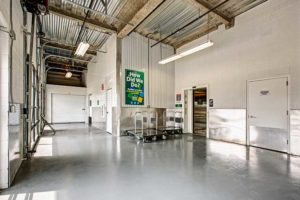 Large loading bays: In big cities like Brooklyn, look for storage facilities with interior units with large, loading bays to facilitate move-ins. For instance, the large loading bays at our Knapp Street storage facility are a useful amenity for unloading and unloading tools and equipment while shielded from the sun and weather.
Climate Controlled Storage Options: Keep your equipment and tools safe from any damaging fluctuations in temperature by using a climate controlled storage unit. Moist conditions inside a storage unit can lead to rust, and extreme heat and humidity may also cause hard to some types of specialty equipment.
Storage Coupons: You can frequently find online storage coupons at Metro Self Storage. The most widely available storage units for Brooklyn contractors offer flexible month-to-month leases and rates that won't break the bank. Many of our storage facilities offer seasonal and holiday promotions, so check online frequently to make a storage unit rental even more affordable.
24-Hour Video Surveillance: At Metro Self Storage, we take security seriously. Our state-of-the-art surveillance systems keep an eye on your storage unit while you're away.
Small, Medium, and Large Storage Units Available: Whether you need small business storage or you run a large construction business, you'll find everything from small, 5X4 storage lockers to large, commercial storage units at Metro Self Storage in Brooklyn.
Convenient Hours: Besides top-notch security, convenient gate access hours are essential for Brooklyn tradespeople. Accessing your tools and equipment from early in the morning and late at night is the must-have feature in Brooklyn. The Knapp Street storage facility is open every day of the week with someone on site to keep an extra eye on things.
Office Space with Free Wi-Fi: It's worth noting that some storage facilities offer extra services that may come in handy upon occasion. If you're looking for conference room space for planning or holding meetings, consider shared workspaces that are popping up all over the country as they offer more amenities and are equipped to handle small and large groups.
Secure storage units protect from theft
When making your decision keep in mind that secure storage units protect from theft and offer an extra level of security that homes, construction vans, and trucks don't provide. Metro's 24-hour video surveillance, motion-sensor lighting, secure, keypad gate access and on-site storage team help alleviate theft concerns.
Having extra space for storing tools frees up more space in your truck or van, and you may even find that a smaller, less expensive vehicle is easier to park in a big city like Brooklyn. Using contractor storage space for your trade can not only protect you from the threat of theft that tradesman often face, but it can also offer you a whole new level of security for both your equipment and for your business.
Brooklyn, NY storage for contractors can be found for less than you might think. Storage lockers are ideal for storing smaller tools and important business documents like articles of incorporation and tax returns. Business items are just as important as storing your personal belongings. After all, your livelihood depends upon your business.