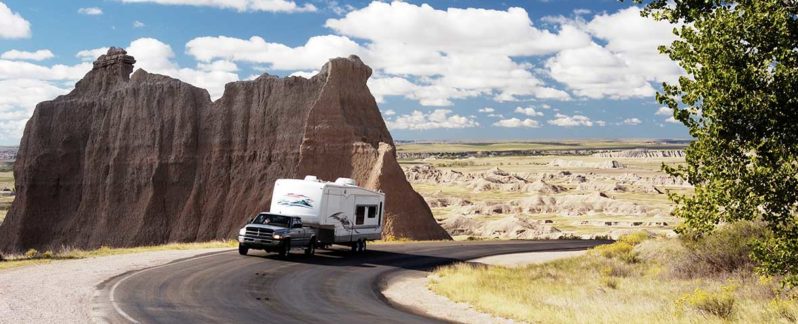 5 Beautiful Texas RV Parks Worth the Drive 
---
August 23, 2020 | Travel Destinations
You won't mind the extra miles you'll put on your rig when you consider these beautiful RV parks worth the trip in Texas.
Experienced travelers will tell you; there is no better way to see Texas than in an RV. The Lone Star State brings the ease of the endless open roads, and nowhere do you feel that freedom quite like you do in the great state of Texas.
Moreover, there's something for everyone in Texas. RV adventurers will discover a wide range of scenery from spectacular high desert views and Gulf Coast shorelines to expansive ecosystems. RVers traveling in Texas on a budget can explore big cities like Houston too. RV nightly rates are cheaper than hotels and have the benefit of never having to unpack.
Best Waterfront RV Destinations in Texas
Don't make the mistake of thinking Texas campgrounds are all alike. From the Gulf Waters Beachfront RV Resort near Corpus Christi to Sea Rim State Park in Southeast Texas, there is no dearth of beachside luxury camping in Texas.
The Texas Coastal region is a not-to-miss for all beach-loving RVers. On the Beach RV Park on Mustang Island offers full-service RV sites within a stone's throw of the ocean. Pro Tip: Approach this beachside RV campground from Corpus Christie to travel through the scenic Mustang Island National State Park. You'll travel approximately 40-miles south on I-35, where you'll find easy access to Port Aransas attractions, with a trolley stop adjacent to the park.
Kayakers will find beautiful water trails Mustang Island Paddling Trail. Those lazy days dedicated to relaxation, beachcombing, and surfing will keep the whole family happy as you camp with the gentle sound of the lapping of Gulf Coast waves.
Top-Rated Texas National Parks with RV Hookups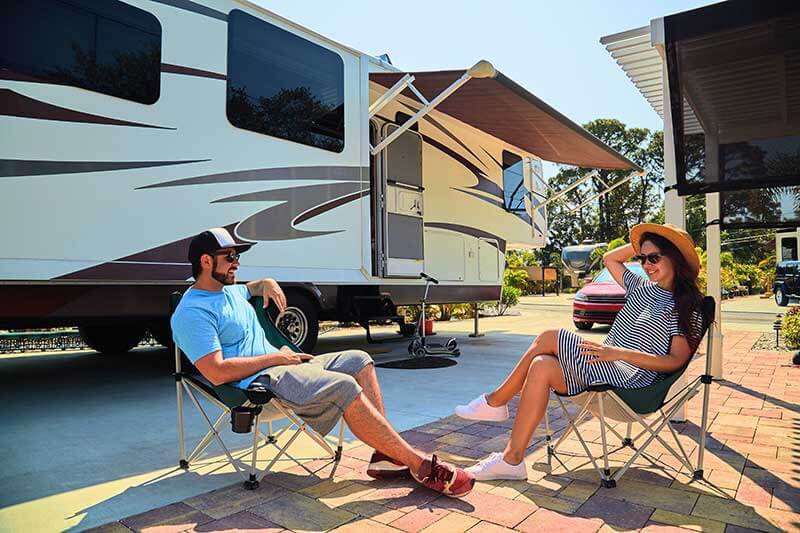 Approximately 30 Texas State Parks have campsites with full RV hookups. This is good news for those on a budget and last-minute travelers. Water and electricity hookups allow seasoned RVers to utilize their A/C, electric stovetops and ovens and even watch cable television programs that are all quite popular with Snowbirds.
Many more campgrounds have what Texas calls standard – sites with water and electric hookups but no dumping connections. Basic sites come with just water. Overnight rates are budget-friendly, starting as low as $25 a night.
Palo Duro State Park (near Amarillo) lies the country's second-largest canyon in the heart of the Texas Panhandle. RVers can explore the national park by car, horseback, foot, or for the outdoor adventurer; mountain bike.
This highly rated RV destination allows pets, offers a dump station, electric and water hookups, a general store, and summer activities. There is a wide range of options for family and friends to join you, including cabins, tents and yurts. Additionally, guests can rent one of the pavillions for family reunions or weddings.
RVing in Texas for Families with Youngsters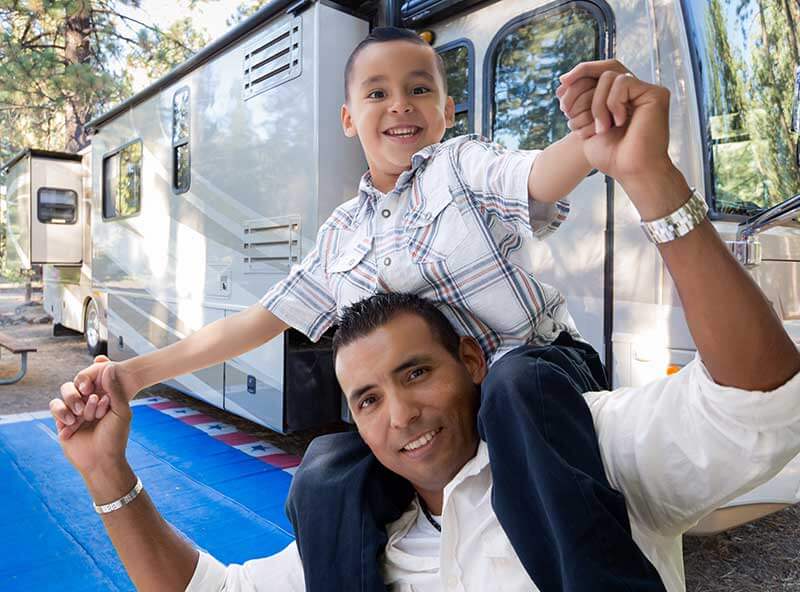 As any parent will tell you, RV traveling with children is especially fun. Even so, there are going to be some challenging times. Depending on your children's age, a kid-friendly campground can make all the difference between a family vacation disaster and fond vacation memories. Here are # awesome family-centric RV campgrounds.
DINOSAUR VALLEY STATE PARK
The name says it all: Dinosaur Valley State Park. Located 80 miles west of Dallas via I-30 and US-67, visitors are awe-inspired when they see genuine dinosaur tracks left behind by these ancient critters in the Paluxy River.
Parents will appreciate the comfortable RV campsites waiting right next to the vintage general store. Kiddos can burn off plenty of energy at the splash pad playground, go fishing at the stocked lake, and play tennis court or shuffleboard.
To wind down a fun-filled day, book seats on themed train rides powered by antique steam or diesel engines.
CAMP JELLYSTONE
Jellystone Park's are a Texas resort chain with locations in the Dallas-Fort Worth metroplex area. A hybrid of RV campground and theme park, Jellystone Parks features Yogi Bear and friends' character appearances.
It's worth noting that amenities vary by location and may include pools, water slides, and splash fountains and entertaining activities like mini-golf and pedal carts.
There is nothing like hitting the wide-open road with a fully stocked RV, family, and friends to find your next adventure. The United States is home to 62 National Parks and more than 10,000 state parks!
Best RV Parks Near Downtown Houston
Houston's diverse museums – more than 150 museums and cultural institutions in the Greater Houston area – cover everything from nature, art, science, history, and more. Thanks to the city's newest long-term RV Park, Jet Stream Resort, you can book a short- or long-term RV reservation to take as much time as you'd like to see the new and exciting attractions in Houston.
A quick Google search will reveal a dozen or so RV sites near Downtown Houston. A favorite RV destination of digital nomads and RV adventurers alike is Lakeview RV Resort, located on 12-miles North of Houston right off I-228. The upscale RV resort offers paved parking pads with full hookups, a sparkling swimming pool, stocked fishing lake, and commercial-grade laundry facilities.
For those visiting the Texas Medical Center, Lakeview provides a complimentary shuttle service every 2 hours on weekdays.
About half of the sites at Forest Retreat RV Park near Houston are pull-throughs. All of the sites have full hookups, and a few are wide enough for the biggest rigs with slide-outs.
South Main RV Park bills itself as a tree-lined park within the heart of Houston, offering the "Best combination of Texas hospitality, family-friendly atmosphere, and tranquility." 
Features are too numerous to mention all, but highlights include free cable service, shady sites, outdoor patios, dog walking areas, and a free shuttle service to nearby medical centers.
Metro RV Storage
As an RV owner, you understand that there is nothing like the feeling of cruising along a wide-open highway towards your next big adventure. The enduring appeal of the RV lifestyle continues to grow as a new generation discovers that owning a camper, van, or recreational vehicle is a cost-effective way to travel almost anywhere in the country. RVing offers freedom from the hassles of airline schedules and is a convenient and pleasurable way to spend vacations outdoors with family and friends.
To learn more about secure, clean, and 24-hour access RV storage facilities near you, peruse Metro Self Storage's website for more information.