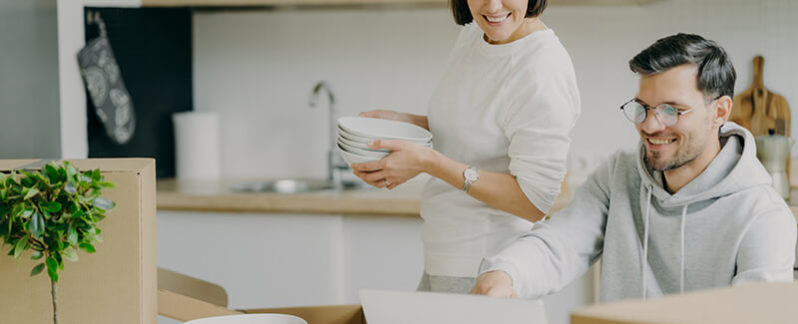 How to Pack Dishes and Fine China Without Breaking Plates
---
September 7, 2020 | Moving
We frequently hear from our storage customers that the kitchen is easily the most challenging room to pack when moving. Here are some tips we've gathered to help you pack dishes for moving day.
To make sure your dishes and fine china arrive at their next destination in one piece, you may want more than a few recycled boxes and a month's worth of Sunday papers.
Sort Your Kitchenware
Because you'll be packing over several days, pack dishes and fine china in your kitchen last. Moving to a new home is the perfect time to donate underutilized and duplicate kitchenware items. This will free up valuable space in your new kitchen, too.
The easiest way to declutter your kitchen is to sort like items together by size and weight. Place all of your plates, bowls, coffee cups, etc. in groups on a countertop or table. Keep in mind sharp items like knives, and pizza cutters should be wrapped in newspaper individually and not in bubble wrap.
Pots and pans, appliances, and other heavier kitchen items can be packed in a regular moving box because they are sturdier and less likely to get damaged during your move.
Prepare Your Dish Boxes
What is a dish pack box? The absolute best moving box for ensuring dishes stay safe on the moving truck are large double-walled boxes.
To prepare your dish boxes, first place a layer of thick bubble wrap at the bottom of the box. Next, place large, heavy dishware on the bottom of the box. Be sure to layer your dishes so that serving platters and ceramic bowls are the bottom of the box. Place plates, coffee cups, and cereal bowls by weight with the lightest, most fragile dishes at the top of the box.
A good rule of thumb to save your back is not to let your kitchenware boxes exceed 50 lbs. Heavier boxes are harder to move whether you're hiring professional movers or arranging a DIY move. Additionally, too many dishes in one box increase the likelihood of something breaking.
You can find dish pack kits at your local Metro Self Storage in addition to cardboard boxes and specialty moving supplies.
The Best Dish and Fine China Packing Materials
Below are the most highly recommended materials used to pack dishes for moving. Whether you are going across town or relocating across the country, here's how to keep your fragile items safe from breaking.
PAPER: Newspaper is a lightweight and recyclable packaging material that you may already have on hand. Newspaper print can rub off on some materials, so professional packing paper is good to have on hand when packing fine china and daily dishware. When using packing paper or newspaper as a packaging material, wrap it around fragile items and wad it up to stuff and fill voids within the moving box.
BUBBLE WRAP: Bubble wrap is a flexible and puffy packing material (2×12 sheets, 125-foot perforated sheet rolls, and varying sized pouches) used by professional movers to ensure fragile items are kept safe during a move and while they are in storage. Bubble wrap is taped around fragile items, which are secured in place inside the box. The chances of your items being damaged when using bubble wrap are pretty slim. Bubble wrap works great for dishes and fine china, lamps, antiques, and other breakable household items.
FOAM SHEETS: Foam sheets are a spongy packaging material that comes in fragile items like kitchenware, home decor, and small knick-knacks. Because of its thinner design, cushiony foam sheets are soft and pliable but sturdy. Besides TVs and electronics, this flexible packing material is also ideal for stacking ceramic dishes, coffee cups, stemware, silver, and other kitchen items.
PACKING PEANUTS: Cheap, light, and in some cases, an eco-friendly way to protect fragile belongings when moving to a new home. Foam peanuts are known by many names: foam popcorn and noodles, and loose-fill packing material. This type of material is a little wild to work with as peanuts are light and easily become airborne. Peanuts work so well because they easily fill the voids within the boxes you have packed your fragile items. Their small size allows them to settle down in between the cracks and crevices between your wrapped dishware and glassware so you can be sure your item will not move around in the box while being transported.
Styrofoam peanuts are available in three predominant colors— pink, white, and green. Biodegradable packing peanuts are slightly more expensive and heavier than their polystyrene counterparts but dissolve in water and are not harmful if accidentally ingested by pets.
KITCHEN MOVING MATERIALS LIST
Don't forget to pick up several rolls of strong tape, markers, and moving boxes from your local self storage center or home improvement store. Group items by size and weight. In the meantime, here is a handy list of the things you'll need for your next moving and storage project.
Double Walled Dish Pack Boxes
Inner Boxes
Packing Peanuts
Large and Small Bubble Wrap Sheets
Tape Gun
Newspaper or Packing Paper
Strong Pressure-Sensitive Plastic Packing Tape (2″ or 3″ wide)
Here at Metro Self Storage, we understand moving can be stressful. Scientific research supports what we all know, life-changing events like moving houses require a little more self-care. One of the keys to managing stress during any change is planning and organizing as much as possible.