9 Notable Chicago Women to Celebrate in Women's History Month
---
March 7, 2021 | Family Life
The month of March is Women's History Month. Back in 1978, in my hometown of Santa Rosa, California a group of educators chose a local celebration centered around International Women's Day. The movement quickly spread across the country and in 1980 President Jimmy Carter issued the first Presidential Proclamation declaring a the week of March 8th National Women's History Week.
Today, we celebrate the entire month as Women's History Month to highlight the many women who have made a difference in the course of our nation's history while educating young girls, ourselves and opening up that world of possibilities.
In this week's blog, we highlight 9 notable Chicago Women. Make no mistake, there are many more than nine women leaders, pioneers, homemakers, trailblazers who hail from Chicago. Women continue to be essential to the founding of this nation and are essential on the path forward into its future.
So whether there is a little Chicagoan girl whose dream is to become a comedic actress, an advocate for truth and spirituality, or who loves science and engineering, we'll discover there's a little Chicago in the stories of these 9 notable women.
1. Oprah Winfrey
Photo: Vera Anderson/Wireimage
Oprah Winfrey moved to Chicago in 1983 to host WLS-TV's talk show, AM Chicago. With Oprah at the helm, AM Chicago soon surpassed Phil Donahue as the highest rated talk show in Chicago.
While we've all heard of the Oprah Winfrey Show, often referred to as The Oprah Show or simply Oprah, few know the daytime talk show got its start from movie critic Roger Ebert. Yes, it's true! Ebert believed Oprah would surpass his own viewership—At The Movies—and he was correct.
Oprah's syndicated talk show aired nationally for 25 seasons from September 8, 1986, to May 25, 2011, in Chicago, Illinois, and remains one of the highest-rated daytime talk shows in American television history.
Oprah went on to found Harpo Productions in Chicago and maintained a residence in the Windy City for several decades. During this time she donated millions of dollars to dozens of nonprofits, charities, and educational institutions in the Windy City leaving an everlasting impact of social good for the great people of Chicago.
2. Michelle Obama
Photo: WikimediaCommons
Michelle Obama was born in Chicago, Illinois in 1964. She is an American attorney and author who served as the first lady of the United States from 2009-2017. She is married to the 44th president of the United States, Barack Obama.
Michelle was raised on the Southside of Chicago and is a graduate of Princeton University and Harvard Law School. She's worked for several non-profits and as the associate dean of Student Services at the University of Chicago.
As the first lady, Michelle served as a role model for women and worked as an advocate for poverty awareness, education, nutrition, physical activity, and healthy eating. She frequently wore dresses by American designers and was praised for supporting local talent.
As recently as 2020, Michelle topped Gallup's poll of the most admired woman in America for the third year running. Her book Becoming has spent more than 106 weeks on the New York Times Best Seller list for nonfiction followed closely by her husband, Barack Obama's memoir, Promised Land.
3. Koko Taylor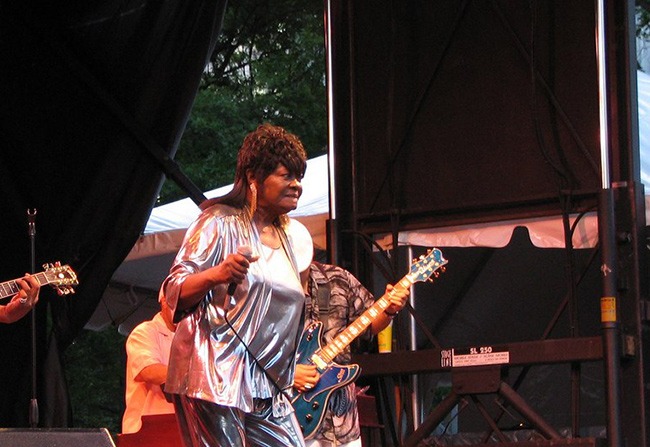 photo: WikimediaCommons
Another notable Chicago woman is the late, great Koko Taylor was born Cora Walton on September 28, 1928. She got her nickname, Koko as a child due to her love of chocolate. Growling, thunderous and full of soul, Koko Taylor became synonymous with Chicago blues.
Her signature song, Wang Dang Doodle produced by Chess Records launched her into fame in 1967. She sang directly from her soul, which encapsulated the heart and soul of the blues. Koko became one of the first Chicago blues artists to command a following on the city's North Side.
During an interview with World Cafe in 2012, Koko said she would sleep behind the house so she could sing the blues with her brothers who made instruments out of corn cobs and hay bales. She said, "I sang gospel on Sunday and blues on Monday."
During her 40-plus year career, Koko won more Blue's awards than any other women in history and a Grammy in 1984. In 1987, she released her first domestic live album, Live in Chicago: An Audience With the Queen.
Koko was inducted into the Blues Foundation Hall of Fame in 1997. The Grammy Award-winning blues singer, Koko Taylor died in a Chicago hospital on June 4,  2009, at the age of 80.
4. Josephine Cochran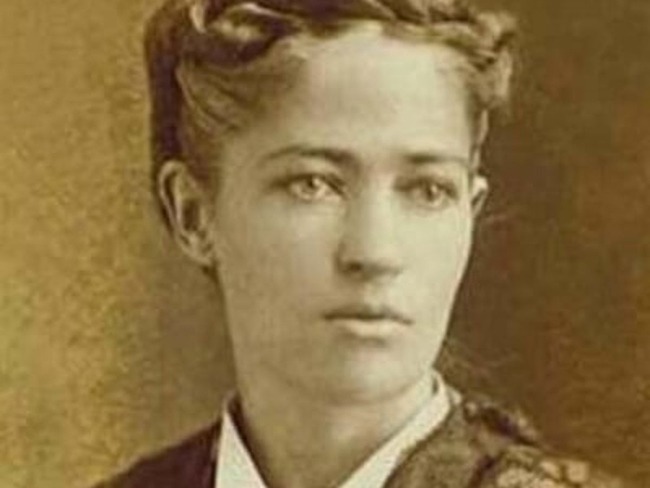 What would daily life be like without dishwashers? Not only do we love the fact that the dishwasher was invented by a Chicago woman, Josephine Garis-Cochran, but that she also mastered her creation in the great state of Illinois.
Josephine designed the first model of her dishwasher in the shed behind her house in Shelbyville, Illinois. And during the  World Columbian Exposition of 1893, Josephine's invention won the highest prize for its ability to wash more than 200 dirty dishes within minutes.
It was the only invention on display by a woman. It won the highest prize before establishing a dishwasher market in hotels and large restaurants.
Josephine went on to form the Garis-Cochran Dish-Washing Company to manufacture and market the dishwasher after commonly finding plates chipped by hand washing and to relieve women of the tiresome work of washing dishes by hand.
However, it wasn't until around the 1950s (practically 70 years later!) when hot water heaters were increasingly available in homes, the opportunity for change opened up. A change in attitudes toward housework helped to elevate the concept of an automatic dishwasher and make them popular with the general public.
The Garis-Cochran Manufacturing Company later became the appliance giant KitchenAid.
5. Jane Addams
Photo: Hull House collection, Special Collections and University Archives, University of Illinois at Chicago
Jane Addams co-founded Hull House in 1889 and won the Nobel Peace Prize in 1931.
The Hull-House was the first social settlement in Chicago. The settlement was incorporated in March, 1895, with a stated purpose to "provide a center for higher civic and social life, to initiate and maintain educational and philanthropic enterprises, and to investigate and improve the conditions in the industrial districts of Chicago."
From 1889 to 1963, Hull-House operated a wide-ranging program from its complex of buildings at 800 S. Halsted St. In 1963, when the settlement vacated the complex on Halsted Street to provide space for the new campus of the University of Illinois at Chicago Circle, Hull-House decentralized and began operating settlement programs in a number of neighborhood locations.
6. Jennifer Hudson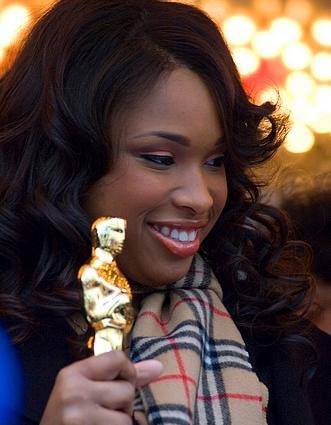 Photo: WikimediaCommons
Also known by her nickname J.Hud, Jennifer Hudson was born on September 12, 1981, in Chicago, Illinois. Today, she is an American singer, actress, and philanthropist.
Jennifer grew up singing in the church choir and graduated from Dunbar Vocational Career Academy in 1999. She sang for a year on a Disney cruise ship before appearing on American Idol where she was eventually eliminated, striking controversy due to her immense talent.
However, that didn't deter Jennifer from continuing her dream of becoming an actress and musician. She has been the recipient of many accolades, including; an Academy Award, a Golden Globe Award, and two Grammy Awards.
In 2020, Time magazine named her one of the 100 most influential people in the world.
Jennifer's latest big role in Hollywood is her portrayal of Aretha Franklin in the movie Respect. The story is that Aretha chose her for that role: she saw her younger self in Jennifer.
7. Joan Cusack
Photo: WikimediaCommons
Born on October 11, 1962, Joan was raised in Evanston, Illinois. She served as a cast member on Saturday Night Light early in her career before going on to win the American Comedy Award for Funniest Supporting Actress in a motion picture three times. From the Toy Story franchise and Addams Family Values to Saturday Night Live and the Chicago-set Shameless, Joan's career spans a long list of crowd-pleasing favorites.
Since 2011, Cusack has owned Judy Maxwell Home, a gift shop in Old Town, Chicago. The shop, named for Barbra Streisand's character in What's Up Doc? Which turns out is Cusack's favorite movie.
The shop is a modern general store that brings a touch of whimsy to the neighborhood. Customers will find cards, novelty socks, onesies alongside kitschy home décor and bric-a-brac. If you're looking for fun quirky gifts or things for the home, the Judy Maxwell Home won't disappoint.
8. Gwendolyn Brooks
Gwendolyn Brooks became a Chicagoan when she was five weeks old. She grew up on the city's south side and by age seven she was already making her own books of stories and poetry. She would go on to spend her life mentoring her community on the art of observation and poetry.
In 1950, Gwendolyn was the first African American to win a Pulitzer in poetry for a volume titled, Annie Allen. From 1938 – 1945 Gwendolyn's writings appeared in the Chicago Defender, a legendary black newspaper that was read not only by black people in Chicago but all throughout the South.
The Pulitzer made her notoriety skyrocket and her collections described black Chicago, its landmarks and its people thereby giving the city's stories exposure throughout the nation. She was a very American poet who elevated the lives and stories of everyday urban African Americans with her extraordinary poetry.
Gwendolyn Brooks was named poet laureate of Illinois in 1968 and passed away at the age of 83 on December 3, 2000 in Chicago.
9. Jane Byrne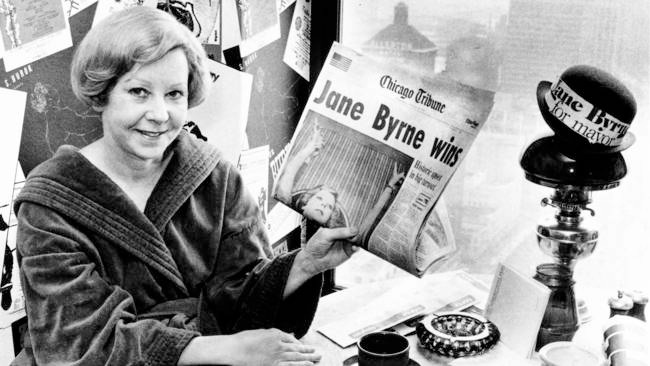 Photo: Carl Hugare/Chicago Tribune
Jane Byrne was elected 50th mayor of Chicago on April 3, 1979 and was Chicago's first female mayor. And even though her career had ups and downs, Jayne was not only the first female mayor of Chicago, but also the first female co-chairman of the Cook County Democratic Organization, and the first female commissioner in a major American city.
Jane was born May 24, 1933, in Chicago and served as the city's mayor from 1979 to 1983. She is fondly remembered as a five-foot-three-inch dynamo. Just before her death in 2014 at the age of 81, Chicago's Circle Interchange renamed the Jane Byrne Interchange and the plaza adjoining the city's Water Tower, the Jane M. Byrne Plaza.
Chicago's mayor of Chicago at the time of her death, Rahm Emanuel, called her "a great trailblazer" and "a Chicago icon."
Rent Your Chicago Storage Unit with Metro Self Storage
Thinking about moving to the Chicago area? Metro Self Storage is here to help. With storage units of all sizes and an abundance of quality features, we have the space you need to make your transition a breeze. Find a location in the area today!