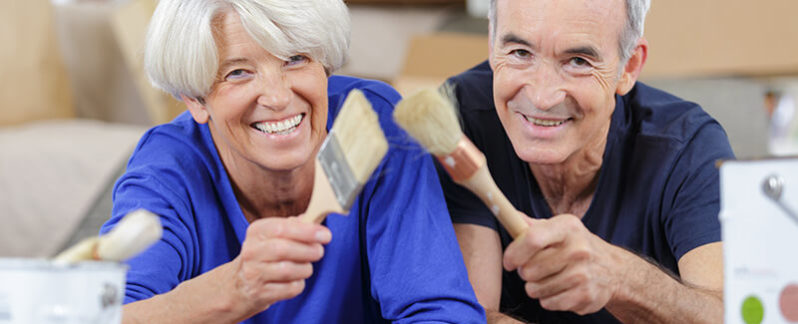 Americans are Remodeling to Age in Place Instead of Downsizing
---
July 22, 2018 | Family Life
Once the kids go off to college, most people will start thinking about downsizing. While it may seem a little early to think about what life will be like post-retirement, the home you live in today will impact your options years down the road.
As you get close to post-retirement, your tasked with making a big decision.
Do you remodel to age in place so that you can stay put? Or do you move to a senior-centric community that can accommodate your changing needs as you age?
The answers to these questions are always the same: Aging Americans prefer the idea of avoiding assisted living facilities in favor of living at home. Here' are some considerations to help you decide it it's the right choice for you.
The dilemmas facing aging Americans today
According to the Joint Center for Housing Studies of Harvard University (JCHS) "Within 20 years, one in five Americans—almost 80 million people—will be older than 65 … they will want to remain in the current homes for as long as possible."
However, the study goes on to reveal that today's homes and neighborhoods, and supportive social services are not ready to accommodate the natural desire to stay in one's home.
If you or anyone you know is over the age of 75, you'll understand this concept: As we age, our homes gain importance in our physical and emotional lives. It can feel like a marriage for some: until death do us part. More Americans are remodeling to age instead of moving to downsize because it gives them more control over their space and comfort.
Is the home you live in today, the right size for the house you'll live in tomorrow?
You may love your home—maybe you raised your kids there and have fond memories of family gatherings over holidays and other cherished events. Ask any realtor, who will gladly tell you, there is a ton of sentimental value associated with homes. Unfortunately, emotional equity does not get factored into a home's market value.
However, if you are remodeling to age in place, it is a win-win. You get daily reminders of all that you love about your home and the comfort and safety of remaining there through your latter years. But there are few things to consider before mature adults and seniors decide to invest in a home remodel.
Is your current home located in a walkable neighborhood? A walkable neighborhood not only features a short distance to shopping, dining, groceries, and parks, but it also features good lighting and safe, well-maintained sidewalks.
If your home is centrally located near these types of amenities, then remodeling to age in place could very well be a sound investment. Walkable neighborhoods are highly desirable amenity that increase home values.
But if you or a loves one are telling yourselves, our neighborhood isn't really walkable but we're near a bus stop! Think again. As a senior citizen, taking a bus can be fraught with all types of challenges.
How to decide if remodeling to age in place is the right choice
You want your home to be easy to take care of—even managing landscapers and other types of household help can become burdensome as we age. Here are some things post-retirement families need to consider before starting a remodeling project:
Does your home have a sprawling green lawn? Consider the cost to hire a landscaper to maintain your landscaping. Now might be a good time to invest in low-maintenance xeriscaping.
When was the roof last replaced on your home? You may need to factor this and other "hidden" expenses into your remodeling project costs.
Is your home a single-story layout, with no entry stairs? If your master bedroom is not on the main floor, is there a bedroom on the main floor you can convert to a master bedroom to accommodate you and or your spouse as you get older.
Your remodeling costs may include new flooring. If so, ensure that thresholds are flush with the floor to make using a walker or wheelchair safer.
As we age, our eyes continue to age as well. Before you begin your remodel, gather some inspiration then consult with an interior designer to determine if your home has plenty of lighting.
A must-have in any remodeling to age in place project: a walk-in shower with a seat or a walk-in bathtub with a wide door.
Other things to consider when remodeling a home for senior living include installing extra handrails to outdoor and indoor stairs, adding non-slip surfaces to the bathtub and shower to prevent falls, and building easy-to-reach storage spaces.
Whether you've lived in your home for 25 years and are remodeling to age in place or you plan to move around to accommodate your changing needs, we understand that either choice is a life transition.
If you decide that it's time to downsize or remodel your home to age in place, we're here to help you through the process. Our storage facilities are designed to make life transitions a little less stressful.
Do you need to rent a clean and secure storage unit during your remodel?
Conveniently located with the latest security features, are just two reasons why our customers return time and again when they need an affordable storage solution.
Contact one of our friendly Property Managers to learn more by visiting us online: metrostorage.com