Bedroom Closet Remodel Ideas for Walk-In and Reach-In Closets
---
November 23, 2021 | Home Organization
If you're tired of stepping over your clothes and shoes every morning while looking for something to wear, it's probably time to consider a master bedroom closet remodel. Updating your closet with adjustable shelving, hanging rods, built-in drawers, and pull-out baskets will be the game-changer you need to reduce morning stress and elevate your style.
Whether you have a luxurious walk-in closet or need to get creative with a smaller reach-in closet, these organization systems are sure to make any closet seem a little larger and a lot more manageable. Take a look at the systems we've compiled and choose the easiest closet remodel system for your space!
The Benefits of a Closet Remodel
One of the most significant benefits of organizing your closet is that it helps streamline your morning routine. Why is this important? Making a decision takes time, and scientists have discovered that our decision-making power is a depletable resource. It's why high-achievers like Steve Jobs wore black turtlenecks and blue jeans pretty much every day of the week.
If your shoes and clothes are neatly organized instead of tossed in a heap on the floor, your decision on what to wear becomes much more manageable. Your clothes will last longer too. These are just a few reasons you'll want to include hanging racks, shelving, and drawers in your closet remodel.
You might even save or make some money when decluttering your closet. A messy, disorganized closet can easily hide pieces of clothing that you forgot about. But if you make room in your closet so that everything has its place, you won't have to worry about accidentally purchasing a winter coat or summer dress that closely resembles the ones you already have.
Additionally, seeing everything you own every morning means you'll eventually learn what items you no longer wear. You can either donate these items or bring them to your local consignment shop.
DIY Closet Organization Systems
If you're ready to dive into a closet remodel, you won't find a shortage of options. There's plenty of closet systems to choose between from closet organizing components sold through Home Depot, Lowe's, IKEA, Target, and other retailers.
While there are online closet organization companies, offering modular closet components in addition to complimentary design services, a DIY closet remodel will save you money.
Wardrobe organizing systems include a combination of rods, shelves, and sometimes drawers, shoe shelves, and other accessories. These systems are designed to accommodate the two most popular styles of bedroom closets found in homes today—reach-in and walk-in closets.
Reach-in closets are usually accessed by sliding or hinged-bifold doors and are only a few feet deep. Walk-in closets are at least 5'x5′ feet—about the size of a small storage unit, but can be as large as a small bedroom—an absolute luxury in any master bedroom.
The easiest way to approach your closet to remodel is to break down the clothes and other items you plan to store by category: hanging systems, shelving systems, drawer systems, basket systems, shoe systems, and built-in hampers.
You'll need to figure out how much hanging space versus shelving units will be ideal based on your wardrobe. Do you have long dresses or prefer to hang your trousers by the waistband? If so, you'll also need to factor in a small space for long-hang items.
Laminate vs. Wire Closet Organizing Systems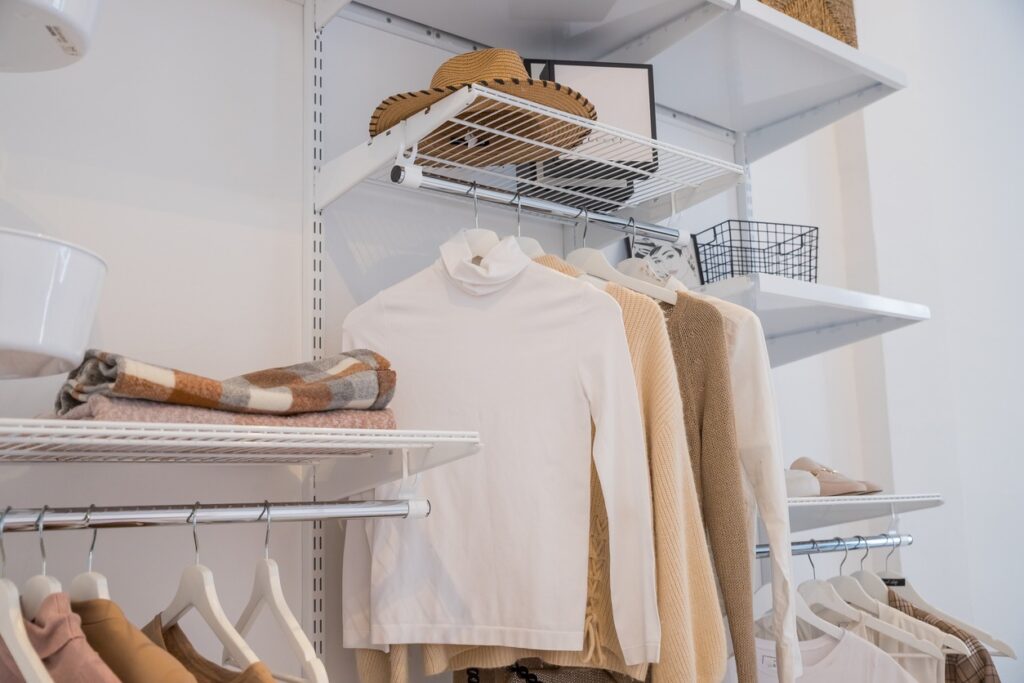 Laminate wood closet systems are top-of-the-line in terms of budget and appearance. You can purchase premade laminate closets from nearby retailers like Home Depot and Lowe's or hire an online closet designer to custom-fit your space. Laminate wood closets are also well suited for large master bedroom closets because wood components take up a fair amount of real estate.
If the cost of your closet remodel is not a factor, a wood walk-in closet system will also give you the widest selection of styles and finishes for a custom look. For example, if you love traditional design, you'll have options like shaker-style drawer fronts and custom hardware.
While wire closet organizers are the least expensive option for a closet remodel, they might not be the best option if you're sharing a closet with someone else or need space for drawers to store things like scarves and gloves.
Both laminate and wood closet systems will give you style, color, and finish options that you won't find in wire organization systems. However, custom wood closets will cost more and won't be as adjustable as laminate closet systems. Wire closet components are lightweight and easy to assemble, but they may be fixed in place once installed.
Hire a Custom Closet Designer
If the idea of a DIY closet remodel stresses you out, hiring a professional custom closet company is something you may want to consider. While not the most budget-friendly option, the time and headaches it will save you could be worth their weight in gold.
A professional closet organizer will bring fresh ideas for wardrobe storage that you hadn't even considered a possibility. For example, a stand-alone modular closet system is designed and assembled to fit perfectly into any space in your home, including an entryway or laundry room. And because they are made from beautiful materials and include doors and drawers, they can easily coordinate with your home's decor.
Uniform Hanger Style
After putting your time and resources into creating the perfect closet, there is one more item to check off the list. Purchasing the same style hanger for all of your hanging items.
Using different hanger styles can lead to damaged clothes and a messy-looking closet; even a newly organized closet won't have the same polished finish with a mish-mash of hangers. It doesn't have to be a significant financial investment either.
If you prefer wooden hangers, keep in mind these are more expensive and take up a bit more space than their alternatives. Our favorite is the newer non-slip slim profile velvet hangers that offer the best of both worlds. You can hang pants and tops on these, and spaghetti strapped dresses and silk blouses won't slip off the hangers.
You'll save a considerable amount of space by using the same hangers for your entire wardrobe too. An added benefit is that you'll have a uniform professionally organized appearance making the items you want to wear easier to see and access.
However, it's worth making an exception to buy padded hangers for knit sweaters and other delicate clothes in your closet if you don't have room to fold and stack these items.
Make the Most of Your Uniform Hanger Style with Metro
In summary, whether you have a walk-in or reach-in closet, a thoughtfully designed organization system with adjustable shelves and hanging spaces will elevate your style. An organized closet with shoe storage, custom hanging spaces, and a built-in laundry basket will also make deciding what to wear every morning easier and faster, not to mention a lot more enjoyable. Need extra space to make this happen? Choose one of our clean and well-maintained storage units to help you out.