Christmas Gift Ideas for Your Dog – Presents Your Pet Will Love in 2021
---
December 19, 2020 | Family Life
While dogs don't understand the holidays, they do love attention. Pets also notice when everyone else is getting attention like when their people are opening gifts on Christmas morning. Make sure your furry friend joins in the fun with these gift ideas your pet will love all year long.
According to a Pet Age survey, 95% of dog owners buy Christmas gifts for their furry friends. Anyone who owns a dog knows they're part of the family. So whether you have a Golden Retriever, a Dachshund, or Cockapoo, here are some helpful guidelines for finding the perfect gift for the special four-legged friend in your life.
What to buy your Golden Retriever for Christmas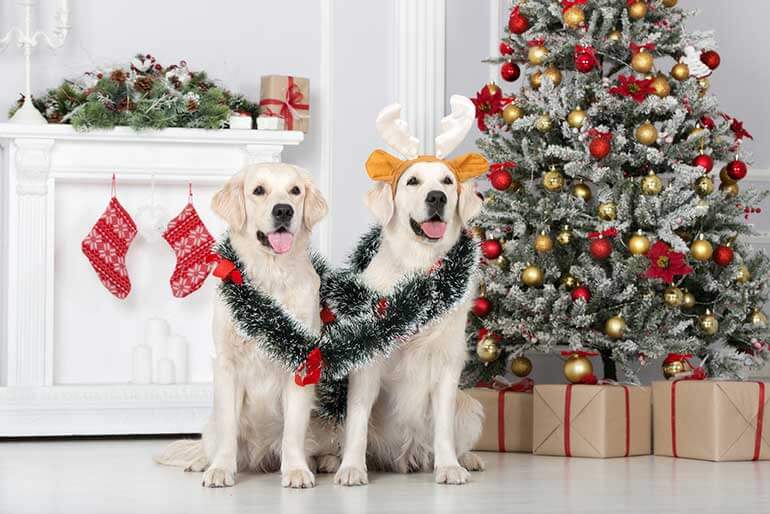 The Golden Retriever ranks 3 out of 192 for breed popularity, according to the American Kennel Club. These sweet, smart blondes are caring, devoted, and intelligent—just like their people.
With a constant urge to retrieve, squeaky toys (especially ones you can stick treats like peanut butter) will keep Goldens occupied for an extended duration.
ChuckIt! Amphibious Bumper Floating Toy
West Paw Zogo Flex Hurley Dog Bone Chew
Kong Jumbler Football Toy
If you're on a budget this Christmas or buying for a friend, you can't go wrong with a pack of tennis balls.
What to get your Cockapoo for Christmas
So friendly and lovable, cockapoos make great pals for anyone looking for a high-energy pup that lives indoors. Cockapoos have an infectious zest for play and get along well with other pets—including cats!! The best present for your Cockapoo this Christmas include fetching toys for the backyard, chew toys, and puzzle toys. These toys will ensure your Cockapoo stays entertained.
JW Pet Good Cuz Rubber Dog Toy
KONG Cozies Dog Squeaky Toy
Hide a Squirrel Fun Hide and Seek Puzzle Dog Toy
Wobble Wag Giggle Ball Interactive Dog Toy
Cockapoos can weigh anywhere from 10 to 30 pounds. As a friendly, lovable breed, cockapoos make great pals for anyone looking for a high-energy pup that lives indoors.
The best Christmas dog toys for Chihuahuas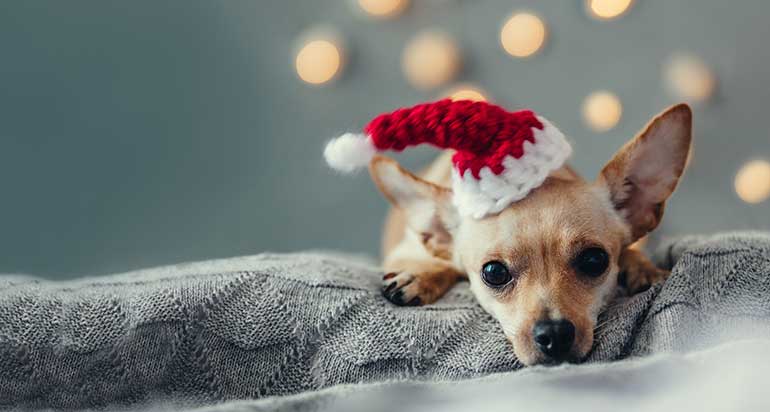 The charming Chihuahua stands around five to eight inches high and weighs about six pounds. Even so, these pint-sized pooches can be pretty sassy.
Chihuahuas make great pets for apartment dwellers, aging adults, and anyone who loves the idea of how cute they look in a handbag. What type of toy does your Chihuahua need? These little dogs enjoy chew toys and toys that squeak!
Chuckit! Ultra Rubber Ball Dog Toy
KONG X-Small Classic Dog Toy
Mammoth Squeaky Rope Toy
Dog Chews for small dogs
For puppies, a chew toy can save your furniture from constant gnawing and biting. But because their air passages and mouths are so small, it is important to keep durability a top priority and frequently inspect squeaky chew toys for wear and tear signs.
Christmas gift ideas for your English Bulldog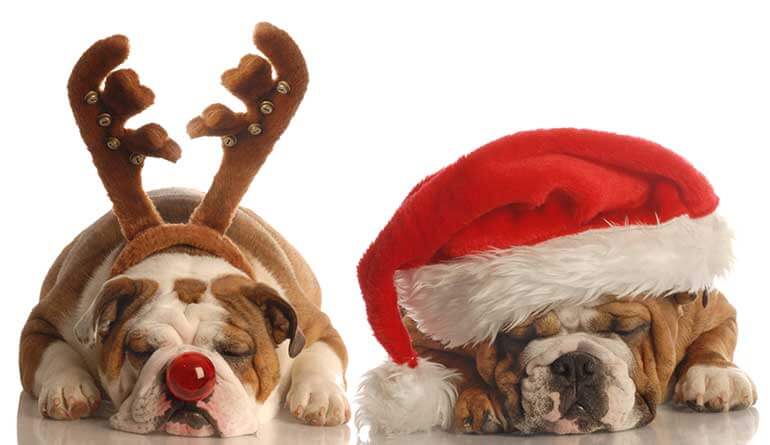 Who can resist a squishy-face? Especially on a dog. English Bulldog owners all agree, these guys really are the sweetest. They're also kind and courageous. Don't let their thickset and well-muscled body fool you. English Bulldogs enjoy brisk walks, and in fact, they need regular exercise.
What type of toy will make a great Christmas gift for your English Bulldog? There are two types of toys to consider. High-energy toys like frisbees, balls, and toy launchers are good choices for exercise. Here are some great toys to check out:
Nylabone Dura Chew Action Ridges, Bacon Flavor
The Benebone Real Flavor Dental Dog Chew Toy
Jolly Pet Treat Teaser Toy
Outward Hound Hide-A-Squirrel and Puzzle Plush Squeaking Toys for Dogs
Be sure to consider tug toys, too— these don't require your stout companion to run around and are a good idea to have on hand for when she doesn't feel like running.
Because English Bulldogs have partial color blindness, look for toys with these bright colors: yellow, blue, and purple. Their powerful bites make it imperative to go for the highest quality toy your pocketbook can handle this Christmas.
What to get your Beagle for Christmas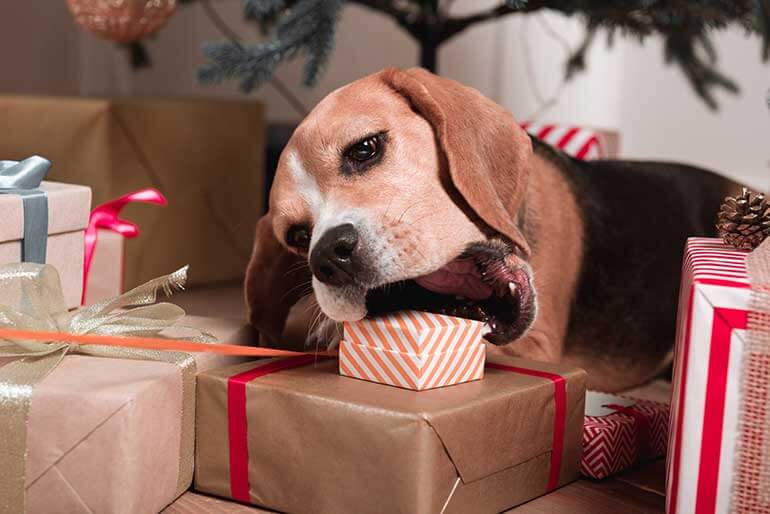 If you know anyone looking to buy a Christmas present for a special someone, a beagle puppy will make a great gift. While a real beagle won't fight the Red Baron, you can keep this amazing dog entertained with high-energy toys like frisbees, tennis balls, and tugging toys.
KONG Cozie Baily the Blue Dog Toy
Nylabone Bacon & Chicken Flavored Bones
JW Pet Chompion Dog Toy
Multipet Lamb Chop Plush Dog Toy
Beagles are described as "merry" because of their loving and lovable dispositions. These happy-go-lucky pups make great companions and excellent family dogs.
The best Christmas dog toys for Dachshunds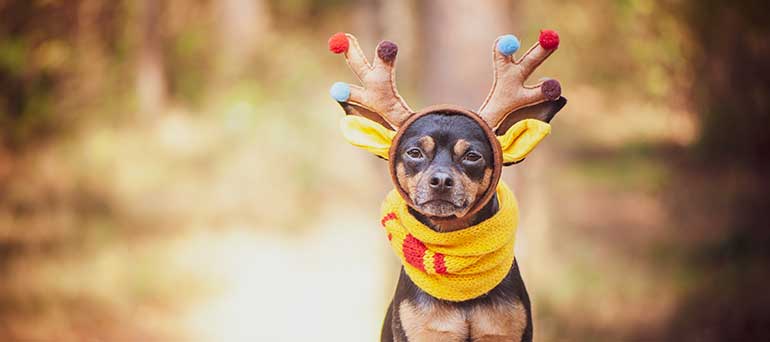 According to the American Kennel Club, the Dachshund ranks 13 out of 192 for breed popularity. These friendly, curious, and spunky hounds stand around eight to nine inches tall and weigh anywhere between 16 and 32 pounds.
Durable chew toys with pockets for treat stuffings are best because they have a prize in the opening.
Multipet Look Who's Talking Koala
Starmark Treat Dispensing Bob-a-Lot Dog Toy
Nylabone Power Chew Double Bone Chew Toy
Zanies 8.5″ Berber Bear Dog Toy
Dachshunds come in two sizes and three coat types (smooth, wirehaired, or longhaired) of various colors and patterns. This breed of dog is ideal for big-city apartment dwellers, sprawling ranches, and everyone in between. Doxies love toys that allow their instincts to run wild.
Gifts for All Dog Lovers
Looking ahead to 2021, there is a pretty good chance we'll be returning to work in some capacity making the Furbo Dog Camera a perfect gift idea for you and your dog. The Furbo Dog Camera allows you to talk, see, and toss treats to your dog from anywhere. Furbo even keeps a dog diary of your dog's most important moments and sends you a daily recap.
Since your dog can hear your voice with associated treats you toss out, it might even help with separation anxiety that may come about after having their humans home day in and day out over the past year.
Anyone who owns a dog knows they're part of the family. Put your pooch at the top of your Christmas list this year and watch the holiday magic (and photo ops) unfold. But perhaps the best news is that you don't have to worry about how much your spending on a gift.