Creating a Cozy Home: DIY Thanksgiving Decor Ideas
---
November 21, 2023 | Home Organization
The fall months are a time of warmth and gratitude as you enter the holiday season. With Thanksgiving just around the corner, now is the time to create the cozy ambiance you need to celebrate a time of giving. Whether you're the one hosting the festivities or you just want to create comfort within your home this Thanksgiving, let us help you make the cozy Thanksgiving decor you've been searching for.
Rather than spend additional money on decorations yearly, why not DIY your Thanksgiving decorations instead? From garlands to centerpieces, this guide will ensure you have a great place to start for easy Thanksgiving crafts.
Cozy Thanksgiving Decor
Creating a cozy and warm vibe in your home is easier than you think, so long as you have access to some pristine fall foliage and your nearest craft store. Crafting your own Thanksgiving decor will not only save you money but will also add a personal touch to everything you do.
Thanksgiving Tablescape Ideas
Arguably, one of the most important places to have pristine Thanksgiving decorations is at the dinner table. Adding personal touches to the dinner table will ensure your guests feel at home come dinner time. Some ways you can DIY your table decor are:
Place cards. DIY your place cards with some heavy-duty construction paper. If you're a skilled calligrapher, you can handwrite everyone's name to make it more personal.
Napkin rings. For a more rustic feel, grab some twine or burlap to tie around your napkins. You can even add some small, delicate fall flowers from your garden or plaid ribbon.
Table runner. Create a rustic table runner with burlap, plaid fabric, and a sewing machine. Simply cut your fabric to match the length of your tablecloth, with the width just enough for the center. Then cut your burlap three inches narrower than your fabric and sew the two together.
Thanksgiving Centerpiece Ideas
Another essential element to your tablescape is the centerpiece. Since this is the piece your guests will be staring at for most of the dinner, it's imperative that it's as warm and inviting as it can be. You can keep it simple with a vase of fresh flowers or step it up a notch with some fall greenery, foliage, and a candle set on top of a cake stand or inside a vase.
Thanksgiving Mantel Decor Ideas
Aside from the table, another important part of your Thanksgiving decor is the mantel. With all that additional space above your fireplace, you can add many personal touches to your home. Start by adding some garland or fake leaves for the base. From there, you can add anything that makes sense to your personal style or look up ideas for DIY Thanksgiving decorations.
Ideas for things to add to your mantel include:
Mini pumpkins
Gourds
Branches with acorns
Seasonal flowers
Taper candles
Metallic vases and bowls
Wreaths
Old wooden frames
Plaid cloth
Old books
And more!
Mix and match any of the above ideas, or add some of your own items to make it yours. If you have any fall signs, the mantel is also the perfect place to add those.
Thanksgiving Door Decor Ideas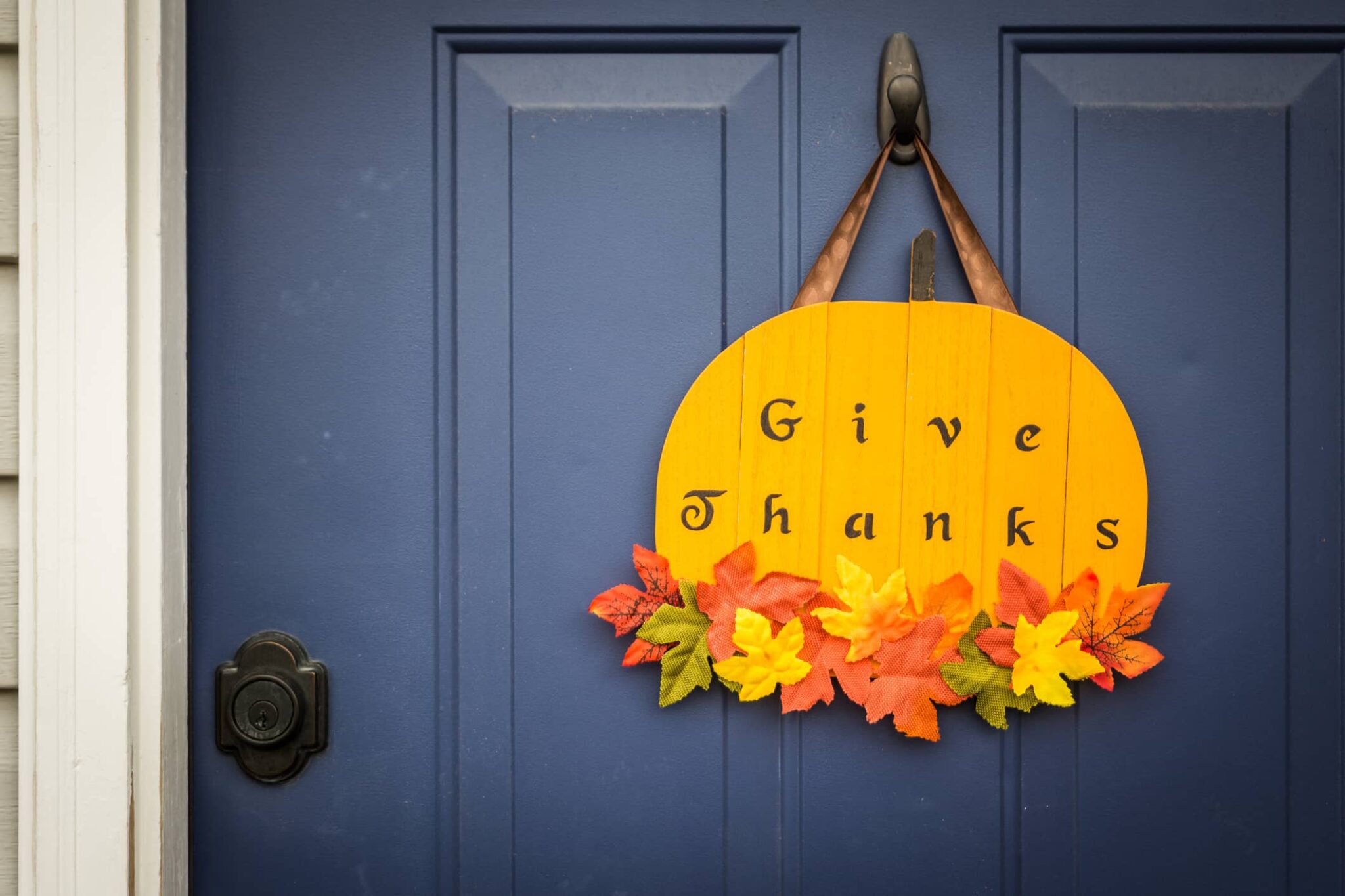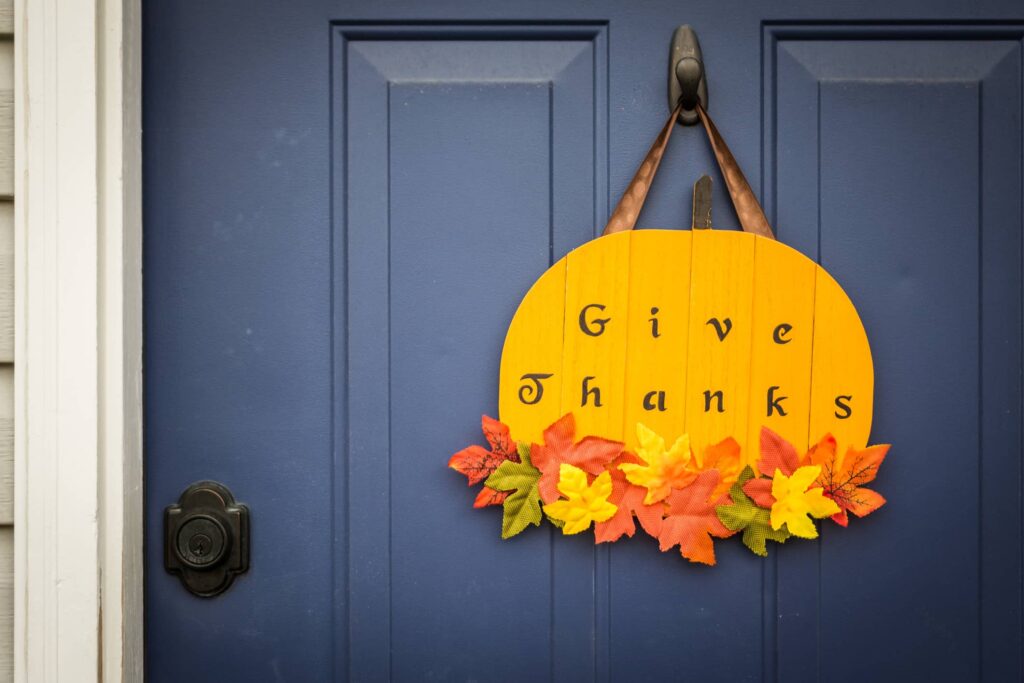 Give your guests the homey feel they deserve right when they enter the door with DIY door decorations. Start with a homemade Thanksgiving wreath or a hanging sign. You can create your own Thanksgiving door sign with a piece of round wood you can paint on. Simply paint it whatever color you want, add some foliage and wooden letters, and place some twine at the top to hang it.
Once you've added something to your door, begin decorating your porch. Pumpkins and gourds create the perfect porch decorations along with large, standing signs and a festive doormat. You can also place your pumpkins and other foliage into wicker baskets and metal tubs to spice it up.
Thanksgiving Wreath Ideas
Creating a wreath is as simple as getting some chicken wire, foam, and a hot glue gun. From there, you'll design the shape you want and begin adding whatever elements make the most sense to you. A list of items you can add to your wreath include:
Fall flowers
Wheat
Leaves
Magnolia
Gourds
Mini pumpkins
Ribbons
Pine cones
Olive branches
Corn husks
And more!
After adding a few of the above suggestions, you can add letters or a mini sign to complete your wreath. Then hang it above your mantel or on your door.
Thanksgiving Garland Ideas
Whether you need a base for your mantel or something to add to your dinner table, a garland is the perfect place to start, and it's super easy to create yourself. Simply gather greenery together with zip ties or floral wire. Then add each of your bundles together to lengthen your garland. You can also do this with branches, flowers, or wheat.
Store Your Thanksgiving Decorations And Supplies At Metro Self Storage
Once you create your own Thanksgiving decorations, you'll realize just how easy and convenient it can be. However, you may need a place to store all your supplies and decorations during the offseason.
Look no further than Metro Self Storage for all your decoration storage needs. We'll fit you with your perfect unit at an affordable rate. Browse through our list of available locations and use our unit size guide to begin your storage journey with Metro Self Storage. Make the easy decision and rent self storage units from Metro Self Storage today.