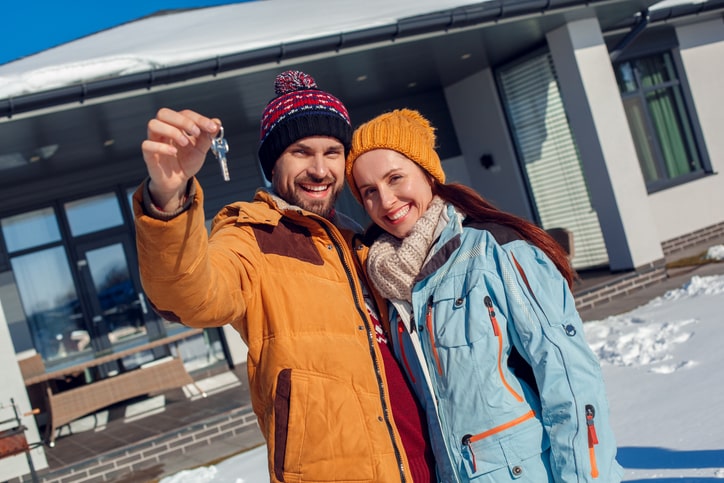 Planning a DIY Move This Winter? Here's How to Hire Movers
---
November 21, 2023 | Lifestyle
If you're planning a DIY move during winter, there are several things to consider to make the transition as stress-free as possible. The busiest time to move is May through September, primarily due to good weather conditions and families working around their children's school schedule.
However, moving during the off-season—winter through early spring— when there is less demand for moving truck rentals, moving companies, and storage rentals could save you substantial money. So, already, your winter move is going to be cheaper.
Hiring movers for part of your winter move could be a wise choice in regions with lots of snow to avoid concerns about icy walkways and difficult driving conditions. Keep reading to explore the pros and cons of hiring a professional moving company to handle part of your DIY winter move.
Pros and Cons of a DIY Move
Moving is stressful because it disrupts our lives and our pet's routines. Moving is also labor intensive as it is expensive. So, if you can alleviate the cost of hiring movers and a van line, you'll probably save a lot of money. Additionally, for many people, the process of getting rid of things while decluttering before their move brings up a lot of emotions during an already stressful experience.
The best parts of a DIY move include all the money you'll save, never losing control of your belongings, and creating a schedule that meets your timeline. For example, if you're trying to coordinate your moving day with your end lease date and your new lease date, a DIY move provides flexibility so you don't have to work around a moving company's schedule. Still, it's crucial not to underestimate the task ahead.
If this is your first time doing it, a DIY winter move, like all moves, requires excellent organizational skills.
You and your family and friends will handle the heavy lifting (think appliances, beds, and furniture) and pack and load your moving truck rental. Then drive it yourself and unload it when you arrive at your new home. However, if you live in a region of the country that experiences extreme winter weather, consider hiring movers to handle part of your winter move so you won't have to worry about slips on icy walkways or driving in less-than-desirable conditions.
Moving Truck Rentals for DIY Winter Moves
Moving truck rentals like U-Haul and Penske are convenient options for anyone planning a DIY winter move who is a confident driver of large vehicles (possibly during inclement weather). Even so, truck rentals offer an affordable alternative to hiring a moving truck or van line.
For the DIY winter move, moving truck rental companies provide valuable safety tips for driving in snowy, icy conditions, such as preparing a winter move emergency kit and more. Moving trucks and vans are available in various sizes, catering to all household business sizes.
A DIY move will likely be cheaper and more manageable if you have a small household or have chosen the minimalist lifestyle; you'll have fewer belongings requiring a smaller truck rental and use fewer packing supplies.
Should I Hire Help for My Winter Move?
As we mentioned, moving during winter presents some unique challenges. Moreover, professional movers have the experience to handle icy roads safely.
Self-service movers
If you want to pack up all your belongings to save money hiring movers but dislike the idea of driving a moving truck, a self-service moving company could be the right choice. In other words, if you're genuinely worried about driving a big truck during winter snow and ice, self-service movers do all the driving.
Partial-service movers
Many professional moving companies offer the flexibility of choosing between a full packing service (their crew packs all your belongings) and a partial packing service when estimating the total cost of your move. If you're reconsidering a DIY move during winter due to weather concerns driving a huge truck or about your time, you can still save money by doing some or all the packing yourself. Someone else wraps and loads your furniture, appliances, beds, and entire household of moving boxes onto the truck. Having someone else handle the heavy lifting for you can be a huge relief.
Full-service movers
Unlike a DIY move, a full-service moving company will handle your entire move from door to door. This includes packing everything and shrink wrapping furniture before loading and transporting all of your personal belongings to your new home. Full-service movers will also offer additional services such as furniture disassembly, assembly, and appliance disconnection and reconnection. Of course, a full-service moving company is the most expensive option, costing more than self- or partial-service movers.
Climate Controlled Storage with Metro
Whether you live in a city that experiences tons of snow or several inches of rain every year, moving during winter can present some unique challenges. Metro Self Storage is here to help. Our storage facilities offer ealy online rentals, online bill-pay options, extended customer service hours, and friendly, professionally trained storage teams at all locations.
We'll answer all your questions and help you determine the best storage solution to meet your needs. Give us a call or reserve your unit online today