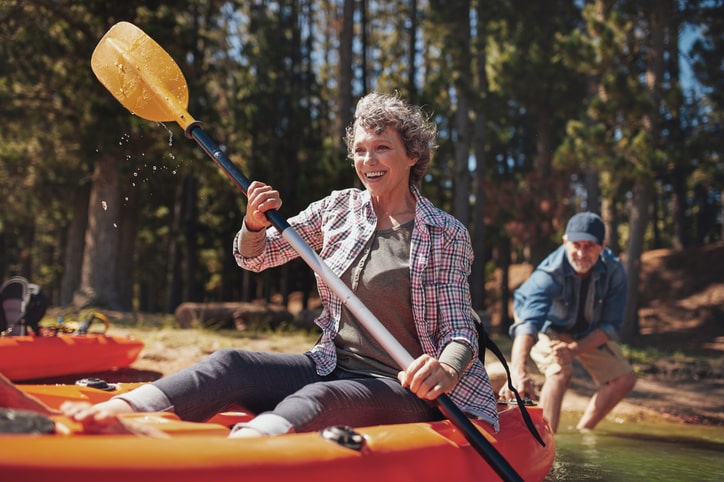 The 5 Most Fun Places to Retire in Minnesota
---
September 23, 2022 | Moving
A successful retirement should be fun! While a small percentage of people plan to retire before age 60 (according to AARP), overall, we're staying healthier and more active as we age, which is why thinking about fun places to retire should be part of everyone's retirement planning process.
We explore the most fun places to retire in Minnesota because the golden years are the time in your life to have fun, whether you're planning to stay in your home state or move to a cheaper city.
The Benefits of Retiring in Minnesota
For many, retiring brings up visions of white sand beaches and endless sunny days. But Minnesota is a dream for anyone who enjoys outdoor recreation in a verdant setting, including retired boaters, hikers, birders, and anglers. And anyone who looks forward to experiencing the four seasons.
If you love arts and culture, the towns we highlight here are all within proximity to the Twin Cities—St Paul and Minneapolis. Health and wellness take on a new level of importance during our retirement years and Minnesota's healthcare system is top-notch.
The AARP ranked Minnesota 4th on its list of healthiest states for seniors to retire in 2019. In 2021, Medicareguide.com ranked Minnesota 1st for multiple factors, including doctors per capita, drug costs, and life expectancy.
Additional factors used to quantify healthy and fun places to retire to in Minnesota are proximity to lakes for boating and fishing and to the Twin Cities for urban arts and culture. Access to miles of walkable and preferably paved trails is also important. Opportunities for seniors to volunteer and participate in activities at their local senior centers also ranks high on our list.
We've chosen five towns near Minneapolis that offer all these things and more. Read on to learn more about our top picks on where to retire in Minnesota.
Eden Prairie
Located less than 20 miles southwest of Minneapolis, Eden Prairie is an upscale Twin Cities suburb with a population of 64,481. It's known for its numerous parks, walking and biking trails, dining, shopping, and excellent quality of life for residents.
Eden Prairie residents say it's a friendly city brimming with community activities such as festivals, farmers' markets, and countless outdoor activities. These include seven historic sites and 15 conservation areas ideal for birding, photographing, exploration, and volunteering.
The Eden Prairie Senior Center offers activities for all skill levels and interests. From Pickleball, Zumba, and Yoga classes to book discussions in addition to Bridge, and other card games. There are a wide range of activities on the event calendar every month.
Bloomington
People love living in Bloomington! It's known for having a high level of community engagement, excellent public schools, outdoor recreation, and a lively visual and performing arts scene. Niche.com also ranks Bloomington #22 Best Places to Retire in Minnesota.
Moreover, there are endless entertainment, shopping, and dining options to enjoy during the frigid winter months at the Mall of America and at 5.6 million square feet, it's the largest in the United States!
Seniors living in Bloomington can sign up for community programs for those 50 years and older to access various outdoor activities and attractions. These include a walking tour of the city's South Loop neighborhood to view its spectacular public art, hiking, biking, boating at Hyland Lake Park Reserve, and volunteering at the beautiful Penn Lake Library.
With a population of 85,226, Bloomington is still considered a small-town offering all the benefits of a more intimate community near a big city and only 5 miles from the St. Paul Minneapolis Airport.
Blaine
Situated 11 miles north of the Twin Cities in Anoka County, Blaine is a safe, close-knit community known for its festivals, shopping, and superb dining options. However, if you'd rather spend your time in nature, you're in luck.
Seniors can explore Blaine's 500-acre wetland sanctuary, which features miles of boardwalks, paved trails, nature classes, and volunteer opportunities. Blaine is also home to The National Sports Center, a 600-acre multi-sport complex that hosts golf, soccer, and hockey tournaments, and much more.
You won't have to go far for arts and culture either. Blaine residents enjoy dozens of outdoor festivals and events all summer long, including the Blaine Festival, Music in the Park, World Fest, and Bark in the Park that locals of all ages enjoy.
Unlike smaller municipalities, Blaine has a dedicated Senior Center that hosts a wide range of activities, classes, and programs as well as volunteering opportunities for seniors.
Mound
If you plan to enjoy boating and fishing in your retirement years, Mound, Minnesota, could be the perfect place to retire. Mound is a quaint town with a population of 9,498. Situated 22 miles from Minneapolis, Mound is built along the shores of Lake Minnetonka and is known for being a dog-friendly town.
Besides the love of boating, residents of all ages enjoy fishing on Dutch Lake. The 160-acre lake is a smaller and quieter option compared to nearby Lake Minnetonka. Even though Mound is a small town, it does have a dedicated senior center that provides a vibrant place for older adults to connect. 
When you're ready to move into a retirement community offering independent living through varying levels of care, you won't have to go far. The highly regarded Harrison Bay Senior Living community is located just down the street from Burl Oaks Golf Club.
Orono
Orono is located 18 miles west of Downtown Minneapolis on the shores of Lake Minnetonka. So whether you want to attend a play or visit a museum, you won't have far to drive. With a population barely above 8,000, this small Minnesota town is known for being a warm and friendly community that enjoys lakeside living.
Orono is the perfect place to retire if you've spent a lifetime enjoying the outdoors and want to continue this lifestyle into your golden years. Several trail systems, including the Luce Line State Trail and the Dakota Rail Trail near Orono, offer miles of paved trails for walking, biking, and snowmobiling.
The Orono Lion's Club and Orono Rotary Club offer a great opportunity for newcomers to meet people. The nearest senior center is located in Mound, five miles south of Orono.
Retire in Minnesota
When it comes to retirement, there is no shortage of options on where to spend your time. Should you retire near the ocean or in the mountains? Do you love to boat, golf, fish, hike, play pickleball or all of the above?
The good news is Minnesota consistently ranks high as one of the best places to retire, scoring high on culture and diversity, health and wellness, affordability, and low crime.
You'll also have many choices in Minnesota when the time comes to find an independent living community or an assisted living facility. For example, Coon Rapids is one of Minneapolis's largest suburbs, offering dozens of senior-based communities that provide a wide range of amenities and services.
Get Ready for Retirement with Metro Self Storage
If you're planning to retire in Minnesota, you'll probably need a storage unit to safely store your household belongings while downsizing and finding a new home. The AARP recommends renting in the city you'd like to retire to before buying a home, and you can be confident when you choose to store your lifetime of memories with your local Metro Self Storage facility.
No matter your strategy, with more than 75 years of experience in the storage industry, we pride ourselves on building state-of-the-art facilities designed to meet the needs of all our customers. Our friendly storage teams are always standing by to answer all your questions.
We offer affordable storage solutions and units in various sizes, and many of our facilities offer climate-controlled storage, moving supplies, covered and uncovered boat and RV storage, and more.
When you're ready to retire, find a Minnesota location near you and rent your storage unit today!