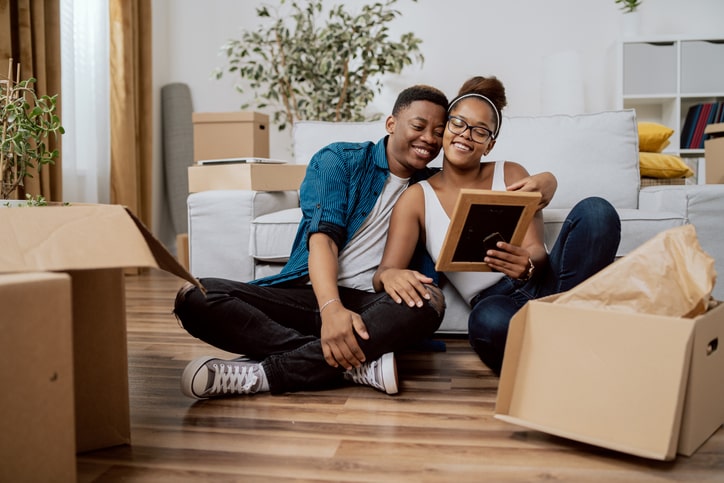 The 6 Best Atlanta Metro Suburbs
---
September 14, 2022 | Moving
If you're planning to move to Atlanta and deciding between living in the city or the suburbs, there are plenty of reasons to opt for one of the Atlanta metro suburbs. After all, it is the country's ninth largest metro area, with about 6 million people living in an area that comprises 28 counties and around 140 cities.
While urban neighborhoods such as Atlanta Midtown, Downtown, and Buckhead are attractive, the greatest appeal of living in the Atlanta metro suburbs is having a backyard and quiet streets within easy reach of a vibrant city full of culture and history.
From Austell to Rex, Georgia, we look at what it takes to be amongst the best Atlanta Suburbs.
Austell, Georgia
Median Home Price: $300,000
Niche.com Rating: B+
Average Commute Time: 31 minutes
Austell is located less than 20 miles west of downtown Atlanta and is known for its friendly hometown atmosphere and excellent schools. Austell is also home to the family-friendly entertainment park, Six Flags Over Georgia. As a result, Austell is thriving as more people discover its charms.
Austell recently saw a significant increase in home prices, which were up almost 14% from the previous year, making it a very competitive market. Even so, Georgia is still considered one of the country's more affordable places to call home.
Austell is ideally situated at a crossroads with Douglasville to the south, Kennesaw to the north, and Marietta to the East. Being close to these larger communities offers endless opportunities for residents to explore Georgia.
Lifestyle and location aren't the only reasons Austell makes our list of best Atlanta neighborhoods. The small town (population of 7,783) provides a nice, quiet place to raise a family.
And, if you travel frequently, you'll be glad to know that you can drive to Hartsfield Jackson International Airport while circumventing the more congested thoroughfares that are closer to Atlanta.
Decatur, Georgia
Median Home Price: $350,000
Niche.com Rating: A+
Average Commute Time: 15 minutes
Decatur, Georgia, is one of the most popular Atlanta suburbs, consistently ranking as one of the best cities in Georgia to raise a family thanks to its excellent schools, family-oriented community, and green spaces.
With a population of approximately 25,000 and its proximity to Atlanta, some would say Decatur is a perfect size too. Decatur offers endless entertainment between its festivals, museums, art galleries, and nearly 57 acres of developed parks.
Decatur's hip downtown areas are easily walkable and lined with world-class restaurants, ice cream shops, breweries, and charming boutiques. The liberal arts college, Agnes Scott, draws a young progressive crowd to Decatur and is consistently recognized as one of the most beautiful campuses in the country due to its Gothic and Victorian architecture.
Douglasville, Georgia
Median Home Price: $325,000
Niche.com Rating: B+
Average Commute Time: 27 minutes
Douglasville is located 23 miles west of Atlanta and is known for its friendly, small-town setting, restaurants, and variety of festivals and celebrations. Even though this small Georgia town is growing, the city is committed to preserving its quaint hometown feeling.
Some of the favorite activities locals enjoy year-round in Douglasville include the Thunder zone bowling alley, the Douglas County Museum of History and Art, and the West Pines Golf Club, to name just a few.
One of the top outdoor destinations in Douglasville is Sweetwater Creek, a 2,500-acre wilderness park with family-friendly amenities, including yurts for camping, a visitor center and museum, and a lively geocaching community.
Tourists and locals also enjoy hiking 15 miles of trails and the covered picnicking areas at Sweetwater Creek State Park, as well as fishing, canoeing, and kayaking in the George Sparks Reservoir.
Marietta, Georgia
Median Home Price: $310,000
Niche.com Rating: A-
Average Commute Time: 25 minutes
Located 20 miles north of downtown, Marietta is one of the largest that make up the Atlanta metropolitan area, with a population of more than 60,000. Even so, its antebellum architecture, historic landmarks, and neighborhoods are like stepping back in time.
Marietta also has more apartment communities than nearby cities, which is perhaps why it ranks #20 for Best Suburbs for Young Professionals in Georgia, according to Niche.com. The most walkable Marietta neighborhoods are Oakton, Barrett Green, and Hardage Farms.
Marietta ranks as one of our best Atlanta suburbs to pursue a degree. Several college campuses, including the Marietta campus of Chattahoochee Technical College, Kennesaw State University, and Embry-Riddle Aeronautical University, are located in Marietta.
Not just a College Town, Marietta is a great place to raise a family, thanks to its highly rated K-12 schools. Residents living within Marietta's city limits send their children to Marietta City Schools, which include award-winning charter schools and a choice of schools that focus on different areas of academics.
Marietta is also a trendy tourist destination, which means locals and tourists enjoy year-round festivals and concerts, numerous sports complexes, and booming brewing industry.
Lawrenceville, GA
Median Home Price: $385,100
Niche.com Rating:  B+
Average Commute Time: 33 minutes
Located 30 miles northeast of Atlanta, Lawrenceville is the second oldest Atlanta metro city known and loved for its Southern charm with a touch of modern flair. Georgians come from near and far to watch the town's annual 4th of July fireworks display and visit its historical landmarks.
Lawrenceville also has a lively arts scene with venues showcasing live music and year-round plays at The Aurora Theater. There are also art galleries and the must-see Gwinnett Historic Courthouse and Veterans War Museum.
The newly renovated 162-acre Rhodes Jordan Park is a popular weekend destination for families and outdoor enthusiasts. Residents enjoy the beautiful 22-acre lake surrounded by trails and picnic pavilions. In addition, there are numerous sports fields for youth sports, a playground, and an outdoor pool and waterpark.
Moreover, if you love baseball, then Lawrenceville could be the place to call home. The state-of-the-art Coolray Field hosts games between the town's favorite baseball team, the Gwinnett Stripers, versus the Atlanta Braves.
Rex, Georgia
Median Home Price: $260,000
Niche.com Rating:  B+
Average Commute Time: 30 minutes
Rex is located 15 miles south of downtown Atlanta in Clayton County, Georgia. If you're wondering how the town was named, Rex is the Latin name for the king!
And, even though the town is unincorporated, it has a post office established in 1822.
Rex is a rural, quiet community less than 10 miles from these attractions and landmarks: Reynolds Nature Reserve, Newmans Wetland Center, Spivey Splash Water Park, Spivey Concert Hall, and the Atlanta State Farmers Market. At 150 acres, the Atlanta Market is considered one of the largest of its kind in the world.
Rex's location in Clayton County gives residents a wide range of free events, museums, tours, and attractions within easy reach for weekend road trips and sightseeing. Additionally, the highly ranked Clayton University in Georgia is less than 10 miles from Rex. Clayton University's academic programs include more than 30 bachelor's and eight master's degrees, specializing in career-oriented degrees.
The Best Atlanta Suburbs Offer Something for Everyone
Suburban life outside of Atlanta offers the best of both worlds. You'll enjoy the perks of living near a big city, such as the large sports venues, the numerous museums, and the endless opportunities to explore a city rich in culture and history.
Find Clean, Reliable Storage in Georgia from Metro Self Storage
Here at Metro Self Storage, we pride ourselves on helping out people just like you find secure, competitively priced storage solutions. We understand that finding a reliable self storage partner is essential to many people's life stories. 
Visit one of our state-of-the-art Atlanta suburb storage facilities designed to meet your business, or household storage needs any time of year.