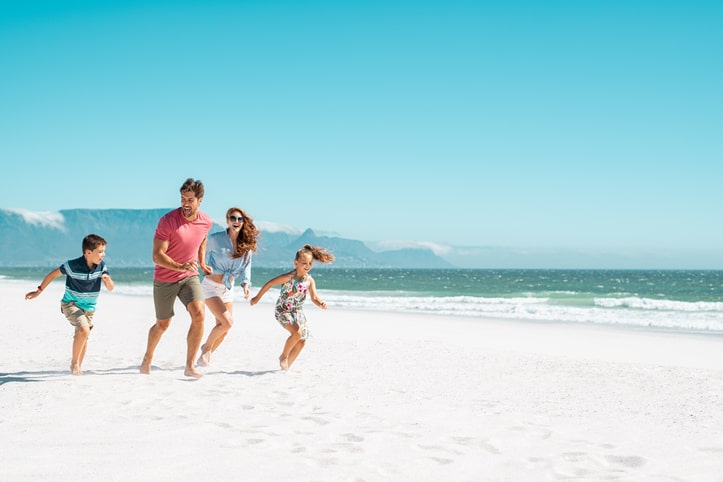 Fun Things to do in Spring Hill, Florida
---
August 9, 2022 | Travel Destinations
One of the best parts about living in Spring Hill, Florida, is its proximity to Florida's Gulf Coast. You're less than an hour away from Tampa, where there are great attractions like Florida Aquarium and Busch Gardens. And even closer to some of the Sunshine State's hidden gems.
So when it comes to finding fun things to do in Spring Hill, you won't have far to travel. Hernando County is brimming with beautiful spring-fed waterways, intimate park settings with panoramic views, and endless opportunities to kayak and fish on Florida's Nature Coast.
See an Underwater Mermaid Show
You'll be transported to a magical underwater world at the Weeki Wachee Springs Mermaid Show. A tradition dating back to 1947, the show has been attracting visitors from all over Florida for more than 60 years. How has it stayed popular for so long? The performers remain underwater for the entire 45- to 60-minute show!
During the performances, the mermaids and mermen discreetly take mouthfuls of air from the slender breathing tubes invented in 1946 by a former US Navy SEAL. The small hose supplies oxygen from an air compressor leaving the mermaids and mermen to do underwater acrobats without a bulky and heavy scuba tank.
Unlike other shows you may have seen at aquariums, the mermaids are not performing in a tank. Instead, you as an audience member will sit in a 400-seat theater that is submerged 16 feet below the surface of a natural, aquamarine spring.
An ideal outing for children and Disney fans of all ages, performances are accompanied by Disney tunes such as Hans Christian Andersen's The Little Mermaid. Older kids will appreciate the video presentation highlighting the technical aspects of the show and interacting with the actors afterward.
Address: 6131 Commercial Way, Weeki Wachee, FL 34606
Website: Weekiwachee Mermaid Show
Opening hours: Call (352) 610-5660 for showtimes.
Price: Park admission is $13 for adults, $8 for children ages 6 to 12. Ages 5 and under are admitted free.
Go Kayaking on Weeki Wachee River in Hernando County
The Weeki Wachee Preserve is11206 acres of public wetlands teeming with a rich combination of habitats. Kayakers enjoy miles of waterways on the Weeki Wachee and Mud Rivers, including freshwater and saltwater marshes, dense hardwood swamps, and pine-covered sandhills.
While experts can hand-launch their canoes and kayaks at various locations, guided eco-tours come highly recommended, especially if you don't own a see-through kayak! A guided tour is a fun opportunity to learn all about freshwater and saltwater aquatic life.
Manatees live in the waterways year-round, but once the weather cools off, more migrate to the preserve. Manatee Season on Florida's Gulf Coast is November 15th – March 31st.
Take a friend, a date, or the entire family kayaking and expect to get glimpses of turtles, coastal birds like ospreys, nesting bald eagles, and dolphins on this fun adventure near Spring Hill. However, remember that early morning tours offer the best chance to see wildlife.
Address: 2345 Osowaw Boulevard Spring Hill, FL 34607
Website: Weekiwachee Preserve
Opening hours: Open to the public from 30 minutes before sunrise until 30 minutes after sunset, unless otherwise noted.
Price: Park admission is $13 for adults, $8 for children ages 6 to 12. Ages 5 and under are admitted free. Kayak tour prices vary by organizer and time of year. 
Spend the Day at Historic Bayport Park
Bayport is a quaint coastal town located 10 miles west of Spring Hill, Florida. It's a unique destination because it is relatively undeveloped compared to other Florida coastal towns.
Once a bustling port town in the early 1800s, Bayport served as an important trade route during the civil war. Today, the 12-acre historic park features an upgraded boardwalk with panoramic ocean views, making it an ideal spot for a sunset picnic.
The park has covered pavilions, barbecues, and a boat launch, and it's a perfect spot to launch your canoe or kayak. Moreover, this is a fabulous place to fish off a pier any time of day or night.
If you're looking to step back in time and escape the noise and bright lights of the city, Bayport Park is an ideal destination any day of the week.
Address: 4140 Cortez Blvd, Spring Hill, FL 34607
Website: Historic Bayport Park
Opening hours: Open 24 hours, 7 days a week.
Price: FREE 
Store Your Outdoor Gear with Metro Self Storage in Spring Hill, Florida
Keep your home and garage organized and clutter-free with some help from Metro Self Storage. Our friendly and professionally trained teams are here to help answer all your questions. Learn more about how our storage facilities can meet your needs so you'll always be ready for your next great outdoor adventure.
State-of-the-art storage highlights include:
Rent online, in person, or on the phone.
Move in on the same day you rent your unit.
Climate-controlled and drive-up units.
Large, covered loading bays.
Well-lit spaces and 24-hour video security.
Online bill pay and flexible month-to-month leasing.
Whether you have recreational gear, household or business items, our storage facilities are designed to support your Florida lifestyle any time of year. Visit Metro Self Storage in Florida to read our great reviews and choose your storage solution.