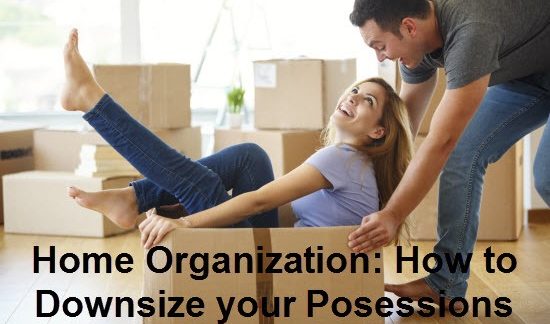 Home Organization: How to Downsize Your Possessions
---
January 25, 2016 | Home Organization
Have you ever really thought about how clutter accumulates in your home? We all have things that we cherish like a set of favorite golf clubs or a comfortable chair for binge-watching TV. But let's face it, we own a wide variety of objects that often have a powerful grip on our psyche.
For many people, there is a constant tug-of-war between what to keep and what to toss. Usually, it's home organization that gets tossed and the clutter sticks around. But how is clutter created in the first place? It may come as a surprise, but clutter is created by consumption. That's right, and it is worth repeating—clutter is created by buying things. It's that simple; whether it's online shopping or frequenting your favorite second-hand store, the things we bring home can quickly turn into clutter.
If you have too much stuff, then downsizing your possessions is the first step toward creating more organized and productive spaces in your home. Keeping it that way is another challenge altogether.
Clutter vs. Keepers: Who Wins?
Be ruthless about what enters your home. Especially, if you live in a smaller house or apartment. Make sure whatever does pass through your front door, including what you buy online, is something you have a place for in your home. If it means getting rid of something old so you can have something new—like shoes, jeans, or home décor— then decide what you will let go of before you purchase the new item. For example:
Clothes You No Longer Wear
These are the top three reasons people keep clothing they don't wear:
The belief that a special occasion will arise requiring that exact piece of clothing.
It will fit again someday. Really it will!
Didn't wear it this season but will surely wear it next year.
Pull out the things you have not worn within the past six months or in the past year from your closet, and put on a fashion show. If you love it, keep it. If it doesn't fit or needs the right pair of shoes or an accessory that you have meant to buy but haven't, then sell it or give it away.
Should I Store Sports Equipment?
If you are on a sports team or have children on teams, then organizing these items in the garage, if you have enough space, will keep them out of the house. Depending on how old your kids are, chances are they will outgrow their gear between seasons. Many Parks and Recs departments have annual sports and ski swaps, which is a useful way to recycle expensive sports equipment.
Keep Musical Instruments in Good Condition
Besides a piano, it is easy to organize and move a musical instrument. But don't store them in the attic or basement, because heat and humidity can damage natural fibers, wood, and metal. If you play to unwind every night or have a budding musician in the house, then keeping your musical instruments is a no-brainer. However, if you took guitar lessons one summer and thought you might pick it back up again, but you haven't, maybe it's time to sell it and use the money buy a closet organizer for your shoes.
Want to Stay Organized?
If you find that your space still isn't as tidy as you'd like, then consider getting a storage unit. Depending on what you have to store, 5X5 storage units are the cheapest storage unit for rent in your city, and storage lockers are even more affordable.
Another tip for cheap self storage rental is to find a friend with whom to share a storage space. You'll cut your expense by half. If you have items that are essential, sentimental, or valuable, then it is important to find a secure storage facility. Depending on where you live, climate-controlled storage may be required to keep your items in their original condition and protect your investments.
The benefits of decluttering and organizing your home are numerous but not everyone has the time or talent to declutter like a pro. Consider hiring a professional home organizer to help you create beautifully organized spaces and then teach you how to keep them that way.