Garage Storage Made Easy | Moving and Organizing Advice
---
February 29, 2016 | Home Organization
Is your car ready to take back its rightful spot in the garage? We have some garage storage made easy tips that can help you do just that. Every neighborhood has at least one garage that looks like the inside of a home improvement store. However, down most of us think, "If only I could have a garage that looked as good as that!"
If you're ready to crush the clutter in your garage, here are some organizational tips and tools to help you get started.
Garages of Yesterday, Today, and Tomorrow
Do you ever wonder how garages came about? Me neither, but after a quick Google search, it all makes sense. Before automobiles, people had horses and buggies. These were kept in a carriage house usually located behind the property. Horses make odorous smells, so the further the way from the kitchens and bedrooms, the better.
When automobiles came on the scene, their popularity grew rapidly, and soon, home builders soon realized around the 1950s that houses sold better with attached garages. Carrying in the groceries sheltered from snow and rain is a luxury suburbanites take for granted. For example, Brooklyn apartment dwellers rarely have attached garages.
Today's garages are used as flexible spaces and serve many purposes. Some of your neighbors may take a creative approach and turn their garages into man caves, music studios, or a garage-based business start-up. Others have a place to park their cars as well as space for garage storage.
What will tomorrow's garage look like? That mostly depends on what the cars of the future will look like, and who better to ask that Jay Leno, a world-renowned car aficionado whose new CNBC show, Jay Leno's Garage, airs on CNBC Prime Time.
Crush the Clutter in Your Garage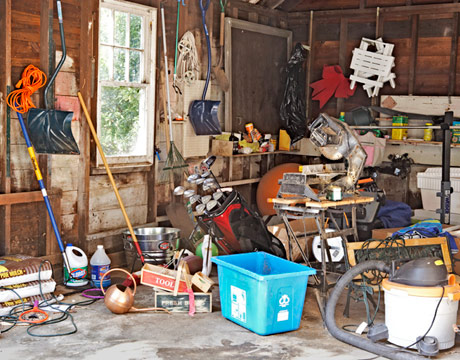 The first step towards garage storage made easy is deciding what stays and what goes. The general rule of thumb for closets is that if you haven't worn it in a year, toss it. However, for garages, the timeframe is longer.
Professional home organizers recommend that if you haven't used an item housed in your garage for three years, then it is time to either donate it or toss it. If you have items with significant sentimental or financial value, then consider placing them into a secure, convenient self storage facility.
Working Walls Make Great Garage Storage Solutions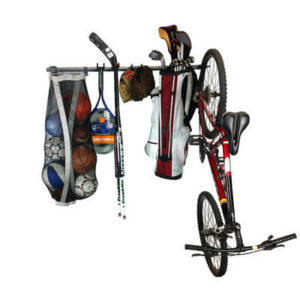 Create more usable square footage in your garage by using easy-to-install shelving. Pictured here is steel shelving by Monkey Bars, which is a combined hook-and-bar system to create customized garage storage spaces. Depths range from 16-inches to 32-inches deep, allowing you to customize the storage system based on the size of your garage.
The hooks come in a variety of sizes and weight capacities that enable you to hang even heavier items like bikes and golf clubs or lighter things such as strollers, miscellaneous yard tools, tennis rackets, and helmets.
Upgrade the Floor to Keep Your House Cleaner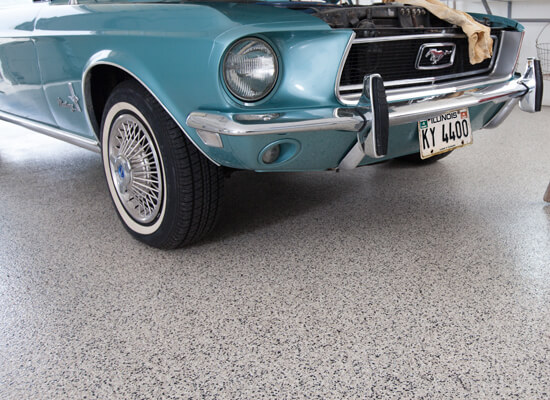 Photo Courtesy of Monkey Bars
Chemical-, oil-, and water-resistant, epoxy-based garage floor coatings have come a long way thanks to improved materials and not a moment too soon since the garage is fast becoming more than a place to park your car. This type of flooring does double-duty, durable enough to handle hot tires and de-icing salts and beautiful enough to create a hang-out space.
Not only does a floor coating look beautiful, but it's also much easier to keep clean. Regular concrete garage floors attract and then kick up dirt and grime, which is tracked into your home. A coated garage floor gets rid of that nuisance and also brightens up the garage space because it is very light-reflective.
Garage Floor Tiles Give Garages a Polished Look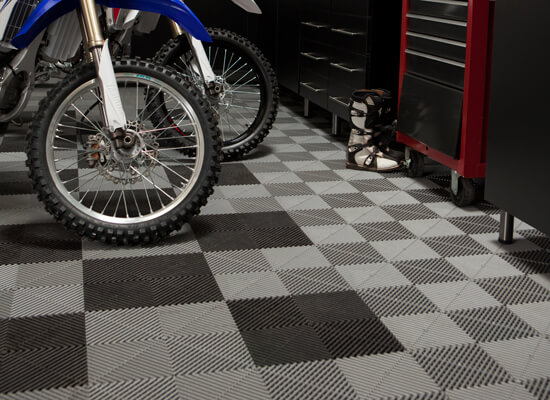 Photo Courtesy of Monkey Bars
If you have limited time, or you are a DIY kind of guy or gal, then you may want to consider garage floor tiles. Tile installation doesn't require prepping your garage floor for adhesion to a paint or epoxy coating and is less expensive than having a professional do the installation.
Price and quality vary, and, depending on where you live, melting snow and subzero temperatures may dictate a high-quality, rigid tile.
These types of tiles are advisable if you use kickstands or floor jacks. They are easy to clean and come in perforated versions that drain spills and snowmelt, making slippery spots less of an issue.
Overhead Bins Require Owning a Ladder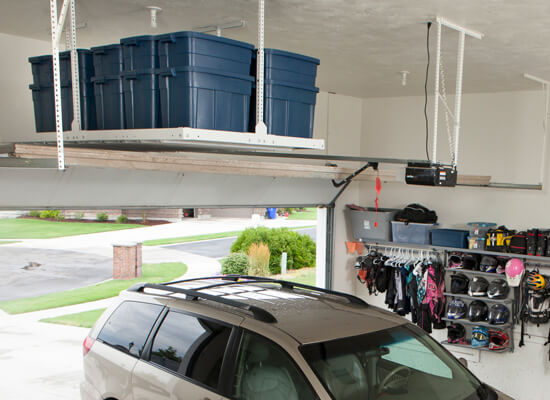 Photo Courtesy of Monkey Bars
After making the painful decision of what stays and what goes, it's time to look up for storage. If you have seasonal ski gear or sentimental items that don't need climate-controlled storage and with which you can't bear to part—such as your grandfather's toolbox, toys, or holiday decorations—then, consider installing overhead bins for garage organization.
These are ideally suited for the long-term storage of items that you don't plan to access frequently. Unless you opt for a pulley system like the ones you can find at Home Depot, reaching these items will require a ladder. Also, remember to choose storage containers that are not too large or too heavy.
Conceal Clutter to Create an Enviable Garage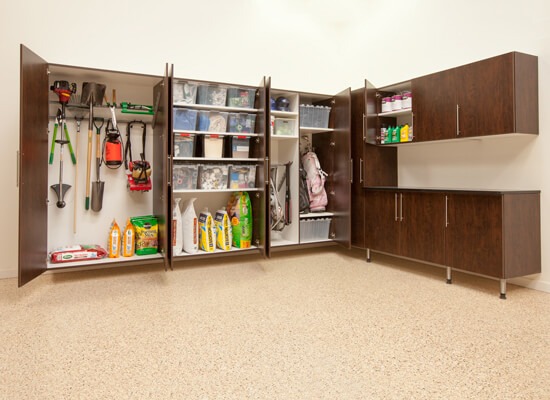 Photo Courtesy of Monkey Bars
If you, like that neighbor down the street we mentioned earlier, suffer from a touch of OCD, then a behind-closed-doors solution may be the focus of your garage organization project. Free-standing cabinets are easy to install, protect items from dust, and can be designed to accommodate different heights and features to meet your specific storage needs.
The interiors are configured with shelving for stacking boxes or with bars and hooks to hide a bag full of soccer balls and sports equipment or garden tools and bikes.
Whether your inspiration for garage storage made easy comes from the desire to create a DIY cave or a game center boasting a ping-pong table for a family fun night, remember your newly organized space will require maintenance.
Just like you take your car in every 5,000 miles for an oil change, your garage will need periodic maintenance too.
What better way to help you remember to declutter your garage than the National Clean Out Your Garage Day. This relatively new holiday is celebrated the first weekend after Labor Day. So set up a recurring reminder in your calendar to keep your garage looking as good year-after-year, and turn to Metro Self Storage for all your decluttering needs.