Lunchbox Ideas to Keep Your Kids Energized for the School Day
---
August 8, 2023 | Family Life
Keeping your child's lunchbox interesting, delicious, and nutritious can become a daily challenge between working parents and picky children. According to a recent study reported by NPR, "Kids and teens in the U.S. get the majority of their calories from ultra-processed foods like frozen pizza, microwavable meals, chips and cookies, a new study has found."
As a parent whose goal is to give your child healthy lunchbox choices, it may prove tricky to avoid your child learning about and then nagging you to buy various junk food brands for them. As it turns out, America's children are bombarded with junk food marketing messages on television, online games, the Internet, and through kids' apps.
But don't despair; parents, older siblings, friends, and family can also affect your child's food choices and eating habits. Many food habits, likes and dislikes, are set during childhood, and few parents know that they may need to introduce a new food to their young children up to 10 times before they will eat it.
Healthy childhood lunches will enhance your children's ability to concentrate and foster optimal physical and mental health during the school day.
The Key Ingredients to a Nutritious Lunchbox 
You'll need five key ingredients to consistently create a nutritious lunchbox for your children. The key food groups to always have on hand are protein, whole grains, fruits, and veggies.
It's important to note that while both fruits and vegetables are essential for a balanced and nutritious diet, they each offer unique health benefits. Fruits are generally higher in natural sugars. Conversely, vegetables are typically lower in sugar and rich in fiber, vitamins, minerals, and phytochemicals.
To optimize your child's nutrition, provide a variety of both fruits and vegetables in their lunchboxes throughout the school year. Offering choices within each food group also helps broaden children's food preferences.
You can also make a game about your children's food choices. For example, enlist them to help create a lunchbox theme like Turkey Tuesdays, almond butter Mondays, or cheese and jam Fridays. Whatever strategies you try, include your children in planning their meals. This will help educate them on the importance of nutrition and empower them to make the right choices.
LunchBox Ideas for Healthy, Happy Kids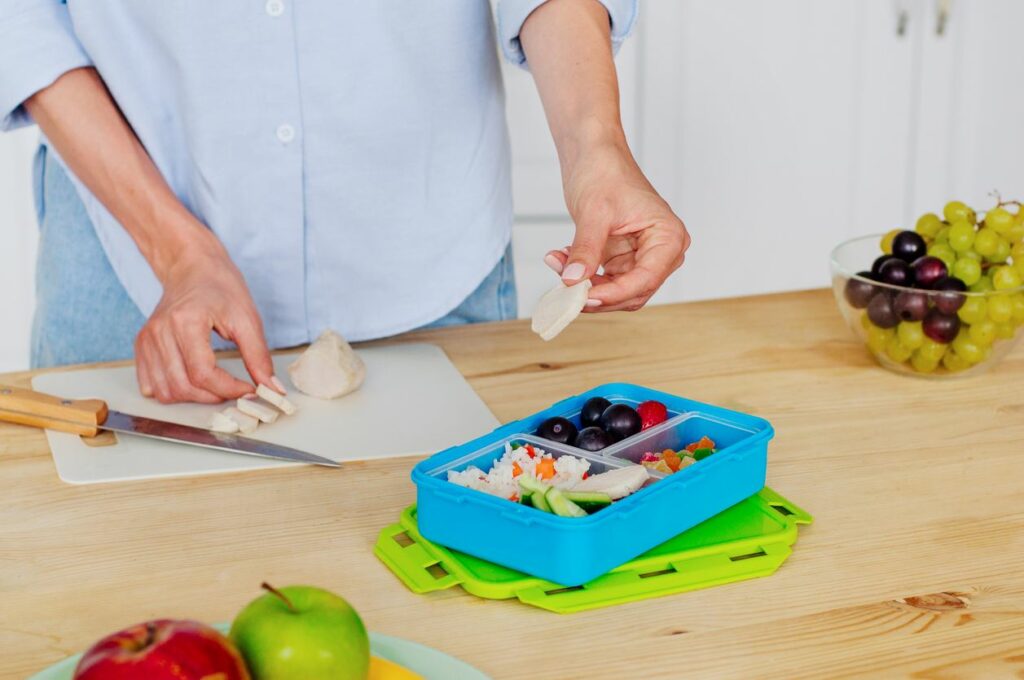 How your child's food is presented plays an essential role in whether or not they eat lunch. The days of sandwiches and chips crammed into plastic baggies only to get smashed in a brown paper bag are a bygone era. Instead, today's lunch boxes come in fun colors and attractive themes with various features; the most ingenious is the children's bento box.
A bento box is a traditional Japanese meal consisting of a compartmentalized box that holds various small, individually portioned dishes. Bento boxes with removable compartment inserts specifically for children's lunches can be found online or at your local grocery store in the Tupperware aisle.
Bento boxes are available in different sizes and shapes to fit inside a child-themed lunchbox. Some lunchboxes have space for a small thermos and utensils, along with insulation or a cold pack to keep food from spoiling.
Bento boxes make the ideal children's lunchbox by providing a balanced and visually appealing meal for convenient, portable, and nutritious eating. Here are some ideas of what you can pack in your children's lunch boxes using the bento box method.
Protein-Filled Burrito Wrap 
The best part about burritos is that they don't always have to be beans and cheese. The second best part: kids love them! You substitute the whole wheat tortilla with brown rice to make a burrito bowl.
Large Compartment: An Italian-inspired burrito features leftover meatballs or sliced chicken bathed in marinara sauce that you dice up and wrap in a whole wheat tortilla. You can use any protein source and let inspiration be your guide. Add a layer of cream cheese so the burrito doesn't get soggy if making it the night before. You can fill it with cheese or shredded carrots.
Small Compartment A: Sliced veggies like celery, carrots, cucumber, or cherry tomatoes mixed with broccoli florets. Mixing veggies adds color making them more visually appealing.
Small Compartment B: Sliced apples, mixed berries, orange or cutie segments, sliced strawberries, blueberries or grapes, or banana slices mixed with yogurt.
Small Compartment C: Popcorn with carob chips, mini pretzels, or home-baked sweet potato chips sprinkled with cinnamon. You can also go in a different direction by adding a dipping sauce to this compartment.
A Note About Sauces and Dips
A tortilla chip is a little boring without salsa or guacamole to dip each crunchy bite into. The same holds true for children's lunchboxes. Nothing makes that boring broccoli floret more appealing than dipping it into ranch sauce. Is that whole wheat tortilla not a favorite? Dipping it into a marinara sauce sweetened with honey or brown sugar will surely inspire any child to gobble up.
However, go for something other than store-bought sauces or dips. They're prohibitively expensive if you choose organic brands without additives and chemicals. Instead, make your own with Greek Yogurt. It's deceptively easy.
You can turn an entire 32 oz container into a delicious savory ranch sauce that lasts for a few weeks.Make dips for Mexican or Mediterranean-style flavors with some lemon, salt, and chopped-up herbs and spices. In a pinch? Don't feel guilty about grabbing a packet or two of your favorite brand of ranch seasoning mix. Adding it to Greek yogurt will save you money and be a healthier alternative to bottled ranch dressing.
If you've got apple slices or any other fruit coming home daily, help your child eat right with a sweet dipping sauce. Using Greek yogurt, create a sweet dipping sauce by adding cinnamon, honey, and vanilla to taste. If you don't have honey, add a little natural sugar. Create a chocolate fruit dip with some added cocoa powder.
For a little more of the protein children need every day, blend in almond butter with honey, vanilla, and cinnamon. You may need to add a few tablespoons of water to get the desired consistency.
The Importance of Nutritious Lunches
Healthy childhood meals also establish lifelong eating habits, reduce the risk of chronic diseases, enhance a child's ability to concentrate and foster optimal physical and mental health. Involving your school-aged children in their lunches will empower and educate them. It's also a great time to be creative and have some fun in the kitchen together.
Create More Space for Your Growing Family with Metro
If your growing family is starting to outgrow your space, our friendly storage teams are here to help. Self storage can come in handy for all of life's seasons, from saving baby gear for future children to downsizing when you become an empty nester. Our conveniently-located storage facilities provide a wide selection of clean, reliable, and well-lit units to meet your storage needs—all with the benefit of flexible month-to-month leasing.  We also offer climate-controlled units to protect your belongings from extreme temperature swings and humidity. Find your local Metro Self Storage and rent your storage unit today!