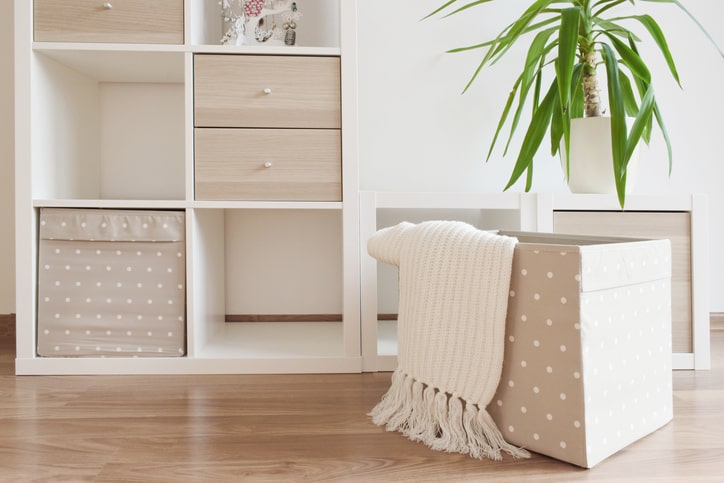 Make the Most of your Small New York Apartment
---
June 28, 2022 | Storage Tips
As the most populated city in the United States, it should come as no surprise that space comes at a premium in New York City. With over 8 million people calling The Big Apple their home, many lofts and apartments in the city are naturally compact in size in order to make room for everyone.
While living in smaller spaces is practical for New York City residents, it can make finding enough room for all of your belongings difficult. From creating innovative storage options in your home to cutting down on excess belongings and clutter, this blog from Metro Self Storage is here to help you make the most of the space in your small New York Apartment.
Regularly Declutter Your Space
The first step towards optimizing your available storage space is to parse through your belongings and decide which items you truly need. When your space is cluttered it can be difficult to know which items you have, especially if you don't have time to sort through the mess every time you need something. When this situation arises, it is very easy to accidentally buy duplicate items such as spices or cleaning supplies, which ultimately wastes your money and takes up valuable space.
When it comes to decluttering, start by going room-to-room and organize everything in it; putting items back where they belong and noting what is there. Knock out the smaller rooms first and break up large or complex rooms into sections to make them less daunting and easier to organize.
Not only will this remind you of which belongings you have, but it also gives you an opportunity to sort out items that you no longer use or need. Skim down on the old, out-of-style clothes in your closet and set aside that bulky appliance you've used one time, selling or donating them to free up space. Chances are, you won't miss them!
Utilize Vertical Storage
When it comes to storing your belongings in your small New York apartment, the best direction to go is up! Vertical storage options such as shelves, hooks, cubbies, bookcases, and cabinets allow you to store more items without taking up valuable floor space.
Items that you use frequently should be easily accessible and noticeable, so make a point to store them at shoulder height or lower while keeping less important items higher up. For these items, keep them in small, lightweight containers so the damage is kept to a minimum if they fall. Never store anything heavy like boxes of books or large appliances up high, you could injure yourself trying to get them down later.
Plastic Storage Containers
When you have to store heavy items at floor level, using plastic bins is an effective way to group similar items together without taking up a lot of space. These containers can usually be stacked and labeled easily, and buying them in clear plastic allows you to quickly browse the contents without digging through several bins to find what you need. Another benefit of plastic containers is that they slide easily across the carpet and wooden flooring so anything that's too heavy for you to life can still be accessed without needing additional assistance.
Get Creative
If you've decluttered your space and utilized all of your vertical options and still find that you need more space, it may be time to get creative. There are many ways you can create storage space in your home, including:
Multipurpose Furniture
There are many pieces of furniture that can serve dual purposes, such as an ottoman with internal storage space or couches that fold out into beds. If you get creative, you can use these pieces to cut down on extra furniture or items in your living quarters while creating extra storage space.
Under-Bed Storage
Flat bins that can slide under your bed or couch offer storage that can easily be hidden from view and clear your walkways. Lofting your bed also offers space underneath to set up a small seating area, a desk for work, or even your dresser and additional shelving.
Hanging Door Storage
Hanging door storage is a great way to store small but necessary items, particularly in bathrooms or kitchens. The many pockets or small shelves are great for storing soaps, razors, cleaning supplies, spices, or utensils without taking up valuable counter or closet space. You can even invest in an over the door shoe rack to keep your shoes off the floor when you're not wearing them.
Rolling Storage Units
These mobile storage options can be rolled out when needed, and quickly tucked into a corner when not in use. Whether it's shelves for spices and food in the kitchen or a roving clothes rack in the bedroom, rolling storage is convenient, portable, and easy to get out of the way.
Get Off-Site Storage with Metro
If your space still feels crowded after implementing these steps, the best option may be to take your belongings off-site. Metro Self Storage has the perfect small apartment storage solutions for New Yorkers looking to maximize their living space with units of many sizes available to rent across the city.
If you feel like you need an extra closet to fit all your belongings, our 5×5 storage units are the perfect size for your needs. Whether you need a place to store boxes of off-season clothing or items like old toys, small furniture, infrequently used appliances, seasonal decor, equipment like camping gear, or important documents and files, these units are the best way to clear up room in your apartment.
When your life calls for a little extra elbow room, Metro Self Storage has space for your small New York apartment storage needs. Find a location near you today!