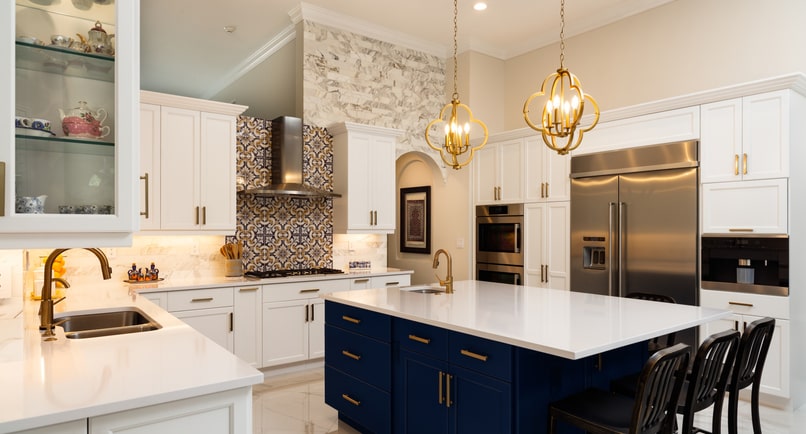 Renovation 101: Planning the Perfect DIY Project
---
July 5, 2022 | Lifestyle
Nowadays, everyone is all about saving money. While moving is the easiest way to start fresh, it's not always feasible, especially with rent being so high. When your home is in need of updates or renovations, don't be afraid to take on the task yourself. It may not be a fun project for most, but in comparison to hiring a contractor to do the work for you, you could save thousands by just putting in a little extra work. With a little guidance from the internet and DIY videos, no home renovation is too big! But don't just jump in headlong into your DIY project without a plan!
Having a renovation plan will allow you to set a budget and plan your project rather than running into stumbling block after stumbling block until you just give up and call a contractor in the end. Whether you're planning to renovate your bathroom, kitchen, or office, these tips will help you begin planning the most popular DIY home renovation projects.
Do I Need a Permit for my Home Renovation?
Depending on the size of your project and your city's ordinances, you might have to get a permit. Most people don't realize this, but typically any project that is adding square footage to your home, like say finishing your basement or requires electrical or plumbing changes, requires a permit so it's best to check your city's website or call for clarification. Trying to do work without a permit could lead to fines or even running into your home failing inspections if you decide to sell it down the line. Bottom line, when in doubt, check with your city before starting any large renovation projects.
Of course, there are a few DIY home projects that you can do without a permit, including painting, putting in kitchen cabinets, installing hardwood floors, or any other projects that don't require structural changes.
Common Renovation Projects
There are tons of renovation projects out there from landscaping to bathroom remodels. Some of them you can do yourself, others may require someone more skilled to help you finish the job. However, there are three common projects that many homeowners often tackle themselves:
DIY Bathroom Renovation
Many wonder whether you can renovate your bathroom alone without hiring someone. The answer is, yes! You can completely renovate your bathroom on your own if you have the experience.
When you begin planning your bathroom renovation, it is essential to remember that a lot is going on in a small amount of space. You must take things step by step and worry about one thing at a time to make sure each task gets done the right way. You can start to brainstorm ideas based on your main reasons for remodeling, and then design your space based on what fits you. First, you want to brainstorm the style and function of your bathroom. Once you have that in mind, you can start putting it into action.
The first thought is how much is this project going to cost? The whole point of DIY is to do it yourself and save money. The budget comes into play because the goal is to recreate an amazing space for half the cost. You can assess the costs and create a budget for your materials and anything else going into the project. Once you decide on what you're willing to spend, you can start gathering all the materials you need for the project.
Some of the materials you may need to purchase for your bathroom renovation include:
Shower heads
Sink drains and accessories
Bathroom luxuries and accessories
DIY Kitchen Renovation
The planning required for a kitchen renovation often looks similar to a bathroom renovation when it comes to planning and budgeting. What differs with akitchen renovation is that you are dealing with a much larger space, and a lot more wiring, plumbing, and even gas lines. If you plan to DIY, it is important to take time to strategize the style and layout so you get the final result you're looking for.
First, decide whether you need to gut your kitchen to create your vision or if your renovation only needs minor changes. If you think you need to completely gut your kitchen, you might want to consider reaching out to a contractor unless you have the experience to do it yourself.
Once you've decided on the best course of action with your renovation project, you'll need to address plumbing and electrical issues to ensure that everything in your kitchen will still work properly once the project is complete. Now, you can focus on your budget, gather all materials, and get started! Painting the room is the easiest thing, to begin with, and then you can tackle your floors! When you decide what paint color to use, pick something that you are completely in love with to match the rest of the theme in mind. With the walls and the floor done, whatever is in between should come next.
Installing countertops, cabinets, and replacing large appliances is where the character of your kitchen starts to take place, but these are also the changes that require the most skill. Hardware stores like The Home Depot offer plenty of videos to help you complete your project, and some community centers might even host DIY workshop classes, but the bottom line is make sure you have a firm grasp on how to get the job done otherwise you might be spending extra money to redo your mistakes or paying a contractor to fix them for you.
DIY Bookshelves
Whether you have a passion for reading or want to display a few knick-knacks and family photos, a bookshelf is a simple project that will not only create extra storage space in your home, but it can also serve as an excellent talking piece. While there are plenty of bookshelf styles to choose from, if you really want to go big, a built-in bookshelf is the way to go because it allows you to add a layer of dimension to an office, study, or sitting room while maximizing storage space.
Creating Your DIY Plan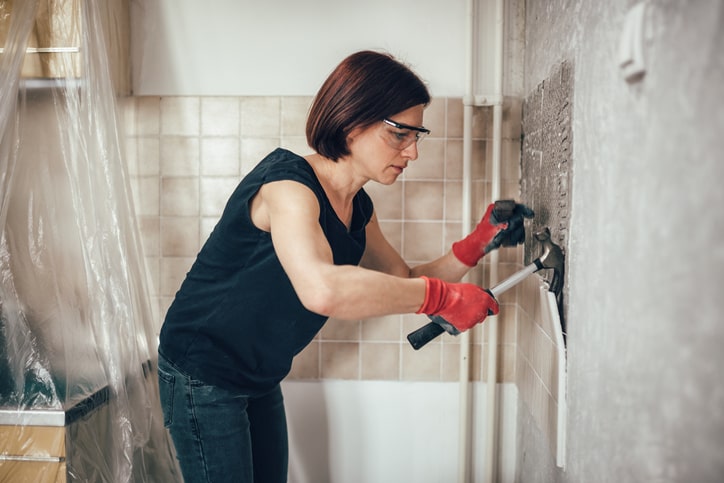 Now that we've covered some of the more common DIY projects, let's recap the steps you should take for nearly every DIY project you tackle:
Plan out your project, including where in your home you'd like it to be and what the finished product should look like. There are plenty of free CAD programs that will allow you to plan out your space.
Make a list of the materials you need.
Create a budget to get an idea of how much you want to spend.
Gather your materials. This may require a few trips to the hardware store, one of them being to check out the materials you might want before fully committing.
Go through your project plan one more time to ensure you know what items come when.
Ready, set, DIY!
Should I hire a contractor instead?
This is a question you'll always want to ask yourself whenever taking on a DIY project. Sometimes you can get the bulk of your project done between YouTube and help from your local hardware store, but there may be some tasks that you simply can't tackle on your own. When putting together your DIY plan be sure to also indicate which items you can do yourself and which you'd need to hire someone for. If the majority of your renovation needs a professional you might be better off just hiring a contractor. Alternatively, you can complete all the tasks you can do on your own and then seek help from a contractor.
Prepare for your next DIY Project with Metro Self Storage
One of the most important steps in renovating is moving everything out of the space you'll be renovating to ensure that nothing you want to put back gets damaged during the remodeling process. When you need to keep your belongings out of the way, Metro Self Storage can help you complete your renovation project with ease. We know it can be hard to live in a construction zone, but with unit sizes ranging from 5×5 to 10×30, you can store in-the-way items for safekeeping so you can focus your energy on your renovation. Plus, with month-to-month leasing, you don't have to worry about being locked into a long-term contract!
DIY projects, as fun as they are, can be stressful. Allow us to take some of that stress off your hands with a storage unit for your next DIY project. Give us a call to find out more about our features or head over to a Metro Self Storage location near you today!