Celebrating Our 50th Anniversary: The Metro Self Storage Brand Launches in the 1970s
---
May 2, 2023 | Your Local Metro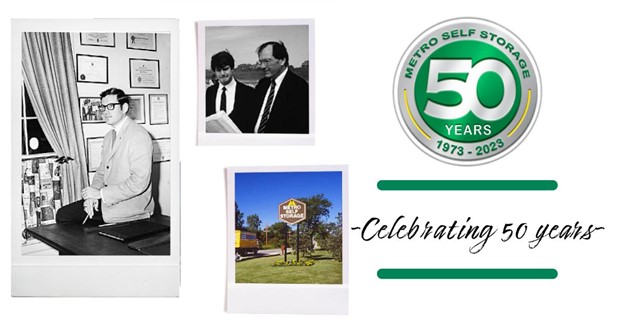 L to R Karl Nagel, Matt and Karl Nagel, Metro Self Storage signage circa 1979
This year we're celebrating the 50th Anniversary of opening our first self storage facility in the Chicagoland area, in 1973. In our previous blog, Celebrating Metro's 50th Anniversary: The Original Self Storage, we talked about how our founder, Karl Nagel, brought the concept of self storage to the Midwest, building his first facility in Wheeling, Illinois.
Our story began when Mr. Nagel realized a need for storage spaces for individuals and small businesses while building warehouses at his father's successful construction business. After seeing a self storage facility while on a business trip to Texas, Mr. Nagel junior built our company's original self storage facility, "The Vault," which featured brightly colored buildings painted to attract attention.
In 1979, after rapid growth in the Chicago market, the Metro Self Storage brand would be introduced, supported by a new logo and image. The new brand would replace the brightly colored facilities in favor of earth-tone colors to integrate better with neighborhoods and more easily obtain city zoning approvals.
1970s Facts and Trivia
Even though the 1970s were a tumultuous time, there was a sense of progress and change, which helped to establish new industries and companies like Starbucks, Home Depot, and Metro Self Storage. The 1970s are also remembered as a time of high inflation, which continued to rise throughout the decade. Even so, how much things cost in the 1970s are pennies to the dollar in today's economy!
Here is a snapshot of the cost of living in the 1970s.*
1973, inflation was running over 6% in the US
The cost of a new house: $32,500
Average monthly rent: $175
Average annual income: $12,900
On average, in 1970, the price of a gallon of milk was about $1.15, and a loaf of bread cost around 25 cents. By 1975, the price of milk had risen to about $1.57 per gallon, and a loaf of bread cost about 33 cents.
There were also cultural icons created in the 1970s. For example, the decade marked the beginning of the Star Wars movie franchise, the Sony Walkman made music portable, and both Apple Computer and Microsoft were founded.
Additionally, the construction of the world's tallest building, the Sears Tower in Chicago, was completed after three years of construction. It would stand as the world's tallest building for 25 years. Today, it's the world's 16th tallest building.
The Self Storage Industry is Born
The Vault Store Front Circa 1973
Much has changed since the 1970s, including the self storage industry. Several factors led to the growing demand for more storage space, including the rise of suburban living that started during the post-World War II boom in housing construction. This meant people were moving out of the city centers to nearby suburbs.
In the mid-1970s, when the Vault was first built, customers came from great distances to lease the space in a multitude of Vaults—all painted in amazingly bright colors. To better meet our customers' storage needs locally, Metro Self Storage continued with a plan to build storage facilities throughout Chicago's suburbs.
Overall, the 1970s were a pivotal decade for the self storage industry. Metro Self Storage will stay on the leading edge of innovation in the industry in the coming decades. For example, we are amongst the first storage providers to offer additional services and amenities such as on-site managers, moving truck rentals, and a one-stop shop for packing supplies.
Celebrate Our 50th Anniversary in the Self Storage Industry All Year Long
We'll cover the 1980s and 1990s in our next blog about expanding throughout Chicagoland and, eventually, the country. In the 1990s, a little more than two decades after opening the first store, Mr. Nagel's two sons would take over the reins to significantly expand Metro's presence.
Sharing the stories and highlights from the past fifty years is one way we'll celebrate with our customers, employees, and friends throughout 2023. So check back here every month and watch our social media channels—Facebook and Twitter—to follow our story.
Making Room for You Since 1973
Chadds Ford, Pennsylvania Class A storage facility built in the 2020s | Metro Self Storage
Here at Metro Self Storage, we pride ourselves on creating relationship-driven facilities where people come first. Since opening our first storage facility in 1973, Metro Self Storage has grown to become one of the nation's most respected storage providers.
As we celebrate our 50th anniversary, we continue to uphold an excellent reputation for outstanding customer service alongside state-of-the-art storage facilities in convenient neighborhoods and business districts.
If you'd like to find out if there is a Metro Self Storage near you, visit us online at metrostorage.com to find secure storage solutions with modern amenities and friendly customer service.
Source: Texas Self Storage Age Magazine Sept, 2011