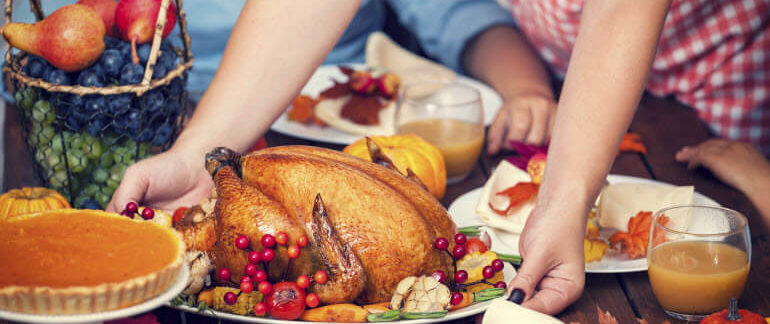 Thankful Thanksgiving Storage Tips + Free Printable
---
November 21, 2016 | Family Life
While Halloween kicks off the winter holiday season, Thanksgiving offers an opportunity for some serious celebrating. Will it be last-minute planning and chaos? Or, will you keep calm and Thanksgiving on? There is no time like the present to get ready to entertain—learn how to organize holiday helpers and keep leftovers safe with our thankful Thanksgiving storage tips.
The holiday rush can make it easier to get distracted and miss out on the special moments. It's why Metro Self Storage is dedicated to helping you live an organized life every day of the year.
Declutter Your Kitchen
What is your kitchen trouble spot? For some, it is the pantry, and for others, it is the refrigerator. If your kitchen is starved for storage space, it is time to rethink, replan, and reorganize. To create more storage space, pack up countertop appliances and other kitchen accessories that you don't often use and relocate them to the garage.
Locate your holiday platters and trays, cheese boards, and other key serving pieces so they are front and center. Stacking them together in an artful way creates a table centerpiece or countertop decoration, and you won't waste valuable time searching for what you need on the big day.
Do you have any extra floor space in your kitchen? A beautiful wicker basket can be used to corral all of your cutting boards and baking sheets. A 3-tier shelf with baskets is a perfect place to store extra potatoes, onions, apples, and other holiday food items and you won't have to worry about keeping it out of sight.
Rethink Your Pantry in Three Steps
Imagine you are preparing your kitchen for a Thanksgiving cooking show guest-starring Bobby Flay or Rachel Ray. What would they do? The simple answer—declutter and streamline.
Make room for holiday food items by donating older boxed and canned food goods that you have not consumed or can easily replace after the holidays. Your local food pantry will surely appreciate extra food donations before the holidays.
Restock your larder with canned pumpkin, chicken and turkey stock, cranberry sauce, and bottles of champagne, mineral water, and sparkling cider. If you love to bake, double check that your ingredients are not past their expiration dates.
Download your Holiday Pantry Shopping List to make sure you don't forget an important item or must-have ingredient this Thanksgiving.
Organize Your Holiday Helpers
Even the most skillful host and hostess find socializing while entertaining a challenge. Holiday meals like Thanksgiving often require special linens, place settings, and serving pieces. Make a mental note of whom you might ask to help with setting the table and preparing last-minute dishes like mashed potatoes.
Set out your linens, dishes, and silverware out ahead of time so that you are not constantly being interrupted to explain where you keep things in your cabinets. Toss a label in each serving dish so that your holiday helpers know which pieces go with the foods that are you are serving.
Instead of tossing out leftover Halloween candy, use it to prepare Thanksgiving party favor bags for children and teens who can be tasked with clearing and rinsing the dishes. Let them know there is a reward and special treats for those who help.
Storage Tips for Thanksgiving Leftovers
Thanksgiving dinner is the largest meal of the year for many home cooks. Foodsafety.gov offers helpful food storage tips to keep everyone healthy and happy over the holidays. If this is your first time cooking a turkey, be sure to check out their guide on how long it will take to defrost and cook. When it comes to leftovers, you have two options:
Refrigerate Leftovers
Within two hours of serving dinner, make sure everything is refrigerated. Storing bulky leftovers like stuffing and mashed potatoes in a shallow pan or dish helps to decrease cooling time. NEVER leave stuffing inside your turkey. Also, store your stuffing and turkey in separate containers.
Leftovers are safe for 3 to 4 days. So when Monday rolls around, it is time to toss or freeze the Thanksgiving food you have not eaten.
Freeze Leftovers
If you have other meal plans over the Thanksgiving weekend, go ahead and put your leftovers in the freezer. For best quality, eat your leftovers within 2 to 6 months.
If you plan to give Thanksgiving dinner leftovers to your guests who live more than two hours away, be sure to pack everything in airtight containers in a chest filled with ice or frozen gel packs.
How Do You Prepare for Thanksgiving?
What is your favorite thing about Thanksgiving? For many, it is pecan and pumpkin pies, seeing family and friends who live out of the area, and watching football. For others, it is shopping guilt-free from early morning until late at night.
Even though everyone celebrates differently, Thanksgiving ranks as the No. 2 holiday in the U.S. just after Christmas. So from our family to yours, we wish you a Happy Thanksgiving.