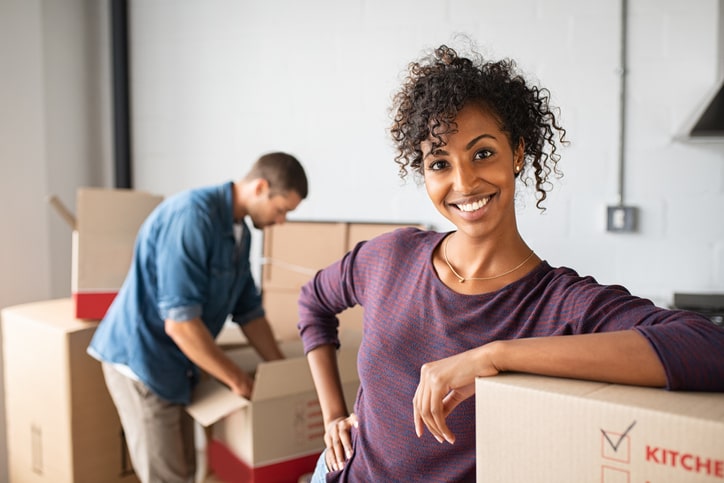 Buying a New Home? 4 Things You Don't Have to Worry About
---
July 19, 2022 | Moving
The process of selling or buying a new home is the largest transaction most people will ever take part in, and it's usually the most complex one as well. There are several tried and true ways to prepare a home to show in the best light possible and sell at the highest price.
But not all sellers are willing or able to put in the time, energy, and financial resources it takes to update and stage their homes before listing. The most important things to consider when buying a new home include whether it's in the right location, if it needs major structural repairs, or if it is overpriced.
Home buyers who are willing to focus on the big-ticket items and overlook silly seller mistakes may find less competition from other buyers and room to negotiate a more favorable price.
A Cluttered and Unstaged Home
Experienced real estate agents agree that the first and perhaps most important rule of selling a home is to depersonalize and declutter every room and closet. However, sellers are not required to do any of these things before listing their house for sale.
It's hard for most buyers to see past a home's clutter, which may include odd pieces of furniture and overflowing closets, but your realtor can help you see beyond the distractions and focus on more important features, like whether the backyard is big enough for a growing family.
The Seller's Lifestyle is on Display
If a home is full of the seller's photos, diplomas, and collectibles, it's hard for homebuyers to imagine themselves living there. If you feel like you know the seller personally after touring a home, it could work in your favor..
Many people won't be able to see past their emotional reactions, especially if there are also unpleasant smells in the home. But if you can work with your realtor to envision the home's spaces more to your style and taste, you may discover you've found the perfect home.
Rest assured, the sellers and all their belongings will be long gone by the time you move in. It's worth noting, a home that is too personalized can sit on the market longer than necessary. As a smart buyer, you can use this to your advantage and buy it below the asking price.
Outdated Wallpaper and Dirty Carpets
Most buyers prefer a move-in-ready home and may be willing to pay more or engage in a bidding war. Not an ideal situation, especially for the first-time home buyer, however, painting walls and replacing carpets is not a big deal.
Your realtor can help connect you with the right contractors if you're too busy to paint. You can also easily arrange to have these projects completed before your move-in date.
Let's face it, sellers who won't replace ugly shag carpets or paint the walls neutral colors are short-changing themselves. You can negotiate a credit to help pay for these items out of escrow and be confident both your realtor and the seller's agent will agree with this approach.
Even if a seller refuses to negotiate, don't walk away if you love the home's bones, location, and curb appeal. A fresh coat of paint and refinishing the floors or installing new carpet won't break the bank. Moreover, you'll have an end product suited to your taste that will feel and smell like a new home on move-in day.
Rooms Not Used as Intended
It's not uncommon to see a home's kitchen area or dining room transformed into a home office or playroom since the pandemic began. However, it may be unsettling to see a treadmill in the kitchen.
You may find homeowners raising iguanas in the spare bedroom or, more likely, using it as a walk-in closet. But just because the current homeowner uses these spaces unconventionally, it doesn't mean that you have to.
Your job is to imagine these spaces as you intend to utilize them, even though these rooms might appear odd to you. Once the sellers have moved out, rooms can be reclaimed to use for their intended purposes. The dining room may need a great light fixture and new table, and the bedroom will be back to normal.
In Summary
A general rule of thumb is that most cosmetic blunders sellers make are easily remedied. You can use things like poor landscaping or garages that look like candidates for a Home Edit episode to your financial advantage during negotiations.
Sellers who unwittingly sabotage their home sale risk leaving money on the table for you, the buyer, to scoop up! So if you're willing to set yourself apart from the typical homebuyer who has difficulty seeing through a seller's mess or eccentric style, you'll be poised to come out ahead.
Simplify Your Move with Metro Self Storage
We've been helping people simplify their moving and storage experience since 1973. We're proud to provide state-of-the-art facilities with a friendly neighborhood feel and personalized customer service.
State-of-the-art storage highlights include:
Rent online, in person, or on the phone.
Move-in on the same day you rent your unit.
Climate-controlled and drive-up units.
Large, covered loading bays.
Well-lit spaces and 24-hour video security.
Online bill pay and flexible month-to-month leasing.
Visit Metro Self Storage to learn more about your storage options designed to meet your business or household storage needs any time of year.