Rent Your Unit Online with Metro Self Storage
---
July 13, 2022 | Storage Tips
People commonly turn to self storage during all types of life transitions, including moving, remodeling, and combining households. However, since facing a lifelong worth of belongings can be super stressful, it's a relief to know renting a storage unit online offers a time-saving and convenient solution.
When it comes to storing your belongings at a secure and clean location, Metro Self Storage offers three easy ways to rent your unit: 1. Rent Online 2. Rent in person 3. Rent by phone.
If you decide to rent online, you'll enjoy the convenience of selecting your unit size and type, signing the rental agreement, purchasing a lock (optional), and securing your gate access code, all from the comfort of your couch any time, day or night.
Moreover, you can move in on the same day during scheduled access hours! Learn more about the benefits of renting a storage unit online with Metro Self Storage in a few easy steps.
Rent a Storage Unit Online
We're living in a world where we can do practically everything online with a swipe or a click from our smartphones, tablets, and computers. And as we mentioned earlier, one of the most appreciated benefits of renting a storage unit online is convenience.
For example, you can rent your storage unit online with Metro Self Storage 24 hours a day, 7 days a week, 365 days a year. So even if your local storage rental office is closed (after hours and on holidays), you can still rent your unit and move in on the same day.
When you visit our website, you'll find a helpful size guide to give you confidence in selecting the right-sized unit for your belongings. You'll also find the answers to your questions online about the differences between climate-controlled and non-climate-controlled storage units.
Once you've selected a unit and walked through the simple step-by-step process of renting your unit online, you will receive a confirmation email with the necessary details. The email serves as your receipt for the rental. You will also receive a gate access code to enter the property and access your storage unit.
When you're ready to move in, keep in mind that gate access hours are typically between 6 am through 10 pm every day of the year. However, access hours vary slightly by location, so remember to confirm your facility's hours at www.metrostorage.com.
Once you arrive at your storage unit, you'll find a copy of your rental agreement and a lock, waiting for you inside the unit for your convenience. Your lease and insurance paperwork will be emailed to you.
What Should You Look For in a Storage Facility?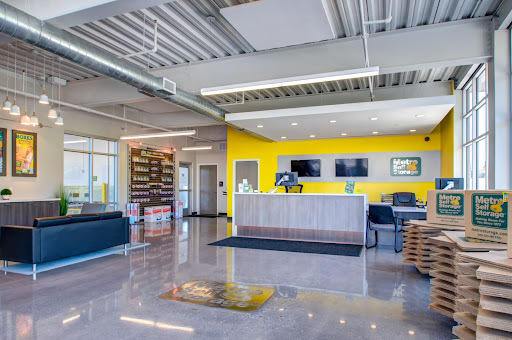 One of the most reliable ways we choose to purchase a service or a product online is through the new word of mouth—online reviews. Potential customers appreciate that Metro Self Storage has more than 10,000 5-star reviews specific to each of our store locations.
In other words, you can hear what our current customers are saying about our professionally trained and friendly onsite storage teams that run our storage facilities by visiting your local Metro Self Storage web page.
You'll also find information specific to your local facility under the About Us tab, in addition to features, office hours, and gate access hours.
User-Friendly Website
The importance of a user-friendly website can't be overstated when renting your storage unit online. The same holds true for any online shopping experience. You can count on Metro's mobile-friendly design—images, text, videos, links—to be quickly and readily accessible across all your devices, whether on your smartphone, tablet, or desktop computer.
Onsite Managers
While the benefits and conveniences of renting your storage unit online are many, it's hard to deny the value of personalized customer service. Here at Metro, our onsite property managers and customer service representatives can assist you with the rental process should you ever need it.
Our onsite storage teams are happy to show you different unit sizes and types. For example, if you've never rented a storage unit before, scheduling a tour at your local Metro facility will answer any questions related to packing or storage and help you choose the right sized unit and features to meet your storage needs.
Keep in mind, you can always reserve a unit online and then finish the reservation process online after you've toured your local Metro storage facility.
24 Hour Security
You can count on all Metro Self Storage facilities to be well-lit and equipped with 24-hour video security cameras that watch hallways, shared spaces, entryways, and the outside perimeters of the buildings. It's one of the many features that our customers value most.
Climate-Controlled Units
Climate-controlled units are designed to control severe temperature swings and help regulate humidity. Therefore if you live in a state with high heat and humidity or below-freezing temperatures, choose climate-controlled storage for your belongings.
The temperature inside climate-controlled units usually varies between 55 and 85 degrees Fahrenheit. Our newly constructed state-of-the-art facilities are all 100% climate controlled and offer many conveniences including large interior loading bays.
The elevators in our multi-storage storage facilities are specifically designed to accommodate your furniture and oversized items too. In addition, you'll find dollies and carts to help move these items into your unit more efficiently.
Electronic Gate Access
Electronic gates are a security feature included with our perimeter fencing that ensures only customers and employees can enter the storage facility property. Electronic gates come with access control systems in the form of keypads and personalized codes so that only authorized visitors can drive into a storage facility.
Drive-Up Access
Drive-up storage units are like having an extra garage. These types of units are popular for all kinds of businesses, such as landscapers and other types of contractors needing fast and efficient access on a daily basis.
Our residential storage customers also like drive-up units because you can park your car right next to the storage unit. Drive-up storage units are ideal for storing classic cars, kayaks and canoes, motorcycles, snowmobiles, and more!
Other Types of Storage
Storage facilities provide storage space for various household and business items. Besides furniture, clothing, and other household belongings, you can store RVs, boats, and commercial vehicles at select Metro Self Storage locations. In addition, businesses frequently rent storage for tools, equipment, and office supplies.
Business Storage: Self storage is an economical solution for businesses confronted with a lack of space but don't want the expense of long-term commercial leases. Contractor tools and equipment, medical office records and supplies, and office furniture are examples of the different types of business storage. Businesses frequently store commercial vehicles at secure, well-lit storage facilities. Local businesses benefit from the flexible month-to-month leases and can rent one unit or several, short-term or long-term.
RV/Boat Storage: Boats and RVs are typically used seasonally and are often not welcome in neighborhoods with HOAs or on city streets. Multiple self storage options exist for boats and recreational vehicles alike. These include outdoor, paved parking places for boat storage and covered boat and RV storage spaces.
Wine Storage: Rare and expensive bottles of wine deserve to be stored in proper conditions. Suppose you don't have a wine cellar at home. In that case, wine storage units provide the right mix of temperature, humidity, and a dark environment necessary to ensure wine ages properly and doesn't get spoiled.
Rent Your Storage Unit Online with Metro Self Storage
Since opening our first storage facility in 1973, Metro Self Storage has grown to become one of the nation's most respected storage providers. While there are benefits for all three ways of renting your storage unit with Metro Self Storage, renting a unit online is the most convenient option whether you prefer to shop online, avoid phone calls, or are simply out of time.
Our goal is to ensure you always have a great storage experience with Metro, whether you are visiting our website or one of our top-rated self storage facilities. If you're ready to rent your storage unit online and take advantage of all these benefits, you can reserve or rent online now. Still, have more questions? We invite you to contact us for more information.