5 Tips for Building the Perfect Snowman
---
December 20, 2022 | Family Life
Everyone has a theory on how to build the perfect snowman. If you're a scientist, you might analyze the frozen water crystals to determine if the conditions are right. If you love math, then a ruler and algebra will come in handy to create the perfect snowman.
But for most of us, building a snowman is a spontaneous activity that brings joy, laughter, and maybe a little frustration as we try to stack the snowballs.
Today, people love the challenge of building a snowman wherever there is snow. Follow our tips for some festive tips on crafting your perfect Jack Frost. And, to add to this season's festivities, guess the answers to our jokes below (scroll down for the answers).
The Right Type of Snow
What does the snowman eat for breakfast?
As any skier or snowboarder knows, different types of snow lead to different outcomes. For example, white, powdery snow might be perfect for a bluebird day at the slopes but not so good for building a snowman. Wet, slushy snow will be too heavy to work with if you want to make a giant snowman.
The best snow composition for building the perfect snowman is somewhere between wet and powdery. If your snow is too dry, it won't stick together, but you can try misting it with a garden hose. If it's too wet, try building a miniature snowman, which can be just as fun for the kids.
Pick a Location That's Just Right
Why was the snowman rummaging through a bag of carrots?
The snowman and Goldilocks have one thing in common: their happiness requires the perfect temperature. So start building your Mr. Frosty in a location that is not too sunny. A partially shaded area is ideal, according to the experts (and there are several).
Also, by orienting the face away from the sun, you'll avoid Mr. Frosty's face from too much sun exposure. Nobody likes to see a sad, droopy face when the temps warm up, and the snow begins to melt.
Building a Snowman to Last
What does a snowman eat for lunch?
It's rumored that the snowman has been around since the Middle Ages and that Michelangelo once sculpted one for the ruler of Florence in 1494. But who knows since there's no proof?
While the modern Jack Frost lives a quiet, seasonal life, you can extend his presence by aiming for a 3-2-1 snowball ratio. In other words, if the lowest ball has a diameter of 3 feet, the second ball would be 2 feet in diameter, and so on.
Flatten the top of the first ball to make it easier to mount the second on top of the first and prevent the second ball from rolling off. If the snow is too heavy to lift, use a tarp or piece of plywood to put the second ball in place.
Next, bring out your own inner sculptor by adding or removing snow if your snowman is lopsided. By packing the waist and neck joints with extra snow, you'll create a more stable sculpture that is less likely to topple over once the weather gets warmer.
Don't Forget to Accessorize Your Snowman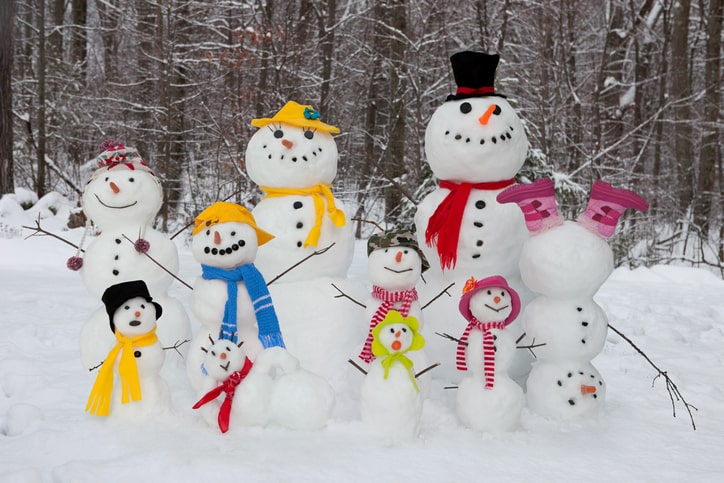 What do you call a snowman's dog?
Of course, a snowman or snowlady is not complete without accessories. Traditionally the attire is simple—a hat, scarf, and pipe. You can also attach a pair of old winter gloves to crooked tree branches that act as arms.
Other accessories include using a large plastic flower pot for a hat and shovel instead of a broom. Alternatively, big box stores sell snowman kits that include everything you need, including buttons for the eyes and nose, a hat, a scarf,and stuffed carrot for a nose.
Store Recreational Winter Gear with Metro Self Storage
Metro Self Storage can make switching your recreational gear between seasons easy with drive-up access units or interior units with loading bays. In addition, you'll find Metro Storage facilities at convenient locations with professionally trained storage teams to help you along the way.
So if you're ready to rent your storage unit online and take advantage of all these benefits, reserve or rent your unit online now.
Which unit will work best for your seasonal transitions? Our handy unit size guide is designed to help you choose the best solution for your storage needs.
Answers:
Frosted Flakes
He was picking his nose
Iceburgers
A slush puppy