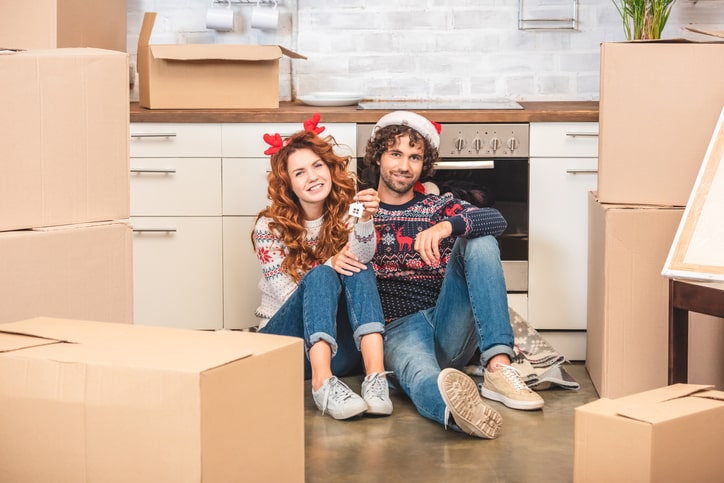 Moving Over the Holidays? Follow These Tips to Reduce Stress
---
December 27, 2022 | Moving
Moving any time of year is stressful but moving over the holidays combines two significant events that will require an extraordinary amount of organization. The holidays bring extra commitments and activities to fill your schedule, like gift buying, decorating your home, entertaining friends, and attending parties.
To make your holiday move less stressful, consider cutting back on some decorations this year or forgoing a few parties. If guests are coming, cheerfully recruit them to help out when possible.
There are many reasons people choose to move over the holidays. It avoids a mid-year school change making it easier on children, for example. And it can be easier to get a few extra days off work between Christmas and New Year's.
Another upside is that moving over the holidays will be novel and undoubtedly lead to some stories you can talk about with family and friends for years to come.
Make Packing Your Priority
One of the most significant stressors associated with moving is packing. Packing for a move any time of year takes considerable planning and organization. From buying the right packing supplies to knowing what to pack last, planning ahead will save you from making last-minute trips to buy more moving boxes.
Here are some holiday moving tips to help keep your holiday move on schedule:
Start packing as early as possible.
Declutter your home and donate unwanted items.
Create a packing schedule and enlist family members to help.
Use the right moving boxes for books, TVs, and artwork to protect your investments.
Pack Christmas decorations last and be sure to have plenty of bubble wrap and foam sheets to protect delicate ornaments.
Consider Hiring Professional Movers
The advantages of hiring a professional company for all or part of your move can't be overstated. Even so, DIY moves are the right choice for some. For example, DIY moves are popular amongst college students (they have helpers at their fingertips!) and young professionals who own fewer things.
However, professional movers could be the best option if you have a growing family or live in a large house with furniture and home decor in every room. Movers operate efficiently and can move heavy furniture like king-sized mattresses and appliances.
There is a growing trend for moving companies to offer household and business storage as part of their services. While it may sound convenient, keep in mind that this has some downsides. Unlike a self storage company, you may not have access to your belongings. Additionally, you'll still have to pay for insurance, and your items might be handled multiple times before arriving at your new home.
Also, be aware that movers can legitimately increase the final cost of your move during the holidays. To avoid this from happening, be sure your items are packed correctly and that you're ready for the movers when they arrive.
Don't Forget to Plan for Holiday Cheer
The holidays are all about merriment, cheer, and friends, and family. But for most of us, they also bring additional stress to our already busy lives.
So if you're moving over the holidays, keep in mind what's most important like staying organized and healthy, spending time with loved ones, and acknowledging your limits. Even if things get off course and you miss out on some Christmas activities, remember that holiday traditions can always be revived next year.
Is it Easy to Rent a Storage Unit During the Holidays?
Yes, you can certainly rent a storage unit during the holidays! In fact, you can save valuable time by renting your storage solution online with Metro Self Storage. We'll have everything ready for you when you arrive at your storage unit, and you can move in the same day.
Our state-of-the-art facilities offer a wide range of features and amenities to help you with your winter move. From covered loading bays and climate-controlled units to 24-hour security and keypad gate access, our storage facilities are designed for your comfort and convenience.
Additionally, our locations are staffed with friendly and professionally trained storage teams to answer your questions. For example, if you're wondering how to pack your TV or books, we can help you choose the right boxes from our packing supplies showroom and office.
When it comes to storing your belongings at a secure and clean location, Metro Self Storage offers three easy ways to rent your unit: Rent Online, in person, or by phone. 
If you're ready to rent your storage unit online and take advantage of all these benefits, you can book or rent online now. Still have more questions? We invite you to contact us for more information.