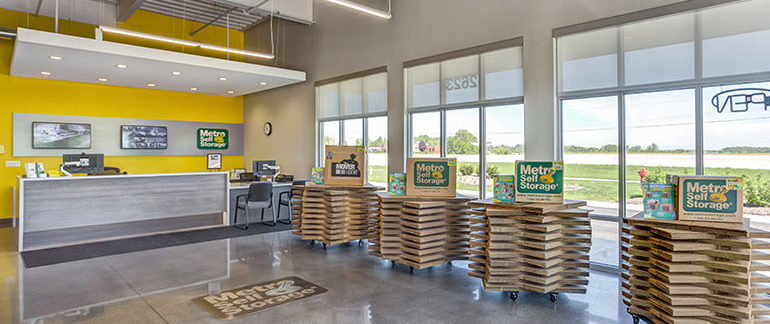 7 Reasons to Choose Metro Self Storage
---
August 11, 2018 | Business Storage
At Metro Self Storage, we simplify your storage experience. When it comes to choosing a self storage facility, how do you decide? It's easy to feel overwhelmed by all the choices around you. How do you know which is right for you?
Our professionally trained Property Managers are on-site at every location to assist with selecting your storage unit and answering all of your questions.
Everyone knows that self storage is a great way to declutter a home or office. Moreover, renting a cheap storage unit is frequently the easiest solution for dealing with an unexpected life transition. However, moving is the number one reason people rely on storage rentals in the United States.
There are many reasons to choose Metro Self Storage. From extended access hours every day of the year and newly constructed storage facilities to secure online reservations and bill payment options, we offer a premium storage experience.
We make it easy to move in with Metro Self Storage
Our storage centers offer convenient locations with a wide range of amenities that can include climate-controlled units, on-site Property Managers, and top-notch maintenance teams. Select locations offer vehicle storage for cars, boats, RVs, and commercial vehicles. Our parking areas are always paved and feature ample lighting with industry-leading security systems.
Our customers tell us time and again the confidence they feel about storing valuables at our state-of-the-art, clean, and well-maintained self storage centers is because of our caring and attentive property managers.
Our goal is to ensure you always have a great storage experience with Metro, whether you are online or at one of our top-rated self storage facilities.
1. Our storage centers are top-notch properties
Many Metro Self Storage facilities are newly built from the ground up. You can expect to find facilities designed with industry-leading amenities and features throughout, such as state-of-the-art security systems, moving supplies showrooms, and clean, modern storage units.
2. We offer premium business storage units
Businesses can use self storage to improve operations, and at Metro Self Storage, we love helping local small business owners and entrepreneurs succeed. Choosing a business storage unit at your local self storage facility is a much cheaper option than signing a long-term and complicated commercial lease.
If you work out of a home office or manage a medical or law office, your space is at a premium. Renting a storage locker or small 5X5 storage unit to store your files and other office items you don't need to access on a day-to-day basis can increase productivity.
Relying on your local, friendly Metro storage facility can be the most cost-effective solution for fast-growing companies.
3. Our customers enjoy flexible storage leasing plans.
We understand that everyone's storage needs are unique, so every plan should be unique as well. Store by the month, by the year, or as long as you need, and choose from a large variety of storage unit sizes.
Likewise, when it comes to business storage, some businesses operate seasonally with inventory expanding and contracting throughout the year. The flexible month-to-month lease options we offer can be the answer to meet your seasonal and short-term storage needs.
4. We take cleanliness seriously
Metro Self Storage adheres to the highest industry standards for operating our facilities and we have an excellent reputation for providing well-maintained and clean storage facilities. Our professional pest control, maintenance, and facility cleaning teams at each location care for our facilities as if they were our own homes.
5. We provide a complete range of moving supplies
Moving and packing can be overwhelming and inconvenient. We strive to take the stress out of the process by offering you a one-stop-shop for all your moving and packing needs. Our local moving supplies showrooms provide moving boxes of all sizes, locks, packing tape, bubble wrap, mattress covers, and more.
Your Local Moving Supplies Showroom
Small, Medium, Large, and Extra Large Boxes
Dish/Glass Protection Kits
Packing Tape
Bubble Wrap
Mattress Covers
Furniture Pads
Steel Disc Locks
Experience tells us that most people will pack their household and personal belongings whether they are hiring movers or plan to rent a moving truck. When it comes time to select your boxes, customer favorites include handy wardrobe and dish pack boxes that make moving easier.
6. Our facilities feature on-site Property Managers
With more than 45 years of experience as a storage industry leader, we've seen just about every self storage scenario imaginable. Our professionally trained Property Managers are on site at each and every one of our storage facilities.
Our storage pros include customer service phone representatives and on-site facilities maintenance teams that work behind the scenes to ensure your storage experience is top-notch.
Many of our on-site storage managers are happy to help you make connections with other services in the area too. Should you need a realtor, a professional moving company, or just a recommendation for a Chicago-style dog, just come in and talk to us to experience the difference!
7. Locally owned and operated with stores in 14 states
All of our Chicago storage units are locally owned and operated. Consequently, if you live in Illinois, then you'll be supporting a Chicago storage company with more than 45 years of experience as a storage industry leader.
There are so many reasons to choose Metro Self Storage, but our customers tell us time and again how much they appreciate having our upbeat, friendly storage pros by their side.
We also operate well-maintained and newly constructed storage facilities in Alabama, Connecticut, Florida, Georgia, Illinois, Kansas, Louisiana, Minnesota, New Jersey, New York, Pennsylvania, Tennessee, Texas, and Wisconsin.
Ready to find storage near you? Visit us online at metrostorage.com or call us toll-free at 866-55-METRO to speak with a member of our friendly storage team.